Latest News
Category: Latest News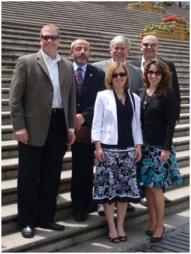 By: Karen Kavanagh
Those were the words family, friends, and colleagues would say when I told them that our final Telfer School of Management project trip would take us to Chongqing, China. Their quizzical look would be followed by surprise after learning that the municipality's population is over 32 million, approximately matched to Canada's entire population.
Chongqing is a mountain city, with a rolling and expansive metropolitan area flanked by two of China's largest rivers, the Yangtze and Jialing. Ottawa is also known for its waterways, both natural and man-made, but with a mere 3% of Chongqing's entire population it is compact and quaint by comparison.
The city is also known as a gateway to Western China. On a map it appears to be smack-dab in the middle of the vastness of China, and without knowledge of the river system to be land-locked, and completely separated from the coasts. And in many cases it is still removed. It's less metropolitan than the better-known cities of Shanghai, Beijing, and Hong Kong, and an evident respect for traditional Chinese processes is apparent. But Chongqing is growing faster than other cities in China – not only in population but it's economy as well.
As a class, our first meeting of the week was with the Canadian Consulate in Chongqing, and a presentation by Ryan Baerg, Consul and Senior Trade Commissioner. He outlined how Chongqing's growth is greater than many other Chinese cities with a Foreign Direct Investment increase of over 150% from 2007 – 2008, and a GDP of 14.3% in 2008, above Shanghai's 10.1%. As well, the costs of doing business in Chongqing are much less, with yearly salaries approximately 30% less than Beijing, and office space at a third of Shanghai prices.
And as the Telfer School of Management class' focus was on environmental technologies, Chongqing was well suited. As swift urbanization and heavy industrialization is changing the landscape of the city, modern energy and environmental control systems and solutions are being sought.
Our team, Gabriel Hajal, Sharaf Sharafeldin, Francine Lortie, and myself were working with Eco Power Solutions (www.ecopowersolutions.com), which provides energy recovery and emissions control systems for large-scale industrial and utility facilities. The company's COMPLY 2000 solution removes 98% of nitrogen oxide and sulfur dioxide pollutants, as well as up to 25% of carbon dioxide pollutants, while converting waste heat from exhaust into energy. As recent Chinese and Chongqing emission control and energy efficiency policies and guidelines favor aggressive reforms, this was a position sign for our client and our team's work in Chongqing.
Our objective was to further extend months of in-Canada fact finding with on-the-ground research in China. We were to assess China, and specifically Chongqing, for market entry potential and to recommend a strategy for entry. Our team was lucky to be the only Telfer team to be joined throughout the entire week by their client. Accompanying us from Eco Power Solutions (EPS) were Tom Thompson (EPS' CEO), and Wayne Littleford (EPS President and the inventor of the COMPLY 2000).
Over the course of five days, we had ten meetings. We met with key government officials in environment and economic development, affiliated environmental-control and industrial agencies, potential in-market partners and prospective future customers for Eco Power Solutions, and IP experts on China.
And the five-day whirlwind was well worth the months of preparation. As students, we experienced an unforgettable and invaluable real business case and provided our client with an actionable end product. We were consultants working on an international market entry project – working hard to adapt to a different style of doing business, interacting with and contracting interpreters and other service providers in a foreign market, and dealing with the demands and enjoying the benefits of direct client involvement.
But the main lesson came from working hard, being as prepared as possible before our trip, and not being afraid of adapting while in Chongqing. A critical component of our success was the team review after a long day of meetings. Over drinks in the hotel lounge, we'd type in our notes from that day's interviews and review with each other potential questions or details that could be incorporated into the next day's meetings. We knew that prior research while in Canada could only deliver us so far. We did not let uncertainty stop us, and by adapting to new information while in Chongqing our project delivered more than what we could have initially anticipated.
We now have an answer to the question 'Chongqing? Where's that?' posed by our friends, family, and colleagues.
Chongqing, China. That's where we learned to be global business leaders.
On behalf of my team, I'd like to thank those who made the trip possible from the Telfer School of Management, including professors, advisors, and personnel. A special thank you goes to Eco Power Solutions and in particular Tom Thompson and Wayne Littleford.
Photo: Back row from left: Tom Thompson (EPS), Sharaf Sharafeldin (Telfer), Wayne Littleford (EPS), Gabriel Hajal (Telfer)
Front row from left: Francine Lortie (Telfer), Karen Kavanagh (Telfer)
Subcategories
The following article was written by a member of our student community. The views and opinions expressed in this blog are those of the authors and do not necessarily reflect the official policy or position of Telfer School of Management. For more information or to flag inappropriate content, please This email address is being protected from spambots. You need JavaScript enabled to view it..
---