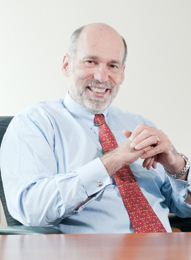 As I head into the final days of my deanship of the Telfer School of Management, I can't believe how quickly the last 10 years have passed.
No matter what I do next, the last decade will likely remain my career highlight.
During this time, I have been privileged to be part of an exceptional community of faculty, staff, students and alumni.
I have also been truly fortunate to be able work with the best team of people that I have encountered in my 30 year career. Their level of dedication and commitment to the Telfer School and its students and to the University of Ottawa is the major reason for the success that the School has had over the last decade.
Together, we have accomplished a great deal in pursuit of the goal of making the Telfer School a leading centre for management education and research. These accomplishments include the triple crown of international accreditations, a named school, a new building, a vibrant career centre, a dramatic increase in research productivity and funding, heightened alumni and community engagement, a growing endowment and a high quality student experience that is the envy of campus.
I also want to thank Ian Telfer for his extraordinary support for the School. His extremely generous gift in 2007 has given the School the foundation and the momentum to achieve its aspirations.
In meeting with students and alumni during my early days as dean, I suggested that at the end of my term, my success in this position should be measured by the increase they saw in the value of their degree. I leave the deanship comfortable in knowing that what we have achieved over the last decade has made the quality of the education that we offer widely recognized nationally and internationally.
I feel very confident about the future of the Telfer School and while I look forward to having the time to get back to doing some research and writing, I also look forward to returning to this great community as a faculty member at the end of my 2 year leave.