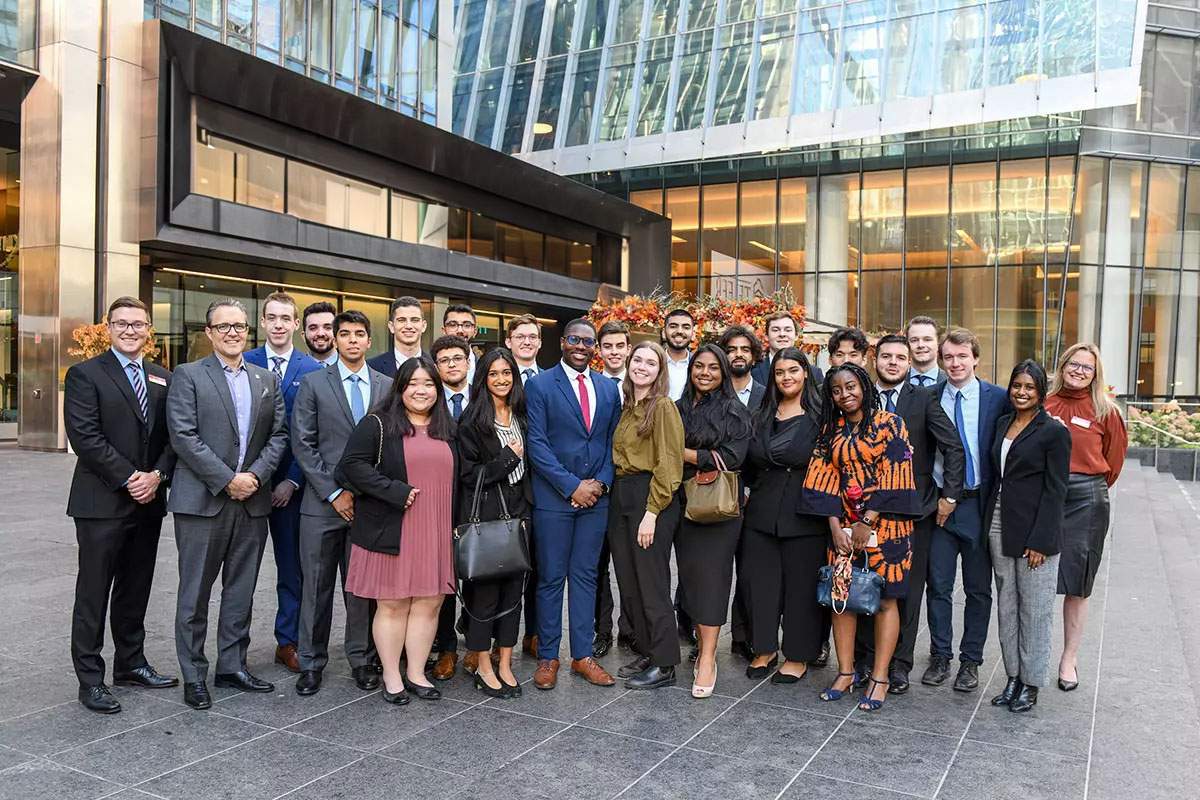 Microprogram Capital Markets
The Microprogram Capital Markets was launched to provide a select group of purpose-driven Telfer undergraduates with hands-on training in investment management. As a member of the microprogram, you will manage a portfolio of funds, network with and hear from industry professionals, receive mentorship, and learn the skills you need to launch your career in high finance.
Our Stats
$238,406.51
assets under management
103.73%
return since inception
The program is a place where students can shape their careers in finance, whether they're interested in banking, consulting, trading, or whatever else. It has helped countless individuals in every cohort land their dream roles.

Donald Truong
Portfolio Manager Leader
Fourth-year, Honours Bachelor of Commerce, Finance Option
Why the Microprogram Capital Markets?
Dive deep into the intricate world of capital markets. With a curriculum crafted by academics and industry experts, you're assured of an education that's relevant, practical and rigorous.
Go beyond theoretical knowledge by getting hands-on experience in investment fund management. Take decisions on the construction of a specific portfolio that emphasizes North American securities from health care, natural resource, technology, media, telecommunication, industrial, consumer, real estate and financial sectors.
Step outside the classroom and into the world of finance, where you will network with alumni and professionals from top-tier financial firms. These individuals will share their experiences and provide insight into the financial industry through workshops, guest speaker presentations, and one-on-one mentorship of microprogram participants.
Travel to prominent financial hubs to gain firsthand experience in the day-to-day operations and decision-making processes of the industry's leading institutions. Connect with and learn from today's financial leaders, while exploring the opportunities that may await once you've graduated.
We take pride in nurturing a diverse, inclusive, and collaborative environment that features small class sizes that encourage student participation. We believe in providing you a better experience by empowering you throughout your time in the microprogram and beyond.
With a curriculum this intensive and networking opportunities this expansive, it's no surprise that you'll have an edge in the job market. Parlay your newfound skills into internships and full-time positions that will jump start your career.
Message from the Directors
Welcome to the Microprogram Capital Markets!
You are joining a group of dedicated, high-performing students who are motivated to learn and want to accelerate their career in finance. Through this program, you will manage the Telfer Capital Fund (TCF) – a fund invested in equity securities actively managed solely by students of this microprogram – while benefitting from specialized courses, a summer internship, and networking and mentorship opportunities.
The TCF was started back in 2015 and the fund is currently managing more than $200,000 invested in Canadian and US equity securities. Over the past three years, the fund has beaten the benchmark before expenses, which demonstrates the hard work that students put into their investment decisions. Each stock pick is carefully analyzed, presented, and discussed at the weekly meetings, which in turn provides students with incredible learning opportunities.
We believe that this program will be a career- and life-changing experience. Overall, this program dramatically increases a student's likelihood of securing attractive employment opportunities. Indeed, past students in this program have received exceptional job offers from top financial institutions.
If you are passionate about finance and capital markets, you should consider applying for this microprogram. This is an excellent time to join, as we are in the process of raising more capital to launch a new ESG fund: the Greener-Healthier-Happier fund. We are creating this new fund in response to Telfer's vision for a better Canada and a better student experience for you. The fund will focus on investing in companies that (1) tackle specific environmental challenges to help build a greener Canada; (2) address health-related issues to help build a healthier Canada; (3) work for better workforce, communities, and customer relations to build a happier Canada. Working on this new fund will provide students with even more opportunities to learn about salient ESG (environmental, social and governance) topics while rigorously examining the movements that are reshaping Canada and the world.
Get Started
Learn how our microprogram prepares you for a role in finance:
Get Involved
Learn how to get involved as an alumni or industry professional.
Telfer
Knowledge Hub
How to Get into Capital Markets as a Finance Student
Michelle Savoy on Supporting Women in Capital Markets
John Black: CFO Extraordinaire and Experiential Learning Advocate
The Gold Mine of Success: Ian Telfer's Story