The Desmarais Building
The Desmarais Building is the home of the Telfer School of Management and Telfer Nation. This state-of-the-art learning facility located in the heart of downtown Ottawa is ready for each new generation of business leaders. It's the starting point for you to pursue your career goals, achieve your purpose, develop your professional skills, and experience hands-on learning in the real world.
We've equipped our lecture halls, labs, and conference rooms with technologies to enhance experiential learning both in and outside of the classroom. Our cutting-edge facilities help prepare students to meet the challenges of the business world and place researchers at the forefront of the study of management.
Bounded by Laurier Avenue and Waller and Nicholas streets, the building is in the north-west section of the main University of Ottawa campus.
Location
55 Laurier Avenue East
Ottawa, Ontario K1N 6N5
Canada
Photo gallery
Paul Desmarais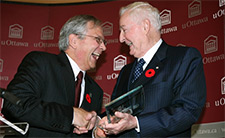 Construction of the Desmarais Building was made possible in part by a generous $15 million contribution from Paul Desmarais Sr., a graduate of the Telfer School of Management (BCom '50).
This flagship building serves as an important educational centre for students, professors, and staff. It reflects the University's overall commitment to creating better quality learning environments for students.
Paul Desmarais Sr., his father, Jean-Noel, his wife, Jacqueline, and many other members of the Desmarais family have been proud alumni of the University of Ottawa. Paul Desmarais Sr. also served as honorary chair of the University's VISION campaign in the 1990s and honorary chair of the $226-million Campaign for Canada's University.
The University of Ottawa is proud to reflect the Canadian values shared by the Desmarais family: integrity, education in and promotion of the French language in Canada, and understanding among all Canadians.
At the time of the donation, Paul Desmarais Sr. said, "Our family's commitment reflects our happy association with the University of Ottawa for more than four generations. We are most proud to be able to contribute to investing in the future of this outstanding institution."
Then-University president Gilles Patry acknowledged the gift. "The University of Ottawa is honoured to have the Desmarais name associated with one of its most impressive buildings on campus."
One of Canada's most prominent business leaders, Paul Desmarais Sr. will continue to inspire the next generation of students.
Paul Desmarais Sr. passed away on October 8, 2013, at age 86.