Telfer 2025 Strategic Plan
Despite the turbulence and challenges presented with the onset of the pandemic, the Telfer School of Management has continued to gather momentum while reaching new levels of excellence.
In order to capitalize on this momentum, we are launching Telfer's 2025 Strategic Plan, the result of input from students, faculty members, alumni and community partners that participated in a robust consultation process involving countless group discussions, one-on-one meetings, and an online survey. Thanks to this collective wisdom, we have defined how to move forward.
The Plan
Our plan reflects our collective commitment to being:
Ambitious – setting our sights firmly on becoming one of the best business schools in Canada.
Aligned – in our pursuit of a Better Canada and a greener, healthier, happier and wealthier, more prosperous nation for all.
Agile – staying focused on what matters in a turbulent world, despite the many changes in our environment, while supporting our people along the way.
Accountable – tracking our progress and being accountable to the communities we serve.
From teaching to research, to policy advice and community service, Telfer is committed to unlocking knowledge for a better Canada, disseminating expertise in our portfolio of programs, and enriching the experience of Telfer Nation.
Ambitious
Agile
Aligned
Accountable
Five Strategic Goals
Five strategic goals have been set with measurable objectives, initiatives, key performance indicators (KPIs), and metrics to propel us toward and help us measure our success in achieving each goal:
Maintain our reputation for fostering excellence in management research and education in line with our vision and our four pillars
Become one of the top five research-based faculties of business in Canada
Provide the richest possible learning experience
Operate as a healthy, happy, green and prosperous organization
Matter to the communities that we serve
Our History
The Telfer School of Management is committed to the development of strong leaders willing and able to enact positive change, to the generation of new knowledge through research, and to the dissemination of this knowledge through better management practices and policy. This has been the Telfer story for more than 50 years.
Telfer Today
A broad and extensive consultation with internal and external stakeholders and our community yielded the Telfer Vision for a Better Canada. This is our north star and commits us to a greener, healthier, happier, and wealthier Canada for all.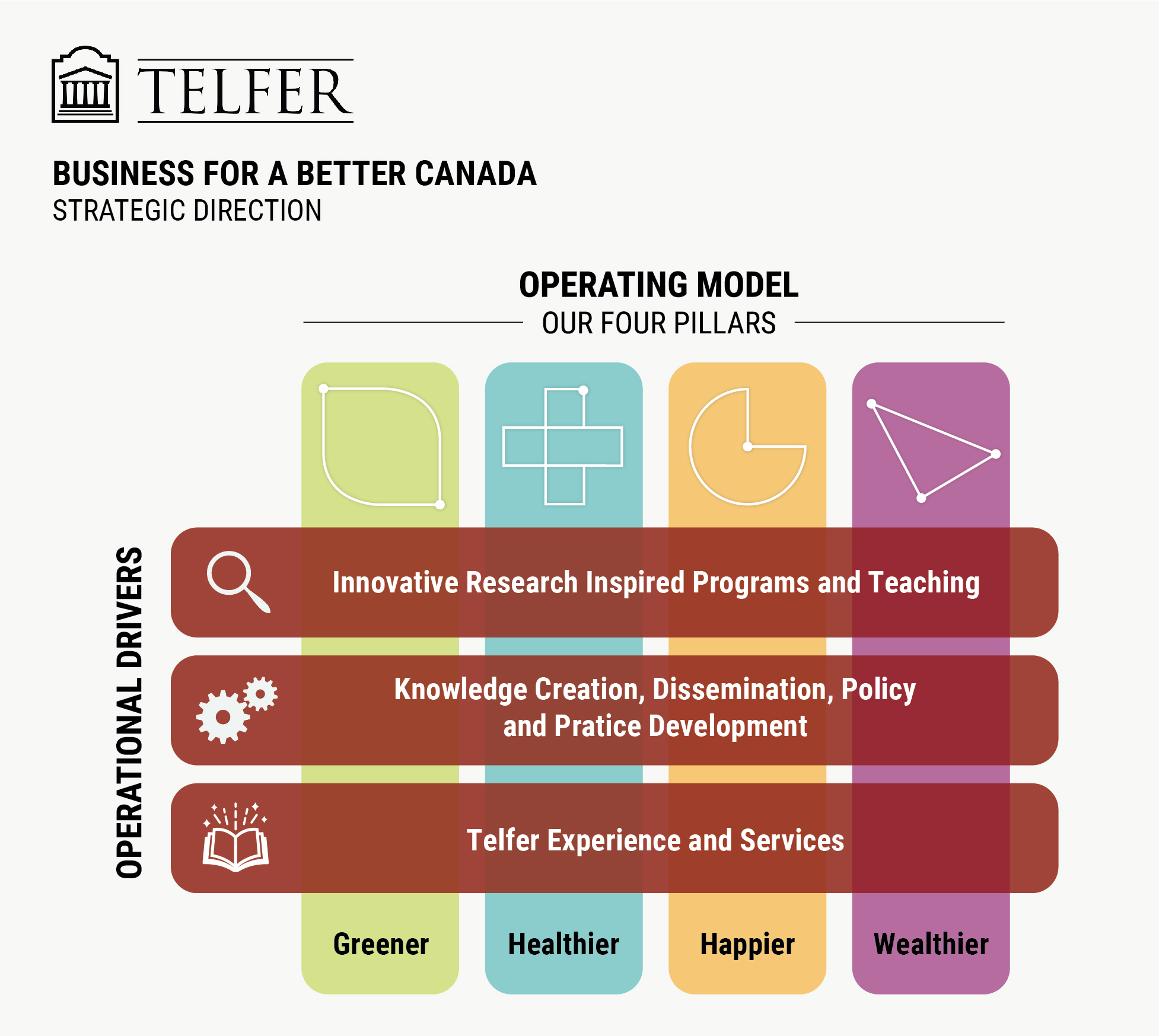 Process and Consultations
A key element of our 2025 Strategic Planning process consisted of consulting the broad Telfer community (i.e., faculty, staff, strategic partners, employers, alumni and our generous donors and supporters) on how to define our priorities and actions for the next three years so we become better, together.