Employers
The Telfer School of Management at the University of Ottawa and its student-funded Career Centre provide services that build, develop and maintain successful partnerships between students, alumni and employers by creating employment opportunities, enhancing student value, and facilitating the employers' recruitment process.
Full-Time Employment
The Telfer School of Management Career Centre offers customized recruitment solutions and access to our diverse and professional Bachelor of Commerce and MBA students. We offer various channels for your organization to easily get involved and recruit on campus.
Looking for a talented BCom or MBA graduate to join your team? Showcase your job opportunities to Telfer students! Our Telfer job board is exclusively reserved for Telfer School of Management students.
To simplify your organization's recruitment, the Career Centre provides private interview rooms on campus, as well as full coordination of and logistical support for the interview process

Looking to maximize your impact by connecting with a large number of students at a single event?

If you are looking to build brand awareness and recruit top talent for your organization, an information session on your company, given in person or via conferencing software, is an excellent way to connect with students.

Increase your visibility on campus and gain access to a captive audience while facilitating a workshop and sharing your expertise on a topic that is aimed at contributing to the success of tomorrow's business leaders. Potential topics include: resumé writing, interview skills and networking.
CO-OP Programs at Telfer
Gain year-round access to well-motivated, qualified employees from our BCom program for 13-16 week fulltime terms.
Students begin their 1st work term after completing 2 years of study. This ensures you receive a well-trained and productive employee. Work terms alternate with 4 month study terms. The CO-OP program is optional, and students are admitted according to academic achievement. They are closely monitored throughout the academic and work terms, thereby ensuring our employers benefit from the best quality students.
Get More Info or contact: Alain Boudreau - 613-407-6517 / This email address is being protected from spambots. You need JavaScript enabled to view it.
Internship Programs
Our undergraduate and graduate internship programs provide organizations access to motivated and talented candidates.

BCom students work within an organization for a minimum of 7 hours a week for a 12-week period during the summer, fall or winter semester. They are not paid for their work; the objective is to gain work experience.

Gain access to motivated and talented candidates from our MBA program. By taking on an intern, you will get a fresh perspective on projects in the fields of market development, process improvement, and strategic process review, among many others. Interns can work part time from January to July, or full time from September to December.

Healthcare executives (preceptors) are matched with Master of Health Administration (MHA) candidates and serve as their professional mentors. MHA Candidates spend four months gaining practical health care management experience in a dynamic healthcare setting and complete valuable projects that help them advance their career goals.

Gain access to motivated and talented candidates from our MSc in Management and MSc in Health Systems programs to provide evidence-based strategic insights to guide organizations in their daily operations, or take on structured research projects.
Mentorship Programs
Our various mentorship programs enhance the student experience by giving students an opportunity to interact with accomplished business professionals.
Students eager to become consultants are selected to participate in our Profession of Management Consulting Program (PMCP). Opportunities include delivering case simulations as a team, practice interviews, various workshops or becoming a mentor.

The Telfer Capital Markets Program (CMP) is a two-year development program that gives high-performing finance students exceptional learning opportunities to help them launch a career in the field of finance.

The Executive Mentorship program connects senior BCom students with mentoring opportunities from industry executives, by establishing a relationship between a student and a professional that provides informal guidance, networking opportunities, and ideas-sharing.

This program provides MBA students with the opportunity to interact with accomplished business professionals and seek advice regarding their career path. Selected candidates are matched with key professionals from the industry for three mentorship meetings.
Academic Projects

Gain access to motivated and talented MBA candidates in addressing real-time organizational needs and challenges. Available for English and French MBA programs.
The MBA Consulting Project places students at the centre of a remarkable and practical learning experience. Students are given the opportunity to apply knowledge and skills in addressing an issue of significant importance to an organization, all under the supervision of a Telfer School of Management professor and the mentorship of a professional management consultant.

Gain access to motivated and talented Executive MBA candidates for addressing real business challenges and opportunities in short timelines. One of the core components of the Telfer Executive MBA Program is the integration of six business consulting projects within the curriculum. Each project requires candidates to work as a business consultant with client organizations.
In class professional panels

Undergraduate Panels
Participating in class industry and career related panels is an excellent way to share knowledge and interact with our undergraduate students. Please contact This email address is being protected from spambots. You need JavaScript enabled to view it. or call 613-562-5656 for more information.

Interactive panel discussions with MBAs are an effective way to get to know our MBA students and attract new talent to your organization.
Company Visits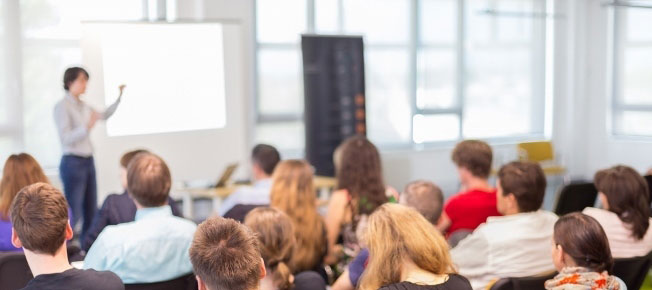 Company visits allow students to learn firsthand about what your organization does well and what a career with you would be like. We host company visits in Ottawa, Toronto and Montreal. Send an email to This email address is being protected from spambots. You need JavaScript enabled to view it. or call 613-562-5656 for more information.