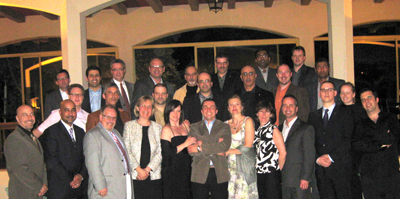 As part of the global management module of the University of Ottawa's Telfer Executive MBA curriculum, 2nd year EMBA candidates undertake a major consulting project that culminates at a foreign business destination during the International Consulting Project and Trip. This year, the Telfer EMBA class travelled to Santiago, Chile, from April 18 to 25, 2009.
Telfer Executive MBA Teams Open Doors in South America
By Jami Manion, Program Manager (Telfer Executive MBA, University of Ottawa)
Although one week in Santiago, Chile may sound like the ideal getaway to most, for five teams of second year Executive MBA students it was about establishing business relationships for five Canadian companies. Ranging from hydro-electric to clean-tech, education to cosmetics each team held a great potential of generating future deals for these companies.
With borders becoming increasingly invisible in this global market, the Telfer Executive MBA program at the University of Ottawa moves students out of the classroom to discover first-hand the experience of taking Canadian companies global.
The process begins with each team identifying a company with an interest in the target country. The students then become consultants for four months in order to explore the opportunities the company faces in that market. The course concludes in a one week trip to the region for final research. These students are not all consultants by trade, but for this course they set what they have learned over the past twenty months into practice.
Departing from Ottawa, many students expressed concerns over how they were going to fill their time abroad, as many had meetings planned early in the week but little scheduled for later on- "We are going to be finished by Wednesday," they joked.
In Santiago, their perspective changed. The first meetings of the week were highly engaging and the students began to see their projects unfold.
"You could see the pieces of the puzzle coming together. All of a sudden one meeting was opening the door to yet another one; information we were unable to find earlier all of a sudden came to light once we were face-to-face," remarked Alejandro Osorio, an EMBA student representing Norcan Hydraulic Turbine Inc.
Suddenly the momentum and enthusiasm took over the San Cristobal Hotel. Excited groups met with their supervisors and clients every evening to debrief about the progress of the day. Each meeting progressively provided them with additional options, insightful information and tremendous opportunities.
One team, who flew to Santiago with the goal of creating relationships, ended the week knowing they could make deals for their company.
After impressing selected company members, another team was invited to come back to the Chilean company's board meeting later in the week to present their product. The same team was also invited to a trade show in June.
A third team, with three executive representatives from the company present on the trip, hoped to generate five client relationships over the week. The team exceeded their goals with an outstanding result of fourteen client relationships and six business relationships with such organizations as Export Development Canada, Foreign Affairs and International Trade Canada, and Trade Chile.
"Most companies do not take the time to do this deep of an analysis of the country and its potential respective to their company- we did this. Now, we not only understand the high potential but that we may actually encounter a capacity issue with bringing in so much business," commented Robin Coates, EMBA Student.
Prior to leaving for Santiago, the students had some concerns about their success in establishing contacts. They were faced with a business culture and language different from Canada.
The teams quickly understood the importance of utilizing translating services as well as adapting to the business culture in Chile, which values relationship building and face-to-face meetings. Throughout the four months prior to departure, guest speakers highlighted this fact and also stressed that a relationship would not be built in a week; the companies should consider planning a second trip to Chile to secure deals.
As the week came to a close, many groups were busy completing their reports. They returned home with valuable information for their clients and great advice for next year's Telfer Executive MBA class, who are destined for China.
For more information on the Telfer EMBA, visit: www.emba.uOttawa.ca