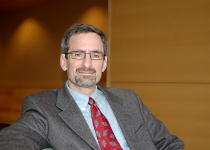 The Telfer School of Management at the University of Ottawa is pleased to announce the appointment of Jim Roche, President and CEO of Stratford Managers Corporation, as an Executive-in-Residence focusing on innovation, entrepreneurship and the management of growth enterprises.
"His vast experience and proven leadership will be invaluable to our students and programs", said Micheál J. Kelly, Dean of the Telfer School of Management. "Jim joins an impressive group of executives that is working with our students and faculty."
Mr. Roche will have meaningful interactions with our graduate students, by guest lecturing in MBA and EMBA courses and supervising MBA and EMBA business consulting projects.
His responsibilities will also include developing executive education initiatives and providing leadership regarding issues, trends and implications for teaching and research in the field of management of growth enterprises.
"It is an honour to be given this appointment", said Jim Roche. "I am looking forward to working with Dean Kelly and his team to further strengthen the Telfer School's focus on entrepreneurship and innovation."
Jim Roche founded Stratford Managers in 2006 to help businesses increase shareholder value by identifying growth opportunities and helping management capitalize on them. Stratford, staffed by highly experienced executives, focuses on fast-growing businesses in high technology, clean technology, service delivery and manufacturing.
Prior to starting Stratford, Mr. Roche was President & CEO of Tundra Semiconductor, a company he co-founded in 1995. Under his leadership, the company grew to over 300 employees with operations around the world, revenues of over $80M per annum and a public market value of over $300M.
The Executives-in-Residence program at the Telfer School of Management exemplifies its Linked with Leadership brand. These individuals provide our students with access to valuable insight into current affairs and expose them to their real life business experiences in various fields of business including International Business, Health Care, Politics, High Tech, Finance, Entrepreneurship and Law.