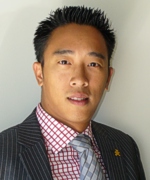 Tuan Nguyen, BCom 1999, receives the Dean's Philos Award, recognizing individuals who have demonstrated outstanding philanthropic achievement and social commitment. This award was established in 2004 on the School of Management's 35th Anniversary.
Tuan Nguyen graduated from the School of Management with a Bachelor of Commerce in 1998. He is presently the owner and managing partner of Open Space Marketing, a marketing communications firm that delivers on marketing needs of local and multinational organizations with a focus on web-marketing and technologies. However, his passion is in the community.
Among many community projects, Tuan co-founded a very successful non-profit organization called Commerce and Administration Student Charity Organization (CASCO) which has chapters in Ottawa and Montreal. His love for the community helped him flourish as a business professional, community member, a global citizen, and an expert in corporate social responsibility.
"Tuan provides an excellent role model for our students", said Dean Micheál Kelly. "His work for community organizations and his commitment to social and community causes is extraordinary. The School of Management is extremely proud of him and of CASCO, the organization that he co-founded and which continues to be a major vehicle for the School's students to give back to the community".
The award will be presented at the School of Management Gala of Excellence on September 16, 2006.