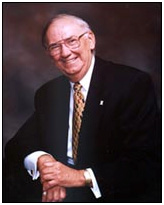 Mr. Eugène Tassé, graduate of the 1944 business class, has been an active supporter of the Telfer School of Management, as well as a prominent leader in the business community. Mr. Tassé was a recipient of the Trudeau Medal in 1989, as well as the Dean's Philos Award in 2004 for his philanthropy and outstanding civic involvement. His generous contributions to the Telfer School have been used to promote Entrepreneurial Culture. Mr. Tassé was presented with an honorary doctorate during the Telfer School of Management spring convocation, held on Sunday, June 14, 2009 at 9:30 a.m.
Entrepreneurial Culture is the art of developing autonomy, knowledge and leadership as an individual, within an organization and within a community. It is the discipline and motivation to adopt new habits to reach success and financial freedom. The concept of Entrepreneurial Culture is not new but it is often mistaken with entrepreneurship. However, Entrepreneurial Culture is more than just entrepreneurship; it is a way of life that can be adopted by anyone and is not limited to the business world.
It is based on this philanthropic personal philosophy that Mr. Tassé decided to share his knowledge with new generations of potential leaders through the Entrepreneurial Culture Challenge.
The Entrepreneurial Culture Challenge (ECC) is a one year competition through which Telfer School of Management students create and implement an action plan to develop the culture of success from Eugène Tassé. This culture of success or "entrepreneurial culture", helped Eugène Tassé become one of the region's most successful entrepreneurs.
Originally from Bourget, Ontario, Mr. Tassé is one of the most successful entrepreneurs of the Ottawa region. A self-made businessman, Mr. Tassé is the proud owner of Les Immeubles E. Tassé, a booming real estate business enterprise.
Click here to see the complete list of Honorary Doctorate Recipients [This link is no longer available]