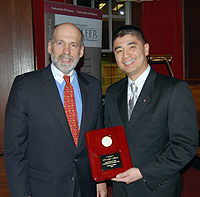 March 5, 2009, Ottawa – The Telfer School of Management at the University of Ottawa has received a $150,000 gift from the financial-services firm Edward Jones' Charitable Foundation to support student activities at the Telfer School, contributing to a superior student experience.
In recognition of the contribution, the Telfer School will rename its 10-screen multimedia TV system, which provides a continuous stream of timely news and information to all students, professors and visitors of the Desmarais Building, in honour of Edward Jones.
Working with leaders from the public and private sectors, the Telfer School actively cultivates strategic relationships in order to provide a superior management education to its students.
"Edward Jones has been involved with the Telfer School on a number of fronts, including recruiting our students, participating in our Career Centre's activities, and engaging with students by attending and sponsoring their various networking events. We are pleased to count Edward Jones as one of our dedicated partners and as another prime example of our links with leadership", said Micheál J. Kelly, Dean of the Telfer School of Management.
"We are pleased to have the opportunity to partner with the Telfer School of Management to help them develop the next generation of Canadian business leaders," said Gary Reamey, Principal, Edward Jones Canada. "We value the long-term and rewarding relationship that we've built with the Telfer School as well as its students and alumni."
About Edward Jones

Edward Jones is a full-service investment dealer with one of the largest branch networks in Canada. It is a member of the Investment Industry Regulatory Organization of Canada and the Canadian Investor Protection Fund, and a participating organization of the Toronto Stock Exchange. Including its affiliates, Edward Jones serves more than 7 million individual investors in Canada, the U.S. and the United Kingdom from more than 10,000 locations.
The financial-services firm Edward Jones was named to the No. 4 spot, up one spot from last year, on the "50 Best Employers in Canada" list by The Globe and Mail's Report On Business magazine and La Presse. This is the firm's seventh consecutive appearance on the list. Edward Jones' associates give generously to help others. They serve on local boards and committees, and volunteer in countless ways to help schools, hospitals, businesses and their neighbours.
The Edward Jones Charitable Foundation reinforce this commitment to "giving back" by supporting a variety of causes including museums, the arts, educational programs, medical programs and human services.