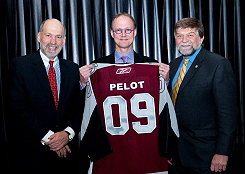 The second instalment of the 2009-10 Alumni Breakfast Speaker Series took place on November 25, 2009. The Biotech themed breakfast was entitled "From Bench to Box - a genetic testing biotech start-up journey".
Guest speaker James Pelot discussed the evolution of genetic testing over the last ten years from the perspective of a biotech start up, and how the "firming up" of business models and the understanding of the value chain in that period has created sustainable business opportunities.
The next installment of the Alumni Breakfast Speaker series will be held on February 4, 2010 and will feature guest speaker Karen Kinsley, CEO of CMHC, who was also named CEO of the year by the Ottawa Business Journal in October 2009.