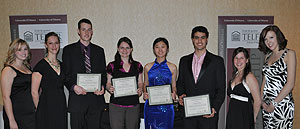 This past weekend, the Telfer Student Council proudly hosted the Strat24 Sustainability Competition. Strat24 is the University of Ottawa's first ever multidisciplinary 24-hour academic competition for Management and Engineering students.
The Telfer Student Council along with the Engineering Student Society teamed up pairs of management and engineering students to tackle a sustainability business challenge. Of the eight teams that participated, one stood out amongst the rest winning first place and a $4000 scholarship jointly donated by the Telfer School of Management and the Faculty of Engineering. Congratulations to Alexandre Walter, Chelsea Leighton, Yue Yang, and Georges El-Hage for their 1st place win.
The teams were lucky to have the opportunity to research a live case on Windmill Developments Group. Thanks to the support of Windmill's CEO, Jonathan Westeinde, the live case was a tremendous learning experience for the 32 participants.
Jasmine Bennett the Director of Sustainability for the Telfer Student Council was the inspiration behind Strat24, facilitating the connection between management and engineering students. The following is a quote from Jasmine Bennett: "I feel privileged to have been given the opportunity to host such an event. The success of this terrific experience is a product of 32 brilliant participants working hard for 24+ hours, support from both faculties and student associations, and most of all, the dedication and perseverance of my organizing committee: Jen Butson, Sacha Lavigne and Danielle Morin."
Photo caption: Danielle Morin, Jasmine Bennett, Alexandre Walter, Chelsea Leighton, Yue Yang, Georges El-Hage, Sacha Lavigne, Jen Butson.