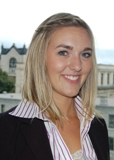 The Telfer School would like to congratulate undergraduate student Meghan Kelly who has been selected to receive the Futures Fund Scholarship for Outstanding Leadership.
Meghan is a 4th year students who is actively involved in many academic and social initiatives at the Telfer School. Meghan was the president of CASCO in 2008 and is a current member of the Marketing Case Competition team that will be competing at the 2010 Jeux du commerce. As well, Meghan is a peer mentor and a Teaching Assistant. In 2008, Meghan was awarded the Canadian Millennium Foundation Excellence Award in recognition of the positive contribution that she has made to the betterment of her community as well as for her demonstrated leadership.
About the Futures Fund Scholarship:
Canada's Outstanding CEO of the Year™ established the Futures Fund Scholarship for Outstanding Leadership to honour and mentor ten young Canadian university business students each year who have demonstrated exemplary leadership in their academic and extra-curricular initiatives.
The award program provides ten exceptional and deserving students with $5,000 grants to further their educational ambitions. In addition, recipients will travel to the Awards Gala in November to be presented with their scholarship.
Ten new schools are chosen each summer to receive the scholarships. Recipients are selected by their school's Dean's office based on their achievements and demonstrated leadership initiatives in their academic and extracurricular activities. Full-time graduate and undergraduate students in business degree programs are eligible.