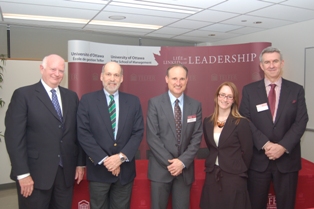 A new Internship Program, developed by Xerox Canada and the University of Ottawa's Telfer School of Management Career Centre will provide students with the opportunity to work in Sales and Marketing for 3 four-month terms beginning in May 2010. These work terms are distributed throughout the student's Bachelor of Commerce program.
The ultimate goal is to provide the student, upon successful completion of the program, with full-time employment with Xerox in the area of sales and marketing.
"This type of program is extremely beneficial for both students and employers", said Micheál J. Kelly, Dean at the Telfer School of Management. "Students have the opportunity to develop their leadership skills while gaining practical work experience in their field of interest. Xerox will benefit from having qualified students that understand the business and culture of the organization".
Xerox has been a partner of the Telfer School's Career Centre for the past few years, participating in career and networking conventions, the Sales and Marketing Breakfast and the MBA Consulting Projects.
"We are very pleased to be working with the Telfer School on this Internship Program and look forward to welcoming students", said Trevor Hains/Patrick Tallon, TITLE at Xerox. The Internship Program is based in Ottawa and under the management of the General Manager of Xerox Global Services.
About Xerox Canada
With revenues of $1.1 billion, Xerox Canada is a wholly-owned subsidiary of Xerox Corporation. They supply document technologies, systems, solutions and services that aim to improve their customers' work processes and business results.
Xerox Canada's success rests on their ability to understand their customers' needs and provide innovative document management solutions and services that deliver value. They deliver this value by leveraging their core competencies in technology, document knowledge, sales and service, value added solutions, and brand reputation.