Telfer School of Management Accredited by EQUIS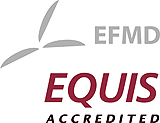 On November 25, 2009, the European Foundation for Management Development (EFMD) awarded EQUIS accreditation to the Telfer School of Management at the University of Ottawa.
Approximately only 40 business schools in the world have achieved the triple crown of accreditations. The Telfer School becomes the 3rd in Canada to realize this accomplishment.
"We've received accreditation by AACSB (2003) and AMBA (2005). With this third and final accreditation, we now earn ourselves a place among the top one percent of the world's business schools" says Micheál J. Kelly, Dean of the Telfer School.
The triple-crown achievement coincides with the Telfer School of Management's 40th anniversary as an independent faculty at the University of Ottawa. Over the last 40 years, the Telfer School has made countless moves to create a rich learning and research environment that prepares students to fulfil their personal and professional potential, and take full advantage of the possibilities of global business.
EQUIS is the leading international system of quality assessment, improvement and accreditation of higher education institutions in management and business administration. EQUIS is run by the European Foundation for Management Development (EFMD) and its fundamental objective, linked to the mission of the EFMD, is to raise the standard of management education worldwide.
The Telfer School was officially awarded the accreditation in November 2009, along with 4 other international business schools. "We are delighted to welcome 5 more leading international schools into the EQUIS community. Whilst EQUIS was born as a European initiative for the benchmarking and accreditation of business schools, it is now the leading global accreditation system. We embrace the diversity the new schools bring to the network and believe this is what makes EQUIS the most sophisticated and innovative improvement and benchmarking tool available for management education," said Prof. Julio Urgel, Director of Quality Services at EFMD.
About EQUIS
EQUIS is European in its inspiration and global in its scope. Europeans have designed it and Europeans from a broad range of countries manage it. Its scope, however, is global in that it provides an excellent framework for assessing quality in highly diverse institutional and cultural contexts.
Institutions that are accredited by EQUIS must demonstrate not only high general quality in all dimensions of their activities, but also a high degree of internationalisation. With companies recruiting worldwide, with students choosing to get their education outside their home countries, and with schools building alliances across borders and continents, there is a rapidly growing need for them to be able to identify those institutions in other countries that deliver high quality education in international management.
EQUIS has established its prestige and recognition worldwide. As of November 2009, 122 business schools have been awarded EQUIS with 34 countries represented among the accredited schools: Argentina, Australia, Austria, Belgium, Brazil, Canada, Chile, China, Colombia, Costa Rica, Denmark, Finland, France, Germany, India, Ireland, Italy, Korea, Mexico, Netherlands, New Zealand, Norway, Philippines, Poland, Portugal, Slovenia, South Africa, Singapore, Spain, Sweden, Switzerland, Turkey, United Kingdom, United States of America.