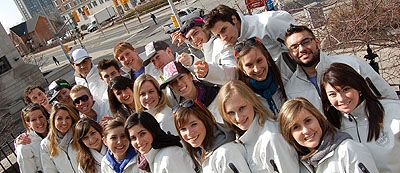 The University of Ottawa would like to congratulate the delegation of 35 students from the Telfer School of Management that represented us at 2009 Happening Marketing competition. This event was hosted by HEC Montréal from March 27-29, 2009. This is the second year in a row that the Telfer School has finished in the top 3.
The Telfer School won the following trophies:
1st place - Integrated Marketing Communications Case (Jasmina Charbonneau, Amanda Gorchinski, Bilal Rasheed)
1st place – Sports (Christopher Beaudoin, Mylène Gauthier, Alicia Kehoe, Isabelle Moo-Sang, Léon Forest-Nault, Natalie Saumure, Christopher Sisto, Michael Sutcliffe)
2nd place - Marketing Strategy Case (Chris Edwards, Anika Laperrière, Stéphanie Lavergne)
3rd place - Marketing Quiz (Janie Chartier, Cynthia Coutu, Shannon McCluskey)
3rd place – Overall Standings
Congratulations to Carolynn Lacasse and her executive committee (Christopher Beaudoin, Jasmina Charbonneau, Jade St-Laurent) for organizing the Telfer School's Happening Marketing Team.
Happening Marketing is an inter-university competition which gathers nearly 500 students from over 11 universities in Eastern Canada. This competition is also the second largest overseen by REFAEC, after the Jeux du Commerce.
Since 1991, students have had the opportunity to meet at this gathering and test their knowledge, skills, creativity and school spirit. Participants measure up against their peers from other universities in academic cases, as well as sport and social activities.