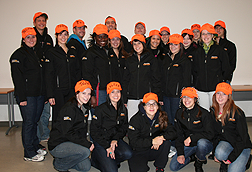 The 10th edition of the "Symposium GRH" was held on the weekend of November 21 and 22, 2009 at Université du Québec à Trois-Rivières.
This interuniversity competition reunited students from 10 universities in Eastern Canada.
The goal of this competition is to measure the expertise, the skills and the knowledge of students in human resource management. This also ensures the development of tomorrow's leaders.
The Telfer School of Management won the following trophies:
1st Place Overall standing
1st Place Negotiation Case
Jen Butson, Christian Dicks, Arron Dobson
1st Place Social
Valérie Doucet, Amanda Yarrow
2nd Place Human Resource Management Case
Megan Barwell, Caroline Chaudier, Brad Conlin
4th Place HR Quiz
Marie-France Faucher, Audrey Lamarche, Amélie Talbot