"Excellence of Leadership and Legacy in Entrepreneurship"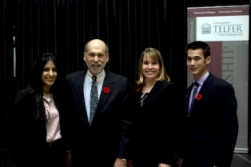 The 12th annual ELLE Wine and Cheese, supported by Enterprise Rent-A-Car, was held on Tuesday, November 10, 2009.
At this prestigious event, both students and professionals had the opportunity to network with one another, and more importantly, celebrated the achievements of Canadian women professionals and their journey to success. The keynote speaker this year was Christine Taylor-Broughton, the Assistant Vice President of Enterprise Holdings.