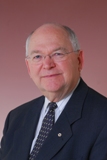 Micheál J. Kelly, Dean of the Telfer School of Management and Claude Laguë, Dean of the Faculty of Engineering cordially invite you to attend the Entrepreneurship Bridges Lecture with guest speaker, Dr. H. Douglas Barber, Founder and Former President and CEO of Gennum Corporation.
Date: Tuesday, March 16, 2010
Time: 7:00 a.m. - Coffee and networking
7:30 a.m. - Breakfast
8:00 a.m. – 9:30 a.m. - Presentation
Location: Tabaret Hall, Rotonde (1st floor)
550 Cumberland Street.
Free! Limited seating available.
Please confirm your attendance before March 12, 2010 by e-mail to This email address is being protected from spambots. You need JavaScript enabled to view it. or by phone at (613) 562-5800 ext 2396
About the Speaker
H. Douglas Barber, O.C., Ph.D., D.Sc., FCAE, P.Eng., born on a Saskatchewan farm, attended the University of Saskatchewan obtaining his B.Sc. with Great Distinction, winning the Governor General's Gold Medal, and a M.Sc. in Electrical Engineering. As an Athlone Fellow and NATO Scholar he received his Ph.D. from Imperial College, University of London in 1965.
Dr. Barber began employment in 1965 in a new microelectronics initiative at Canadian Westinghouse, Hamilton, Ontario, Canada. In 1973 he was one of the founders of Linear Technology Inc., now known as Gennum Corporation, which designs, manufactures and markets microcircuits. Gennum has grown profitably at 20% per year and now employs about 650 people. Dr. Barber was President and CEO when he retired in 2000. He retired as a Director in 2007.
Dr. Barber was a part-time Engineering Physics Professor at McMaster University from 1968 to 1994. In 2001 he was appointed Distinguished Professor-in-Residence. He is a past Chair of the Board of Governors and recently has been designated an Honorary Governor. Dr. Barber also presently serves on various research boards, task-forces and committees at the University.
Dr. Barber has received numerous awards including three honorary doctorates that honor his engineering and entrepreneurial achievements. The most recent honor an appointment as Officer of the Order of Canada, as well as recently receiving an Honorary Doctorate of Science from the University of Saskatchewan.
Dr. Barber has been involved in numerous advisory committees and corporate directorships. He was a director of DALSA Inc. from 2005 to 2008, NetAccess Systems Inc. since 1994 to 2009. He also is presently a director of Micralyne since 1997, AllerGen NCE Inc. since 2003, and The Institute of Quantum Computing since 2006. In 2009 Dr. Barber joined the Boards of the Centre for Probe Development and Commercialization, the Centre for Surgical Innovation and Invention and the IRAP Advisory Board.
Dr. Barber has authored 29 refereed papers and several patents. He speaks frequently on business, technology, learning, innovation and economic development. He and his wife, June, have raised a family of four whose families now include ten grandchildren. He is a man of faith with over 37 years of active involvement in their church.