3rd place at the 2010 JDC National Competition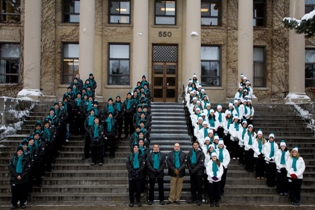 Students honour Dean Micheál Kelly (centre) with his initials.
The University of Ottawa would like to congratulate the team of 90 Telfer School of Management students that represented us at the Jeux du commerce 2010 (JDC). This annual competition, featuring 13 universities from Eastern Canada, was hosted by the John Molson School of Business at Concordia University from January 8-10, 2010.
This year's delegation brought home 11 trophies, including the Academic Cup, which has been won by the Telfer School for the 3rd year in a row. This is also the fifth time that the Telfer School has finished in the top three positions overall.
3rd Place – Overall Standing
1st Place Trophies:
Entrepreneurship Case (Jasmina Charbonneau, Daniel Siré, Christopher Sisto)
Coach: Professor Barbara Orser
Business Ethics Case (Alicia Kehoe, Leah Orvis, Haochen Zhang)
Coach: Professor Laurent Mirabeau
Ultimate Frisbee (Stacy Lambden, Alisha Zhao, Anne Mercier, Léon Forest-Nault, Dylan Zajac, Craig Tai, Wilson Wong, Mike Sutcliffe, Christopher Beaudoin)
Team Sponsored by Red Alert First Aid
Coach: Fred Caron
2nd Place Trophies:
Debate (Jordan Demeo, Douglas Judson, Marielle Milot, Jade St-Laurent)
Team Sponsored by Roc St-George
Coach: Daniel Bunjevac
Finance Case (Kera James, Héloïse Marleau, Alexandre Walter)
Coach: Professor Alan Riding
MIS Case (Samuel Arseneau, Brad McLeod, Artem Padalko)
Team Sponsored by Maplesoft Consulting Group
Coach : Professor Craig Kuziemski
International Business Case (Myron Gomes, Amanda Grochowich, Mathieu Lagacé)
Coach: Professor Martine Spence
Dodgeball (Alexandra Brunette-D'Souza, Geneviève Bisson, Mark Iezzi, David Lazenby, Jacob Legault, Cal McDonald, Isabelle Moo Sang, Michael Weatherhead, Chris Weatherhead)
Team Sponsored by Dr. Sisto Corporation
Coach: Charles Leury
3rd Place - Commitee of the Year
Desjardins Cup (Sports)
Academic Cup
Thanks to our sponsors and partners:
Mitel, Desjardins, uOttawa, Telfer School of Management Student Council, Roc St-George, Maplesoft Consulting Group, Marcil Lavallée, Welch LLP, CMA, Red Alert First Aid, Ferme Mon Vully, Dr. Sisto Corporation and Coco Bella Spa