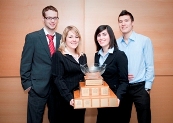 The University of Ottawa Marketing Association and the Telfer School of Management held the 25th Michel Cloutier Marketing Competition on April 7, 2010 at the Desmarais Building.
Congratulations to the winning team, "Les créatifs" (Pascal Bouchard Phillips, Cynthia Coutu Ross, Jade St Laurent and Maxime Gauthier-Kwan), who presented the best marketing campaign as mandated by the University of Ottawa and event sponsor Newcap Radio. This year's mandate was to develop a marketing strategy to attract undergraduate students to the University of Ottawa from the Ottawa-Gatineau region.
The winning team received a cash prize of $1,000 and the 2 finalist teams received $500. The Marc Roy Fund awarded $1,000 to the student with the best presentation, Jade St Laurent.
Finalists:
Yukon Cornelius Consultants: Nathan Ferguson, Lindley Graham, Meghan Kelly, Edyta Kosior and Patrick D. Suter.
Team Go Far: Brian Li, Eric de Gagné, Luke Heaslip, Fei Gong, Tiffany Leung and Quinn MacDonald