Telfer MBAs in Hunt for Tata Cup at Case Competition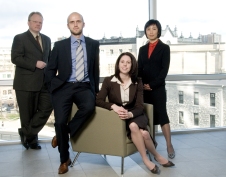 Ottawa, November 18, 2009 – Five teams of MBA students from some of Canada's most prestigious business schools square off this coming weekend in a bid to win the national Tata Cup Sustainability Case Competition.
This year's competition takes place in the Nation's Capital at the Telfer School of Management at the University of Ottawa on November 21, 2009.
Teams of graduate students are given an identical complex business situation and have three hours to construct a detailed solution which they present to a team of industry experts. A team of Telfer MBA students won the 2008 competition, held at the Schulich School of Business.
This year's teams are:
Schulich School of Business (York University)
John Molson School of Business (Concordia University)
University of Alberta School of Business
Queen's School of Business (Queen's University)
Telfer School of Management (University of Ottawa)
"This competition has become a popular national event among business schools. It is in many ways symbolic of the emphasis all Tata companies place on sustainable business, and of the company's values of leading change, respect for individuals, integrity, excellence, and learning" said Mukesh Gupta, executive director of Tata Cup and director of strategic relations for Tata Consultancy Services. "We hope that the Tata Cup continues to grow in scope and stature as it has done over the last five years."
About Tata Consultancy Services
Tata Consultancy Services is an IT services, business solutions and outsourcing organisation that delivers real results to global businesses, ensuring a level of certainty no other firm can match. TCS offers a consulting-led, integrated portfolio of IT and IT-enabled services delivered through its unique Global Network Delivery Model, recognized as the benchmark of excellence in software development. A part of the Tata Group, India's largest industrial conglomerate, TCS has over 140,000 of the world's best trained IT consultants in 42 countries. The company generated consolidated revenues of US $6 billion for fiscal year ended 31 March 2009 and is listed on the National Stock Exchange and Bombay Stock Exchange in India.
About the Tata Cup
The Tata Cup is an annual business case competition for graduate students at universities and business schools across Canada. The competition is based around a case drawn from recent news events, and places a strong emphasis on both Canadian content and corporate sustainability. Sponsored by Tata Consultancy Services, the Cup is now in its fifth year. Initially focused in the Greater Toronto Area, in recent years participants have included teams from business schools right across Canada. This year's host institution, the Telfer School of Management at the University of Ottawa, is the current holder of the Tata Cup.
For Information:
Shaun Markey This email address is being protected from spambots. You need JavaScript enabled to view it.
Douglas Long This email address is being protected from spambots. You need JavaScript enabled to view it.
www.tcs.com