Program Options and Minors
The Honours Bachelor of Commerce program (BCom) is an exceptional program that allows you to build a solid foundation in all fields of business. Take advantage of experiential learning opportunities that prepare you to create a better Canada and world for all.
You can choose to specialize in one option, two options, or pursue one commerce option with a minor in another faculty at the University of Ottawa.
The BCom starts with common core courses, such as Marketing, Financial Management and Organizational Behaviour, allowing you to gain an understanding of each key field of business. The courses within the program follow a logical sequence that enables you to build your overall business knowledge and become a specialist in your field of choice.
BCom with ESL Courses
This is an adjusted course sequence for students who are required to take English as a Second Language (ESL) courses as per the results of an English language test administered at the beginning of the first semester.
Course Structure
Complete your BCom degree with the following structure:
One business option, business electives, out-of-faculty electives, and free electives
One business option, the complementary option in Entrepreneurship or in Business Analytics, out-of-faculty electives, and free electives
Two options in the field of business (for instance, Finance and Marketing), out-of-faculty electives, and free electives
One business option and a minor (in another faculty) and business electives

Refer to table for all possible options and out-of-faculty minor combinations.
Note: All business options will be combinable, except for the specialization in Accounting and the BCom/Juris Doctor.
The BCom course units will include:
Common core courses = 63 units
BCom option courses = 18 units
BCom (ADM) elective courses = 9 units
Out-of-faculty electives courses = 15 units
Free elective (business or out-of-faculty) courses = 15 units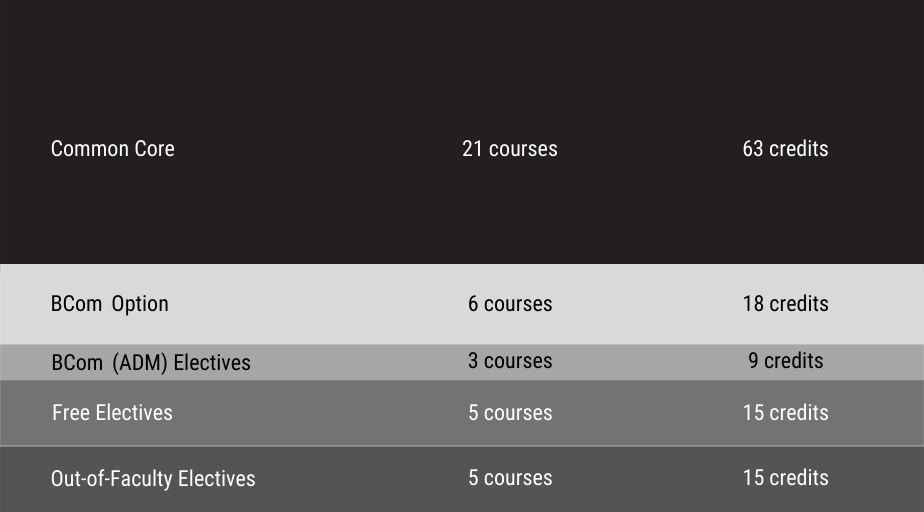 Exceptions to this structure:
The specialization in Accounting will have 3 units of out-of-faculty electives and 9 units of free electives.
The option in International Management will have 15 units of out-of-faculty electives, and 9 units of free electives due to the mandatory international exchange (15 units).
The BCom/Juris Doctor will keep its 18 units of ADM electives and its 6 units of out-of-faculty (non-business and non-law) electives, and add 9 units of free electives.
BCom with Two Options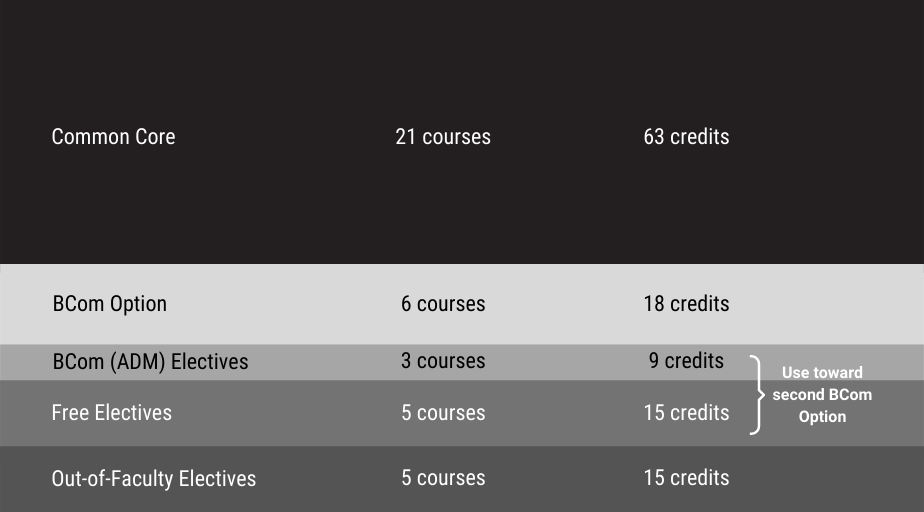 BCom with an Out-of-Faculty Minor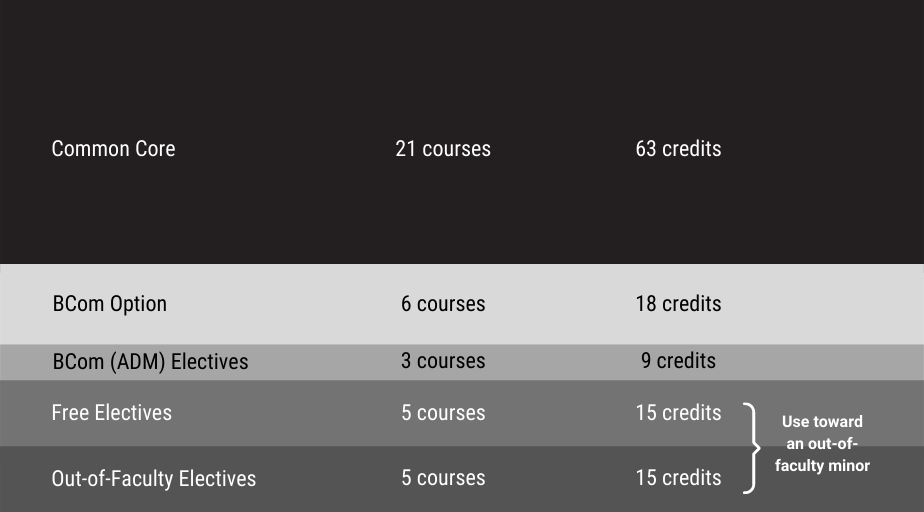 Making Changes to Your Program
You can change your program before the end of second year between March 1 and June 1. Should you wish to make changes to your current program, please contact the Student Services Centre.