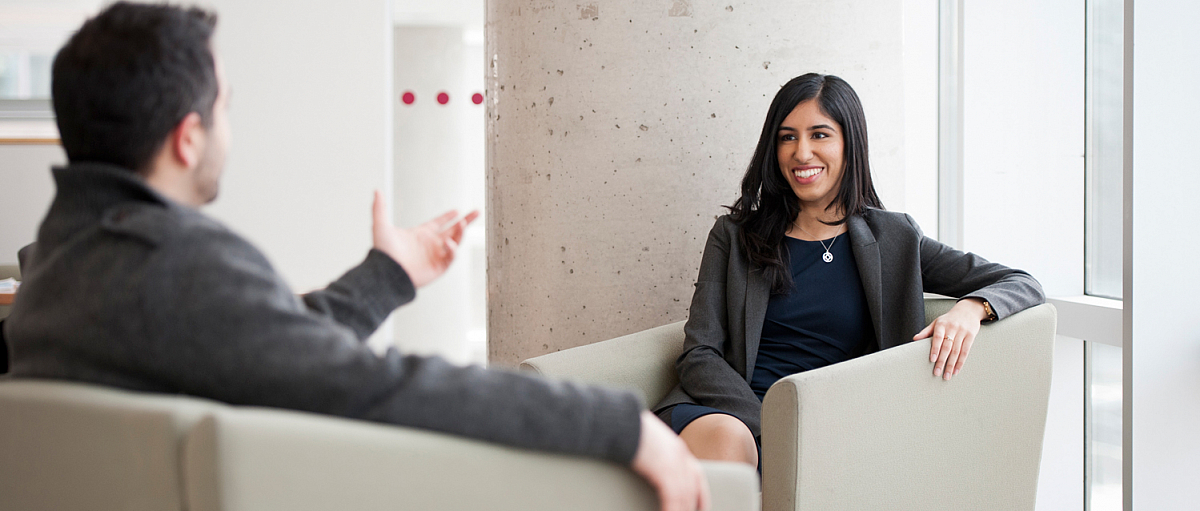 Congratulations on your decision to embark on your MBA journey.
Here is everything you need to know to get started.
Our MBA applications are evaluated on a rolling basis, in the order in which they are received. Review the list of items that you need to apply, and follow our step-by-step checklist for submitting your online application. You can also book an appointment with a recruitment specialist who will walk you through the process. Once your application is complete, it will be reviewed by our admissions team for the next available academic year.
The sooner you submit your application, the closer you are to joining Telfer Nation.
Admission Criteria
A minimum of three years of full-time managerial or professional work experience is required. Part-time positions, summer jobs, and co‑op placements do not count toward this experience, but they are considered favourably during your file evaluation. Preference is given to those who have greater work experience, particularly when there is evidence of management responsibilities and a net career progression.
A Canadian baccalaureate degree, or equivalent, with a minimum admission average of B (70%) is required. The admission average is calculated in accordance with the Graduate Studies guidelines (the last 60 units for Canadian and American transcripts, or the last 20 courses for foreign transcripts). All post-secondary studies are considered at the time of admission, with the most recent studies considered first.
*Exceptionally, a limited number of candidates may be considered for admission on the basis of substantial managerial or professional training, and at least 10 years of work experience. This experience indicates strong evidence of management responsibilities and career progression, even if such candidates do not hold a Canadian bachelor's degree or its equivalent, or if the candidate does not meet the minimum academic requirements.
You must achieve a competitive score in the Graduate Management Admission Test (GMAT) or the Graduate Record Examination (GRE) to apply to one of our programs in English, or in the TAGE MAGE to apply to one of our programs in French.
Applicants having completed their BCom degree at the University of Ottawa or other Canadian universities with a CGPA equal to or above 7.0(B+) (at the time of their application) may qualify for a GMAT or GRE waiver. To confirm your eligibility, please send a copy of your resume and transcript to us for review (This email address is being protected from spambots. You need JavaScript enabled to view it.).
GMAT
Graduate Management Admission Test (GMAT): a minimum overall score of the 50th percentile with a minimum of the 45th percentile in verbal and quantitative.
GRE
Graduate Record Examinations® (GRE®): a minimum overall score of 310 with at least the 45th percentile in verbal and 40th in quantitative.
TAGE MAGE
French speaking students who are applying to the MBA in French have to take the TAGE MAGE Test instead of the GMAT or GRE.
The results are an essential part of the candidate's file. A competitive and above-average result is a positive element in the analysis of the application file. The medians for the overall and TAGE-MAGE sub-test results are:
Final score: 257/600 points
Part I - Problem Solving: 23/60
Part II - Verbal skills: 26/60
Part III - Logical Reasoning: 27/60
A TAGE MAGE test can only be taken once between January 1 and June 30, as well as between July 1 and December 31. A candidate may take the test twice in a calendar year. A fee will apply for each test.
A score on the TAGE MAGE test is valid for 2 calendar years.
The TAGE MAGE is two hours long and consists of six sections. The fee for the test is $180 (taxes included).
As soon as we receive your application, we will send you the link to register.

Please find below the dates of the Tage Mage offered for the 2022 admission cycle.
Saturday, October 23, 2021
Saturday, November 27, 2021
Saturday, February 26, 2022
Saturday, March 19, 2022
Saturday, April 30, 2022
The TAGE MAGE test is only offered to candidates applying for one of our programs. Sessions are also offered by HEC Montréal and FNEGE.

N.B. In case of cancellation, no refund will be offered.
Candidates whose mother tongue is neither English nor French are required to provide evidence of proficiency in one of these languages. Candidates applying to the English MBA must submit ONE of the following to confirm their English proficiency (the language test scores cannot be more than two years old as the date of application of potential entry into the MBA program):
Proof of completion within the last five years, of a previous degree program in an English language university.
Proof of recent prolonged residence and exercise of a profession in an English speaking country (normally at least four years over the last six years).
A score of at least 100 (Internet-based) or 250 (computer-based) on the Test of English as a Foreign Language (TOEFL).
A score of at least 7 in at least three of the four Academic International English Language Testing System (IELTS) tests (Reading, Listening, Writing, Speaking) and at least 6 in the fourth. The General Training IELTS test is not accepted.
A score of at least 14 on the CANTEST, administered by the University of Ottawa, with no individual test score below 4.0, along with a score of 4.5 on the oral component of the test.
A score of at least 68 on the Pearson Test of English (Academic) (PTE Academic).
Applicants may be contacted for an interview with one of the admissions members. The interview explores the student's background in a team-based working environment, their objectives for following an MBA, and their ability to communicate effectively.
Application Process
www.ouac.on.ca - If this is your first time filing out an Ontario university application, create a new account. Otherwise, log in to your OUAC account.
Get ready in advance, you will be required to upload the following documents within your uoZone portal once you have submitted your online application through OUAC.
Curriculum vitae (resume): Outline your managerial and professional experience, as well as any pertinent volunteer work.
Letter of Intent: State your reasons for pursuing a graduate program, as well as your contribution to the program given your background and experience. The letter should be at least 500 words.
Admission test scores (GMAT, GRE or TAGE MAGE): To speed up the evaluation process, please upload a copy of your GMAT, GRE or TAGE MAGE report. At your testing centre, request that official GMAT, GRE or TAGE MAGE test results be available electronically to the Telfer Graduate Office.

GRE institutional code is 0993
The GMAT department code is 4BZ-76-75 (MBA)

Transcripts: Please upload one transcript from each post-secondary institution that you attended. Transcripts from the University of Ottawa will be requested by our office.

Transcripts from non-Canadian and non-American institutions should include the grading scale (often found at the bottom or the back of the transcript. If not, you need to obtain it from your school).
If the transcript is not in English or French, a certified translation must be submitted.
Note: Official and recent transcripts will be required in the event of an admission offer.

Please have them delivered to the following address:
Telfer School of Management
55 Laurier Avenue East, Room 4160
Ottawa, ON
K1N 6N5 Canada

In the event of an admission offer, candidates who completed their studies in China must submit official translations (transcripts and diplomas) certified by the China Higher Education Student Information and Career Center (CHESICC). They must be sent directly to our institution.

Official language proficiency test scores: Test scores from one of the following tests need to be submitted if applicable: TOEFL, IELTS, CanTEST, other. To be valid, the test score must be less than two years old at the time of application. To speed up the evaluation process, please upload a copy of your language test report. Ask an officer from ETS (TOEFL) or IELTS to make the results available electronically to the Telfer Graduate Office.

TOEFL institutional code is 0993.
When all sections of the online application have been filled, you can proceed to submit your complete application. If you forgot to fill-in mandatory sections you will be re-directed to the error/warning section. Review these notifications. Once reviewed you can proceed to submit your complete application and pay the application fee.
In order for your application to be submitted to the Telfer School of Management, you will need to pay the non-refundable fee of $110 CAD. Application fees cannot be waived.
You will receive an email from the University of Ottawa within ten days following your online submission. This email will contain your student number, uoAccessID, and password to access the uoZone student portal. If you did not receive this email, make sure to check your OUAC account to ensure that your application was successfully submitted.
Once you have received your uOttawa log-in credentials, sign in to the student portal where you will be able to submit the required documents to complete your application.
Once you have logged in, you must go in the "Applications" section to have access to uoDoc: Upload Admissions Documents application where you will be able to upload your documents.
Add at least two referees' contact information in uoZone. Your referees will receive an email from the University of Ottawa with a link to a recommendation form that can be submitted virtually.
Once you have completed these steps, you will have officially applied to the Telfer School of Management! An admissions decision will be communicated with you via uoZone.
Application Deadlines
We strongly advise candidates to apply as early as possible to increase their chances of being considered for a scholarship. Scholarships are awarded on a rolling basis.
MARCH
1
International application deadline
May
15
Canadians, permanent residents and Americans application deadline
Fees and Financing
Learn more about the fees accompanied with the MBA program, and opportunities for financial support and scholarships.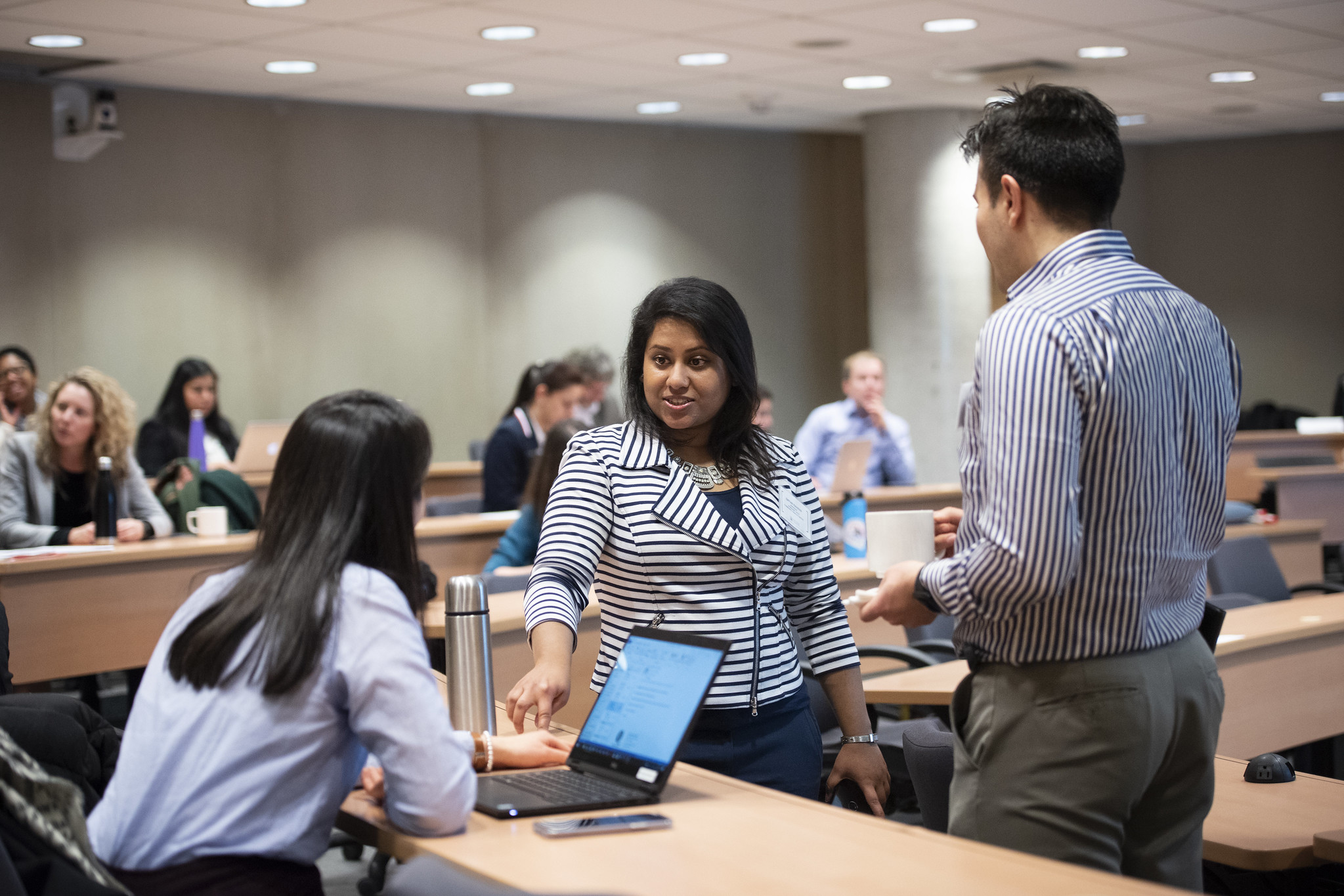 Have any questions?
Talk to a recruiter via email, chat, or book an appointment.
Frequently Asked Questions