Saouré Kouamé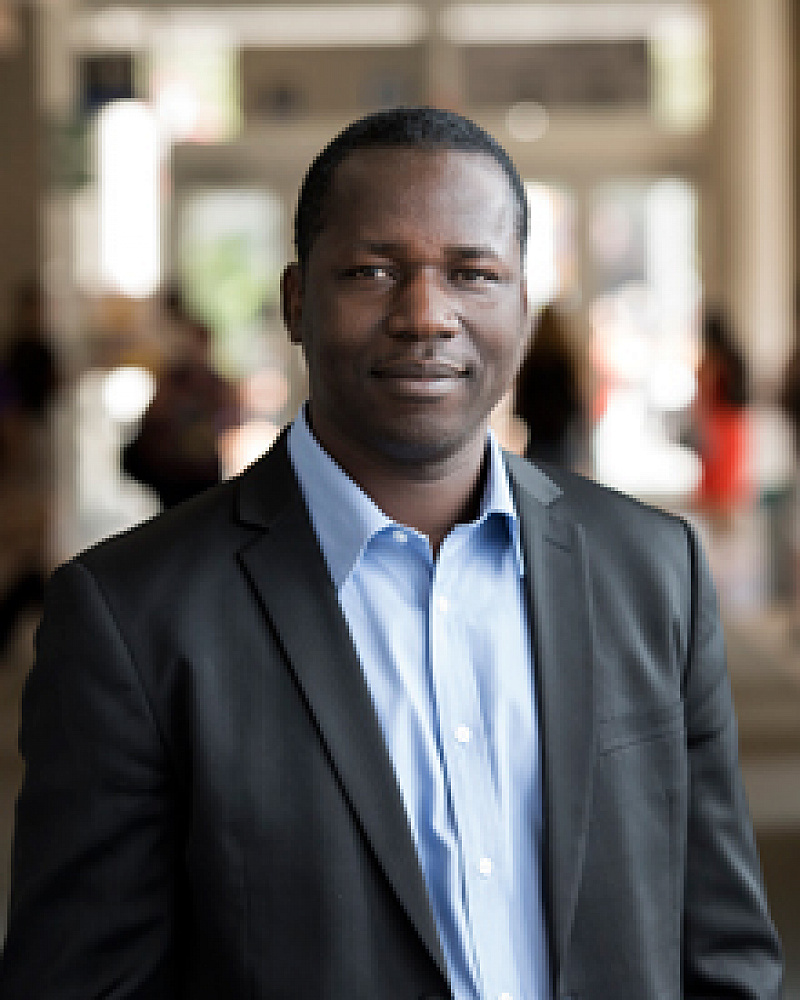 Associate Professor
B.A. (Hon.) (National University of Ivory Coast), M.Sc. (HEC Montréal), Ph.D. (HEC Montréal)
Location

DMS 6114

Telephone

613-562-5800 x 4742
Email

This email address is being protected from spambots. You need JavaScript enabled to view it.
---
Biography
Dr. Saouré Kouamé is an Associate Professor of Strategy at the Telfer School of Management. He was Associate Professor of Strategy at HEC Montreal and Visiting Scholar at INSEAD France and Singapore. He holds a PhD in management (Strategy & Organization) from HEC Montréal, where he was awarded the best PhD dissertation (all disciplines included). Born and raised in Ivory Coast (Côte d'Ivoire), he has developed a deep interest in the development of the African continent, especially impact strategies of local and international actors.
Research activities
Digital Innovation and Impact Strategy
His research focuses on projects that can help move society forward, especially those with potentially higher social impact. For example, he is currently working on: (1) strategic challenges facing Central Banks in the introduction of Digital Currency in developing countries, (2) the United Nations' challenges with digital transformation, in particular the introduction of innovative practices based on new technologies (artificial intelligence, blockchain, etc.) in the context of achieving the SDGs (2030 Sustainable Development Goals), and (3) challenges facing international actors in their endeavor to strengthen the African philanthropic ecosystem. Through these research projects, he studies social impact strategies and their success factors, such as digital-driven social innovation, financial technology and financial inclusion, and the ecosystem approach to philanthropy.
Emotion in Strategy Research
Dr. Kouamé is also among the researchers trying to introduce emotion as an area of research into the field of strategy. He is currently collaborating with scholars such as Quy N. HUY (INSEAD, Singapore), Timo Vuori (Alto University, Finland), and Feng Liu (Saint Mary's University, Canada), among others, on research projects in this area. Together with Feng Liu, he has offered the first article that articulates how to study emotion in strategic organization, using qualitative methods. He also promotes this area through his involvement on the leadership committee of the Strategic Management Society (SMS) as an elected Rep-at-Large.
His work has been published in top management journals such as Academy of Management Journal, Strategic Management Journal, Journal of Business Ethics and Strategic Organization. He was awarded Best Paper at AOM (Academy of Management, Boston) and Best Paper at ASAC (Administrative Science Association of Canada), and the Honor Roll of Responsible Research in Business and Management.
Teaching activities
He teaches strategy formulation and execution courses to MBAs and undergraduates, as well as to corporate executives. With other colleagues, he is currently writing a book on "Nonprofit strategic tensions" that will be useful to teach strategy to executives of nonprofit organizations (NGOs and social-oriented organizations).
Publications during the last 7 years
Papers in Refereed Journals
Kouamé, S. 2022. Structural Change in Africa: Misperceptions, New Narratives and Development in the 21st Century.: Carlos Lopes and George Kararach Routledge Taylor & Francis. Journal of Comparative International Management, 25(1): 175-177.
Kouamé, S., Hafsi, T. and Langley, A. 2021. Creating and Sustaining Stakeholder Emotional Resonance with Organizational Identity in Social Mission-Driven Organizations. Academy of Management Journal.
Kouamé, S. and Liu, F. 2021. Capturing emotions in qualitative strategic organization research. Strategic Organization, 19(1): 97-112.
Johnson, K., Martineau, T., Kouamé, S., Turgut, S. and Poisson-de-Haro, S. 2018. On the Unethical Use of Privileged Information in Strategic Decision-Making: The Effects of Peers' Ethicality, Perceived Cohesion, and Team Performance. Journal of Business Ethics, https://doi.org/10.1007/s10551-018-3822-5: 1-13.
Kouamé, S. and Langley, A. 2018. Relating Microprocesses to Macro-outcomes in Qualitative Strategy Process and Practice Research. Strategic Management Journal, 39(3): 559-581.
Kouamé, S. and Pole, N. 2017. Agissez dans votre écosystème pour créer plus de valeur sociale. Gestion, 42(4): 104-108.
Books
Kouamé, S. and Hafsi, T. La solidarité en crise: Centraide et la nouvelle philanthropie. Montréal, QC: JFD Edition, 2018.
Invited Contributions and/or Technical Reports
Pisani, S., Longtin, D., Fontan, J.M., Bordeleau, L., Kouamé, S. and Hafsi, T. 2021. "Étude de cas en trois volets sur le Regroupement pour la responsabilité sociale des entreprises", July.
Fontan, J.M., Hafsi, T., Klein, J.L., Kouamé, S., Lefèvre, S., Lévesque, B. and Rochma, J. 2018. "Trajectoire historique de la Fondation Lucie et André Chagnon", UQAM, Montréal.
Funded Research during the last 7 years
Funded Research during the last 7 years

| From-To | Source | Title | * | ** | Role | Amount |
| --- | --- | --- | --- | --- | --- | --- |
| 2020-2023 | SSHRC - Insight Development Grants | In Search of Greater Social Impacts: The Challenge of Innovation in UN Agencies | R | C | PI | $ 42,000 |
| 2018-2024 | SSHRC Partnership Grant | Canada Philanthropy Research Network (Philab) | R | C | Collaborator | $ 2,500,000 |
| 2018-2021 | INSEAD | Visiting Scholar Fellowship (France and Singapore) | R | O | PI | $ 15,000 |
| 2018-2019 | Telfer School of Management | Orphan Causes: Managing Corporate Involvement in Poverty Reduction | R | I | PI | $ 12,000 |
| 2018-2019 | University of Ottawa | Orphan Causes: Managing Corporate Involvement in Poverty Reduction | R | I | PI | $ 10,000 |
| 2017-2019 | Telfer School of Management | Start-up Grant | R | I | PI | $ 20,000 |
| 2013-2016 | Fonds de Recherche du Québec - Société et culture (FRQSC) | Doctoral Fellowship | R | G | PI | $ 60,000 |
LEGEND:
*Purpose
C: Contract (R and D) | E: Equipment Grant | R: Research Grant | S: Support Award | P: Pedagogical Grant | O: Other, U: Unknown
**Type
C: Granting Councils | G: Government | F: Foundations | I: UO Internal Funding | O: Other | U: Unknown
Role
PI = Principal Investigator | Co-I = Co-Investigator | Co-PI = Co-Principal Investigator