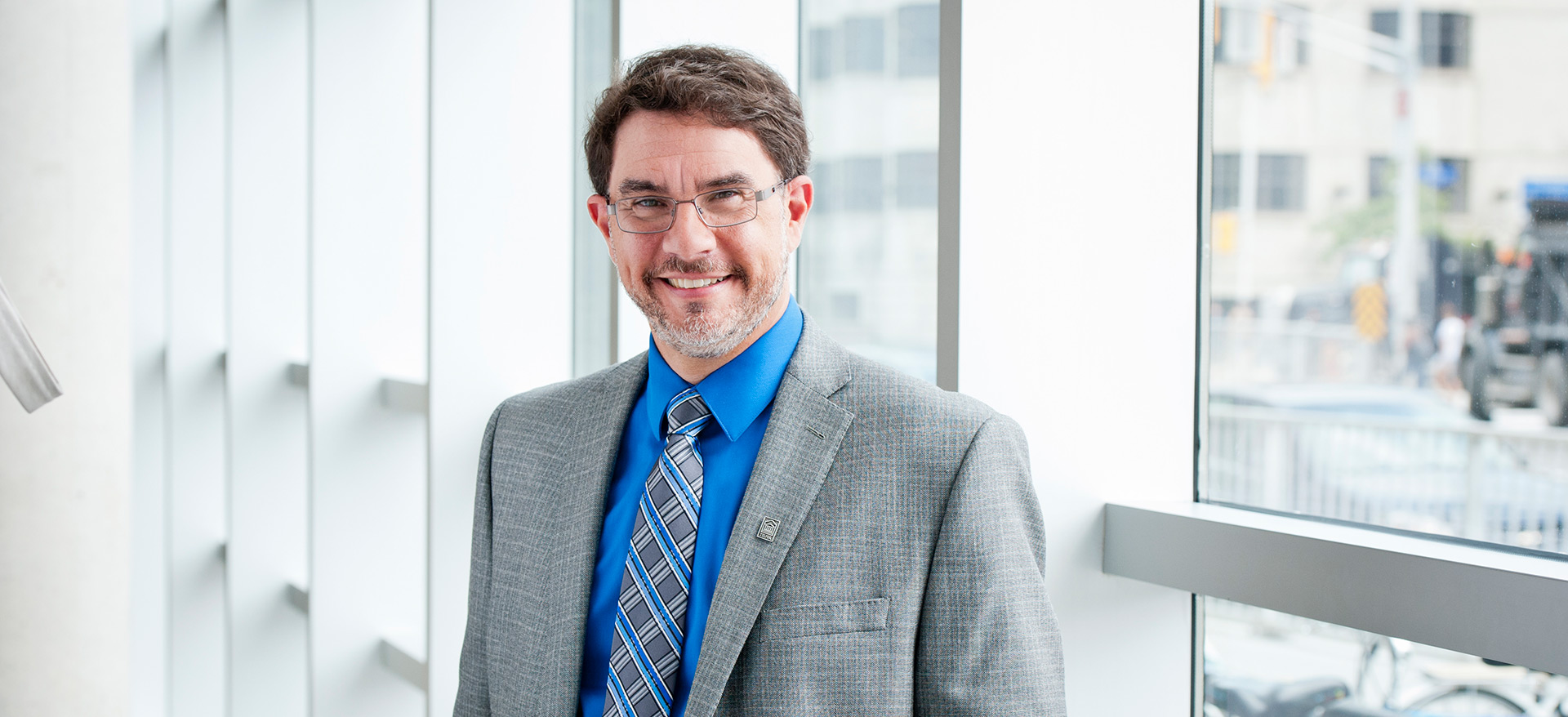 Bold Leadership
This year, our community has faced numerous challenges given the current socio-economic situation that we face. Telfer has showed the important role it can play in these difficult moments and how we can stand resiliently together. We have our leader to thank for this.
It would be fair to say that Dean François Julien's departure has been a cause of mixed feelings, as we were saddened to bid farewell to our leader of 10 years. We are grateful for his exceptional leadership, dedication, and phenomenal achievements for the Telfer School.
We are hopeful for the future as his legacy will continue to influence Telfer for decades to come. François Julien leaves an indelible mark on the Telfer School of Management, and on all of Telfer Nation.
Former student, professor, MBA Director, Associate Dean of Programs, and Vice-Dean, François Julien was appointed Dean of the Telfer School of Management in January 2011, after 6 months as interim Dean. Dean Julien strongly believed that his foremost role as Dean is to create a workplace culture that enables everyone to use their unique strengths and realize their full potential. As a true "musical director", he felt that when these aspects are at their most optimal when we collaborate in harmony with others.

The Telfer School leaders, faculty members, alumni and students prepared a strategic plan fuelled by their passion for learning, research, teaching, business success, entrepreneurship, innovation, community engagement, personal growth, and professional development. This led to the creation of the 2014-2015 Telfer Strategic Plan, which was made up of three main elements:

• Six strategic goals including student experience, community engagement, and international visibility

• Stating clear vision, mission and values

• Identify three Strategic Areas of Excellence: innovation and entrepreneurship, health systems management, and analytics and performance.

The faculty and staff at Telfer carried out continuous improvement initiatives in all aspects of our school, allowing us to maintain our triple crown of accreditations. We revised our undergraduate and graduate programs to focus on learning outcomes and improve the student learning experience, and we also expanded our portfolio of courses, programs, and activities in executive education.

The next step in this evolution of the Telfer School was clear to Dean Julien: to build on these solid foundations in efforts to enhance our reputation further and increase international visibility. To put it simply, our ambition is to raise the bar and excel in everything we do.

During this time, "Linked with Leadership" inspired every action we took and every decision we made at the Telfer School, allowing us to create ties and lead individuals and businesses in our community. These decisions ultimately helped the Telfer Executive Leadership programs become acknowledged as one of the region's finest. Additionally, the creation of the Entrepreneurship Hub at uOttawa allowed our school to add a Complementary Entrepreneurship Option to our BCom program options. Furthermore, the Financial Research and Learning Lab opened in the Desmarais Building that same year.

Under Dean Julien's leadership, we grew by working together and with our community, thus strengthening the relationships that unite us all and further enhancing the performance and reputation of Telfer.

The Telfer School launched a new brand vision for the school in 2015 entitled: "Connects you to what matters". More than just a tagline, Dean Julien made it his prime duty to see that our school connects everybody in the Telfer community to the individuals, resources, and opportunities they needed to strive for their ambitions. From here, the motto was born: "What matters to you, matters to all of us at the Telfer School." Also during this pivotal year, the Master of Health Administration (MHA) program celebrated its 50-year anniversary.

At Telfer, our greatest virtue has always been engagement, as it allows us. Dean Julien defined engagement as our community sharing in the vision and taking part in the success of the school. All can engage—students, alumni, community leaders, business owners, senior executives, parents, faculty, and staff. And each member who engages can offer something of value—time, talent, professional networks, opportunities for collaboration, job opportunities, or capital.

Even better, this virtuous cycle of engagement, innovation, and impact accelerates as we increasingly devote ourselves to it. The reason is simple: your engagement elevates our school's reputation and integrity. A great example of this can be seen with alumnus Camille Villeneuve, who completed his BCom in 1967 and received an Honorary Doctorate from uOttawa in 1996. He pledged $1.5 million to the Telfer School, resulting in Desmarais room 4101 named Salle Camille-Villeneuve Room in his honour.

While innovation often emerges from our eagerness to seize opportunities, at least as many new ideas are the result of our need to adapt to external pressures. The principle of adaptability influences every decision made under Dean Julien's leadership – whether that decision emerges from taking advantage of an opportunity or satisfying a demand.

Efficient use of resources and readily adapting to change is something we consistently do at Telfer that ultimately adds value to the programs and opportunities we offer to our students and partners. This provides the basis for innovation at Telfer – the Telfer way to innovate. In the spirit of innovation, Telfer launched a new program that year: our PhD, Doctoral Studies in Management, This project meant a lot to Dean Julien at the time, and certainly still does today, as it is a key part of both his legacy and the future of the School.

Our impact has three important meanings: it is a source of inspiration, method of evaluation, and it is a motivator. The concept of generating impact inspires the Telfer community and is the driving spirit in all our activities. As a method of evaluation, we support new approaches that we deem to have an impact and adjust accordingly to ensure we are focusing on aspects that we believe could have greater impact. When we make an impact, we feel motivated as individuals and as an institution, encouraging us to achieve even more. We strive to improve the quality of people's lives, of businesses and organizations, and of communities through what we like to call Telfer Impact.

One way that we generated impact during the 2017-2018 academic year, was with the launch of the Graduate Diploma in Chartered Professional Accountancy (CPA), which prepares tomorrow's accountants tom reach thier CPA designation faster. Additionally, our impact was measured by CEO Magazine (London, UK) when it released the 2017 ranking of the top Global Executive MBA programs, ranking the Telfer School's Executive MBA program #1 in the world.

The year 2019 marked the 50th anniversary year of the Telfer School, formerly known as the Faculty of Administration at the University of Ottawa. During this Jubilee Year, we focused on our major achievements and highlighted the impact the School has had on our community since its inception. We have had the opportunity to celebrate those who, over the course of its history, have ushered in much beneficial change at Telfer. We celebrated the many professors, students, graduates, donors, administrative staff, and other members of our community at large who have ties to the school, care about the School's continued growth, and contribute to its success.

Our curriculum, exchange programs, and academic research now resonate far beyond the borders of the National Capital Region, especially as they propose innovative solutions to timely social issues. Given that our projects tackle some of the most important issues for our and future generations, it is right here, at the Telfer School of Management, that we have the power to lead transformation.