Resources for Black Canadian Students
Article published on February 7, 2022, updated on February 15, 2023.
Black History Month is an opportunity for Canada to celebrate the great contributions and achievements of Black Canadians throughout history and how they have made our country more prosperous, culturally diverse, and inclusive. The theme for this year's Black History Month in Canada is February and Forever: Celebrating Black History today and every day, which recognizes the importance of celebrating Black Canadians beyond just the month of February.
At the Telfer School of Management, we value the importance of equity, diversity and inclusion in our student body, programs and initiatives. As such, we wanted to celebrate this history in Canada and highlight useful resources for the Black community during the month of February.
Black History Month in Canada
Black Canadians and their communities have shaped our country dating back to the 1600s, when navigator and interpreter, Mathieu Da Costa, first arrived in the place we now call Canada. Since then, the celebration of Black history in Canada dates back to the 1920s, starting as a week-long celebration, which then evolved into one month. In 1995, Black History Month became an official celebration at the House of Commons, introduced by Canada's first African-Canadian woman in Parliament, the Honourable Jean Augustine. The Motion to Recognize Contributions of Black Canadians and February as Black History Month was unanimously approved by the Senate of Canada in 2008, brought up by Senator Donald Oliver, the first Black man appointed to the Senate of Canada.
Some of Canada's first Black Canadian business professionals and entrepreneurs include Thornton Blackburn, who started Toronto's first cab company in the 1830s; Mary Ann Shadd Cary, the first Black woman editor in Canada working for a Canadian Underground Railway newspaper called the Provincial Freeman; and Carrie Best, the founder of the first Black-owned newspaper in Nova Scotia, The Clarion.
Wes Hall Scholarship for Black or Indigenous Students
The Wes Hall Scholarship for Black or Indigenous students is a new scholarship designed to inspire and enable. With this scholarship, two deserving students entering the Commerce program at the Telfer School of Management will be supported in accomplishing their goals through mentorship and financial support from Wes Hall, the founder of WeShall Investments.
By removing financial barriers and reducing the need for students to work during their studies, this scholarship will allow students to focus on their studies and engage in valuable extracurricular experiences. Through mentorship, students can seek advice and coaching to succeed in their education, student experience and future careers in finance.
Resources to Help You Achieve Your Goals
Along with the Canadian traditions, the Telfer School of Management values and fosters an environment for all talents to thrive, through both professional growth and personal development. In turn, these values will help create a community that truly reflects who we are. Through different initiatives and partnerships, the School continues to evolve and strive to make significant contributions to the life of its members.
Why Scholarships Are Important
To ensure our program is home to exceptionally talented and ambitious business leaders in the making, we offer access to a wide variety of financial support, including scholarships. Without assistance from an outside source, students may have trouble paying for a university degree. Scholarships thus help students have more time to focus on their studies, rather than needing a part-time job to earn money for their studies, which can take up more than 15 hours per week and become an obstacle to academic success.
Thankfully, generous donors have and continue to enable Telfer students to redefine business practice for the better as well as decrease the number and amount of loans students need in order to complete their degree. Among the different scholarships offered to our students, you can find many that are awarded to students who are part of a Black, Indigenous or Racialized community. For example, the KPMG Scholarships for Accounting Students, created by KPMG LLP, is offered each year to two second-year students of the BCom in Accounting program who have demonstrated academic excellence. The Marlene King Patrick Admission Scholarship, generously created by Marlene King Patrick, is another scholarship exclusive to Telfer students and is awarded to a woman from a Black, Indigenous or Racialized community who is newly admitted into an undergraduate program.
To learn more about these scholarships and see if you are eligible, the Online Scholarships and Bursaries is an online tool that gives you access to the directory of scholarships and bursaries offered at the University of Ottawa.
The Onyx Initiative
Historically, business schools have always established themselves as a strong networking hub, uniting the scholars and corporate world of today to foster the leaders of tomorrow. While the number of Black members on the boards of the 100 largest companies on the Toronto Stock Exchange (TSX) has more than tripled over the past year, they currently account for only 2.35% of board members as of January 2021. Regarding the current labour market, Black Canadians in the core age group of 25- to 54-year-olds were more likely to hold a bachelor's degree or higher (42.8%) than Canadians in the same age group who were not a visible minority (33.6%). However, Black Canadians with a university degree had a lower employment rate (86.1%) than their non-visible minority counterparts (91.1%).
The systemic gap in the recruiting and selection of Black university and college students and recent graduates for roles in corporate Canada remains a big challenge. This is why the Onyx Initiative aspires to be a catalyst for the professional growth and development of Black Canadians as they launch their careers after university or college, helping them through access to placements, mentorships, coaching, and professional development.

This early intervention will facilitate a measurable increase in Black students and recent graduates securing internships and full-time employment in their chosen fields while serving the needs of corporations in sourcing qualified and diversified employees. How? First, by aggregating supply through the recruitment, preparation, and exposure of Black talent. This preparation includes career coaching and professional development through online learning, and, more importantly, mentorship. Afterwards, it is their main goal to help these highly prepared and talented individuals to get the exposure and awareness they need to accelerate their careers.

Their second mandate is thus to foster and nurture demand. Onyx can support corporate Canada and facilitate demand for talent. As they work with a wide range of organizations, their partners contribute with more than just financial aid. They can share ideas and in-kind support in helping grow and build the initiative.
Should you be interested in joining this group of Black students and recent graduates who are seeking support to enhance their personal and professional skills and gain access to meaningful career opportunities, you could apply to the 2022 scholar applications before the deadline on April 1st.
Black Entrepreneurship Program
For those who have an entrepreneurial fibre, it is within Telfer's core values to enable students to develop the skills necessary to launch a new venture creation, contribute to a high-growth enterprise, or drive innovation at an existing organization. Whether you want to lead your own enterprise, work in a family business, or manage growth in an established company, our goal is to stimulate, inspire and prepare students to do so. Whether at Telfer or through the University of Ottawa, we offer a wide variety of entrepreneurship courses and programs (i.e. entrepreneurship option, Entrepreneurship Foundry, the Telfer Entrepreneurs' Club or Enactus), and the uOttawa Entrepreneurship Hub, that aim to propel careers in the entrepreneurship world.
There are also interesting opportunities through government-funded programs. For example, the Black Entrepreneurship Program (BEP) is a partnership between the Government of Canada, Black-led business organizations, and financial institutions to help Black Canadian business owners and entrepreneurs grow their businesses and achieve their goals. Along with a Black Entrepreneurship Loan Fund, driven by The Federation of African Canadian Economics (FACE), a National Ecosystem Fund and a Black Entrepreneurship Knowledge Hub, up to $265 million over four years has been invested in this program led by Innovation, Science and Economic Development Canada (ISED). These investments will help thousands of Black Canadian business owners and entrepreneurs by providing them with access to financing, mentorship opportunities, financial planning services, business training and more.
Mental Health Support Groups at uOttawa
The University of Ottawa has created specific support groups including a BIPOC (Black Indigenous and People of Colour), Black students support group, and international students support group to provide provides a safe space for those who identify with each of these groups to find strength, friendship, and expression of unfiltered feelings among peers. Each of these groups focuses on building community, discussing any faced challenges, and connecting in a supportive space.

Students Supporting Students
Beyond academic resources, many of the most enriching experiences at Telfer take place outside the classroom, thanks to a close-knit student community. Among many student clubs and associations at Telfer and uOttawa, the Black Student Leaders Association (BSLA) will serve to assist and enhance the academic, social and philanthropic aspects of black students' journeys at the University of Ottawa. They aim to represent the members of the community in a way that positively and truly reflects who they are and their potential to be leaders. BSLA extends open arms to all students and faculty who share their values to join the association.
"Count Me In" Initiative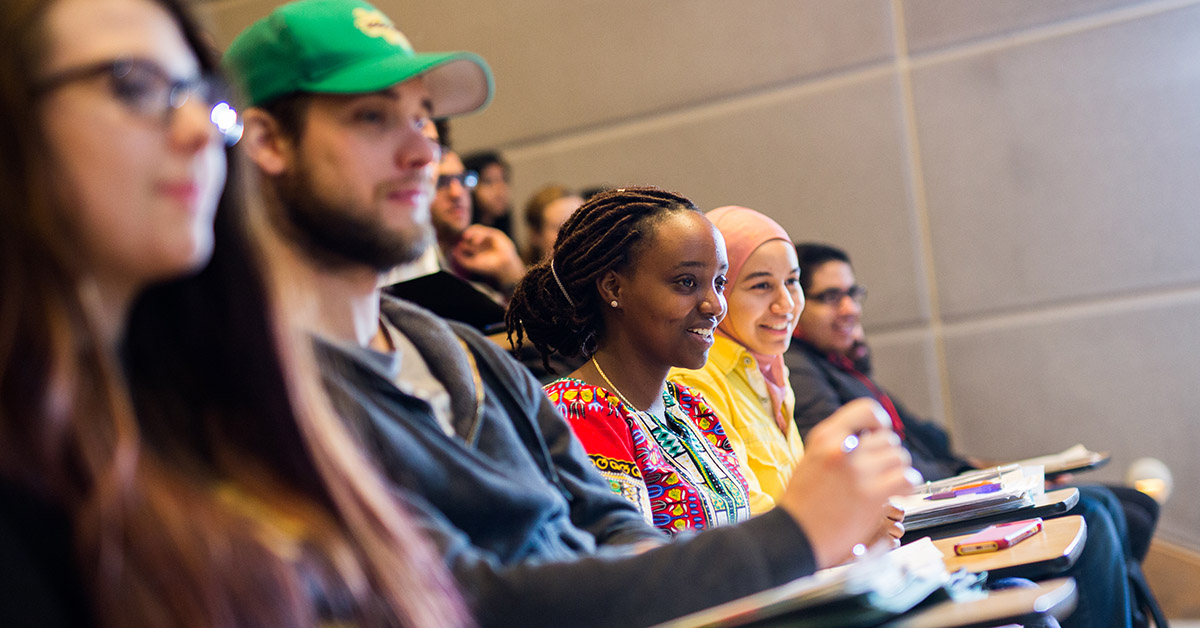 After a long process of research, consultations and data analysis, the uOttawa Equity, Diversity and Inclusion Committee (EDIC) has launched a critical initiative to identify barriers to inclusion and to propose initiatives to bring traditionally excluded persons into research, teaching and administrative communities at the university. The initiative slogan, "Count me in / Comptez moi," invites students, faculty and staff to self-identify in terms of gender, indigeneity, racialization, accommodation/disability, LGBTQIA2S+ preference, language preference and proficiency in Canada's official languages in an anonymous and confidential questionnaire. By doing so, it will enable uOttawa to spot barriers and uncover systemic roadblocks to equity, diversification inclusion. When you count yourself in, you're leading by example and making your presence known so that others may follow in your footsteps.
The questionnaire is accessible through uoZone. The Human Rights Office is responsible for the confidentiality, ensuring only disaggregated data is used by the University community to inform and prioritize EDI initiatives and enable the creation of more of them.
Moreover, by simply counting yourself in, you enable inclusion. With each survey completion, the Office of the Provost and Vice President, Academic Affairs, will donate $1 to a scholarship fund for uOttawa students incorporating the principles of EDI into their academic and research projects.
Telfer and the University of Ottawa celebrate Black History Month
Black History Month is a time to learn more about the contributions Black Canadians have made to the settlement, growth and development of Canada and their importance to the history of the Telfer School. Follow us on our social media to learn more about virtual and on-campus events and celebrate the contribution of our community throughout the month of February and beyond.