Juneteenth and Emancipation Day: How the 'Buy Black' movement is addressing economic inequality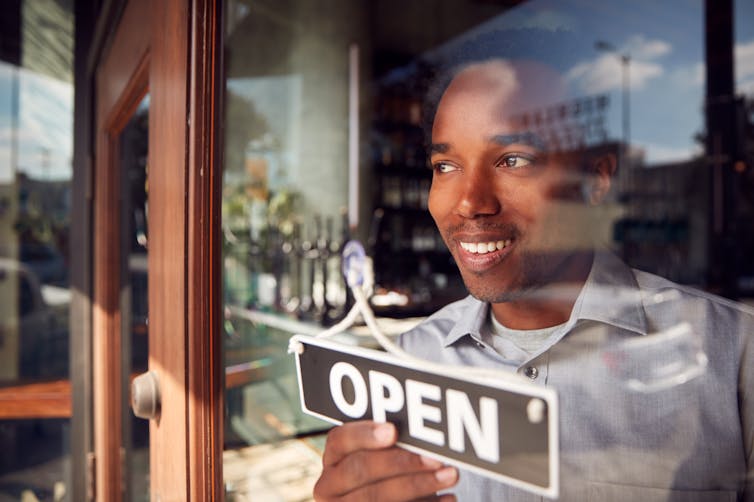 The 'Buy Black' movement encourages people to support Black-owned businesses. (Shutterstock)
Juneteenth being declared a federal holiday in the United States and Emancipation Day being officially recognized on Aug. 1 in Canada demonstrate significant progress towards creating more equitable societies in North America.
Juneteenth — a portmanteau of June and nineteenth — celebrates the emancipation of enslaved African Americans. On June 19, 1865, General Order No. 3 was released. It officially enforced the Emancipation Proclamation in Texas and granted freedom to all remaining enslaved people in the U.S.
Emancipation Day holds similarly significant meaning in Canada and other former British colonies. It recognizes the Slavery Abolition Act of 1833 that paved the way for liberation, impacting more than 800,000 enslaved Africans, Indigenous Peoples and their families across the British Commonwealth.
Both Juneteenth and Emancipation Day are powerful celebrations that honour the vibrancy and resilience of Black communities. They ignite important conversations and inspire individuals and groups to move toward greater equity and inclusion in society.
But despite the symbolic progress represented by these commemorative days, inequalities still persist for many African Americans and Canadians, including exclusion within consumer markets.
Buying Black and showing it
In response to ongoing challenges about market exclusion, the My Black Receipt initiative emerged as a dynamic social movement.
By harnessing the power of markets — which have historically been racialized — this movement aims to combat systemic disparities and promote economic empowerment. It does so by supporting Black-owned businesses and amplifying their impact.
My Black Receipt is a digital collective that encourages consumers to support Black-owned businesses. It was founded by American entrepreneur and activist Kezia Williams in June 2020 to coincide with that year's Juneteenth celebration.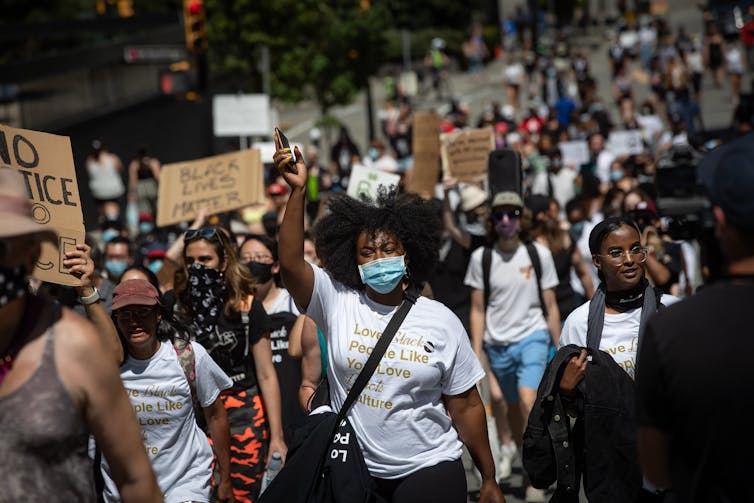 The movement uses social media, media appearances and a website to educate consumers about the benefits of buying from Black-owned businesses, including supporting Black employment, causes and wealth generation.
My Black Receipt helps consumers identify and locate Black-owned businesses and then invites participants to upload their receipts to the movement's website to show the collective impact of their actions. As of June 2023, consumers had uploaded nearly US$10 million in receipts.
New type of online market
The digital collective has galvanized change from the business community as well. For example, it partnered with online review site Yelp to help businesses self-identify as Black-owned, allowing consumers to search for and support Black businesses.
It's also partnered with Pepsi for its Dig In initiative, which aims to generate US$100 million in sales for Black-owned restaurants over a five-year period.
These outcomes are a testament to the success of the My Black Receipt collective. My Black Receipt represents a new type of online enclave that brings together Black consumers, their allies and business owners and transcends geographic boundaries.
This makes it unique from more traditional racial and ethnic enclaves, like Black Wall Street in Tulsa, Okla., or the numerous Chinatowns that exist worldwide. My Black Receipt appears to offer some capacity to address material inequities.
As researchers, we asked ourselves: How do digital enclaves like My Black Receipt function? And what makes them thrive?
Helping My Black Receipt thrive
We conducted an online ethnography study with our colleagues to examine the My Black Receipt movement. Our research used data sourced from digital news platforms, social media channels and affiliated websites.
Through this study, we explored the role digital enclaves play in promoting market inclusion and equity for Black consumers and business owners.
The #MyBlackReceipt hashtag serves as a unifying force online, connecting networking sites and posts to form a dynamic digital enclave. This enclave propels collective action in support of the Black community. Participants actively engage in various practices within this enclave to fuel its growth and impact.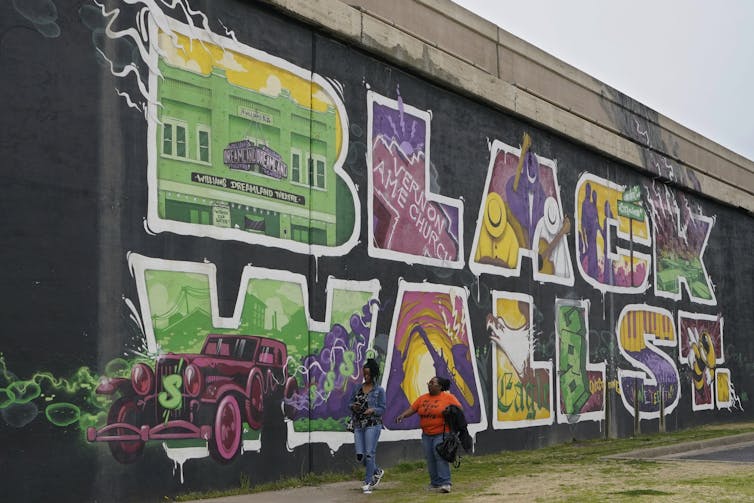 Enclave organizers, led by influential figures like Williams, play a crucial role in creating the enclave's purpose and garnering support from shoppers and business owners.
They contextualize the movement within broader conversations about Black inequality, freedom and well-being, highlighting its significance in addressing systemic issues.
The organizers amplify their message by forging partnerships with prominent news media outlets such as CNN and collaborating with major corporations like Yelp and Pepsi. By doing this, they generate widespread awareness and interest in their cause.
To facilitate co-ordination and showcase the collective impact of their efforts, organizers established a dedicated platform on the My Black Receipt website. This platform allows individuals to upload their shopping receipts and create a spending scoreboard that visually represents the impact of their actions.
Through these practices and initiatives, the My Black Receipt enclave thrives, fostering a sense of community and empowerment while driving tangible change in support of Black-owned businesses and economic equity.
Closing the racial wealth gap
Digital enclaves like My Black Receipt are working towards establishing secure and prosperous market spaces for Black individuals.
Within these enclaves, Black consumers can access products that cater to their needs, support Black communities and avoid the need to justify their worthiness as customers in predominantly white markets. At the same time, Black business owners benefit from connecting with consumers who support Black-owned businesses.
These arrangements work together to bring and retain more wealth within the Black community, aiming to address the significant wealth gap between Black and white Americans.
Black Americans possess as little as US$4 in wealth for every US$100 accumulated by white Americans, and Black Canadians earn, on average, $12,000 less than their non-racialized counterparts.
Juneteenth and Emancipation Day are powerful catalysts for communication and action against discrimination and inequity in society. These commemorative days, along with initiatives like My Black Receipt, seek to address market exclusion and generate tangible change for Black individuals.
By fighting against discrimination through market intervention, these movements create wealth within the Black communities. Together, they embody the ongoing struggle for justice and equality in our economic systems.

Myriam Brouard, Assistant Professor, Telfer School of Management, L'Université d'Ottawa/University of Ottawa; Andrew N. Smith, Associate Professor of Marketing, Suffolk University; Katja H. Brunk, Professor of Marketing, European University Viadrina et Marcia Christina Ferreira, Senior Lecturer, Essex Business School, University of Essex