Telfer Student Mentors Prepare Ottawa High School Students for a Future in Business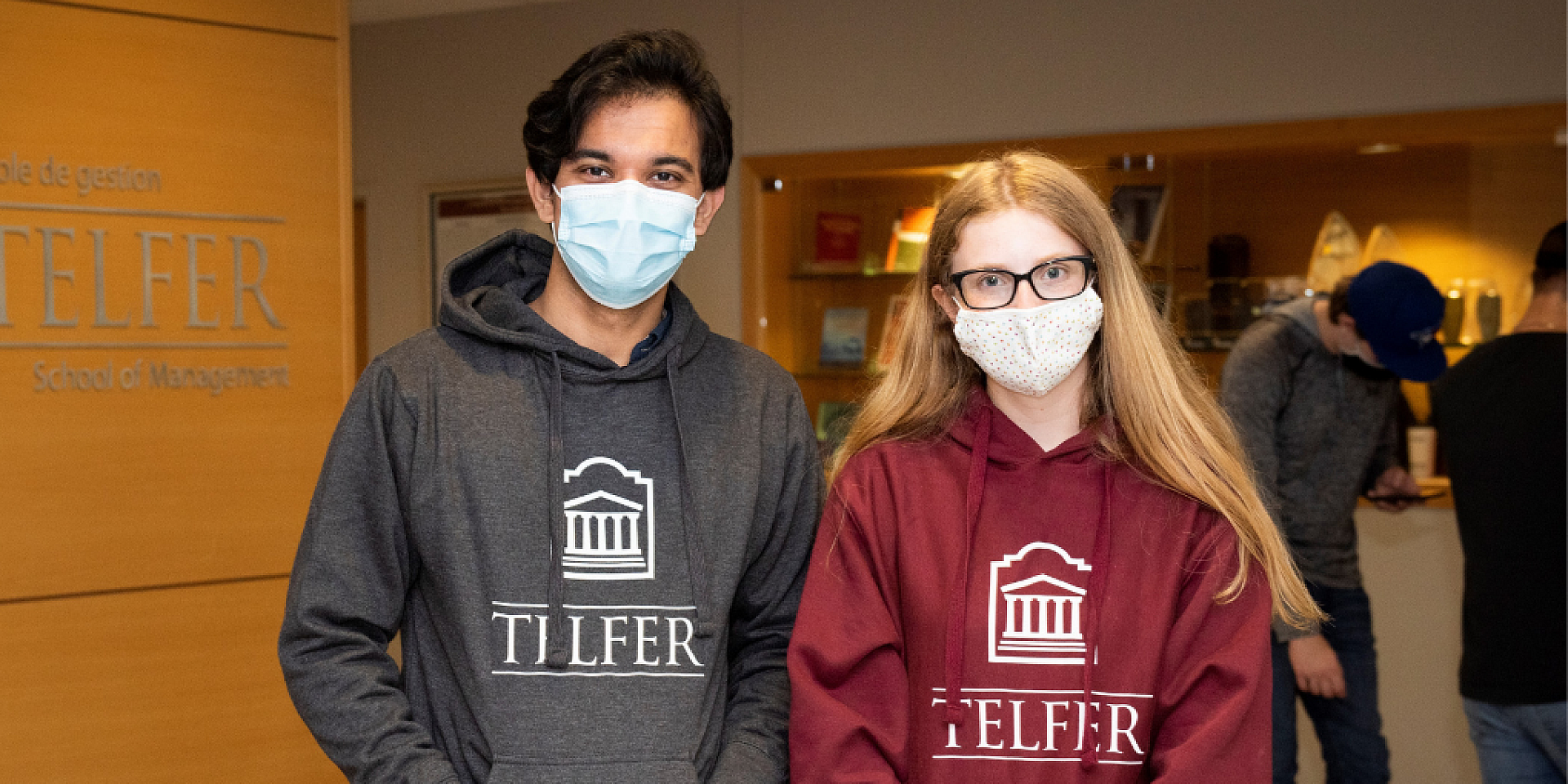 by Jamie Harvie
Third-year BCom in Management (French Immersion Stream)
This summer, four Telfer students led the six-week Telfer Mentorship Program, in collaboration with the Ottawa-Carleton District School Board (OCDSB). This program aims to give high school students who are seeking a co-op placement the opportunity to learn about the field of business. Students and recent alumni, Wiam Ben Karroum, Jamie Harvie, Laura Oris-Naidenova and Priyesh Sarju, represented the Telfer School of Management as the mentors.
The Mentorship Program and Certificate
It has been increasingly difficult for high school students to find an in-person co-op placement this year. As a result, the OCDSB introduced several virtual mentorship programs in partnership with the University of Ottawa, one of which was with Telfer. The purpose of this program is to create authentic, real-life problem-solving opportunities for students, as well as the chance to network with business professionals and university students.
Over the course of six weeks, the mentors facilitated thematic sessions, planned engaging activities, and invited guest speakers. Each week, the mentors introduced a different topic, then assigned an activity so the students could apply what they learned. Concepts such as networking, leadership, accounting, digital marketing and entrepreneurship were the focus of the curriculum. The high school students ended the summer with credits and a certificate presented by the Telfer School of Management.
Some highlights of the program include:
Jamie Harvie gave a presentation about LinkedIn along with guest speaker Tania D'Iorio from National Bank Financial joined the group to discuss her key marketing tips.
Wiam Ben Karroum shared a presentation on leadership in collaboration with executive coach Tina Cantrill.
Priyesh Sarju was joined by Telfer Professor Marc Tassé to introduce the students to accounting and assign case studies.
Laure Oris-Naidenova taught a workshop on digital marketing and gave students the chance to create their own logos on Canva.
Jamie Harvie gave a presentation on entrepreneurship and brought in guest speaker, Anne Khazzam, a 19-year-old entrepreneur who started The S'moresBox in Ottawa.
Testimonials from the High School Students
William Driscoll, a high school student within OCDSB, shared his highlights from the program: "While choosing what my high school co-op placement would be, the online Telfer mentorship program caught my eye and I'm glad that it did.
Led by qualified and engaging Telfer students, my time consisted of meeting with knowledgeable guest speakers, participating in group discussions, and working on tasks such as presentations and case studies.
Each session we had together was centered around a certain business topic such as digital marketing, accounting, leadership, entrepreneurship, and networking, all of which helped me gain valuable insight into their respective fields.
Although this program was limited in some areas by the current need for it to be online, I believe this program will be enhanced even more as it moves to in-person learning.
As a student who is looking to pursue a business-related profession in the future, this program definitely helped me to start that process."
OCDSB student, Roha Aboud, also had a positive experience with the program: "I really enjoyed participating in the Telfer Mentorship program. My mentors were so nice with me and with others. What I really liked about this program is there was no pressure with our assignments or attending meetings. Our tasks were easy and simple, and we only had to attend meetings on Mondays and Fridays."
The Mentor's Perspective: Jamie
"As a former OCDSB student myself, I thoroughly enjoyed the role as a mentor. It was great to return to my former school board a few years after graduating and connecting with students who are in the same place that I was in not too long ago," shared Jamie Harvie.
Next Steps
After the success of the virtual mentorship program this summer, Telfer and the OCDSB hope to continue the program next year. Ideally, the program would be offered bi-modally, to give the students the flexibility of learning from home, but also allow for some in-person activities. One of the suggestions was to invite the students to campus once a week to explore different areas of campus, such as the uOttawa Makerspace or the Financial Research and Learning Lab in the Desmarais Building.
The OCDSB team is optimistic that by promoting the program earlier in the year, more students will be enticed to register, and as a result, more students will be able to explore their interests in the field of business.