Everything a Future University Exchange Student in Canada Needs to Know About Telfer and Ottawa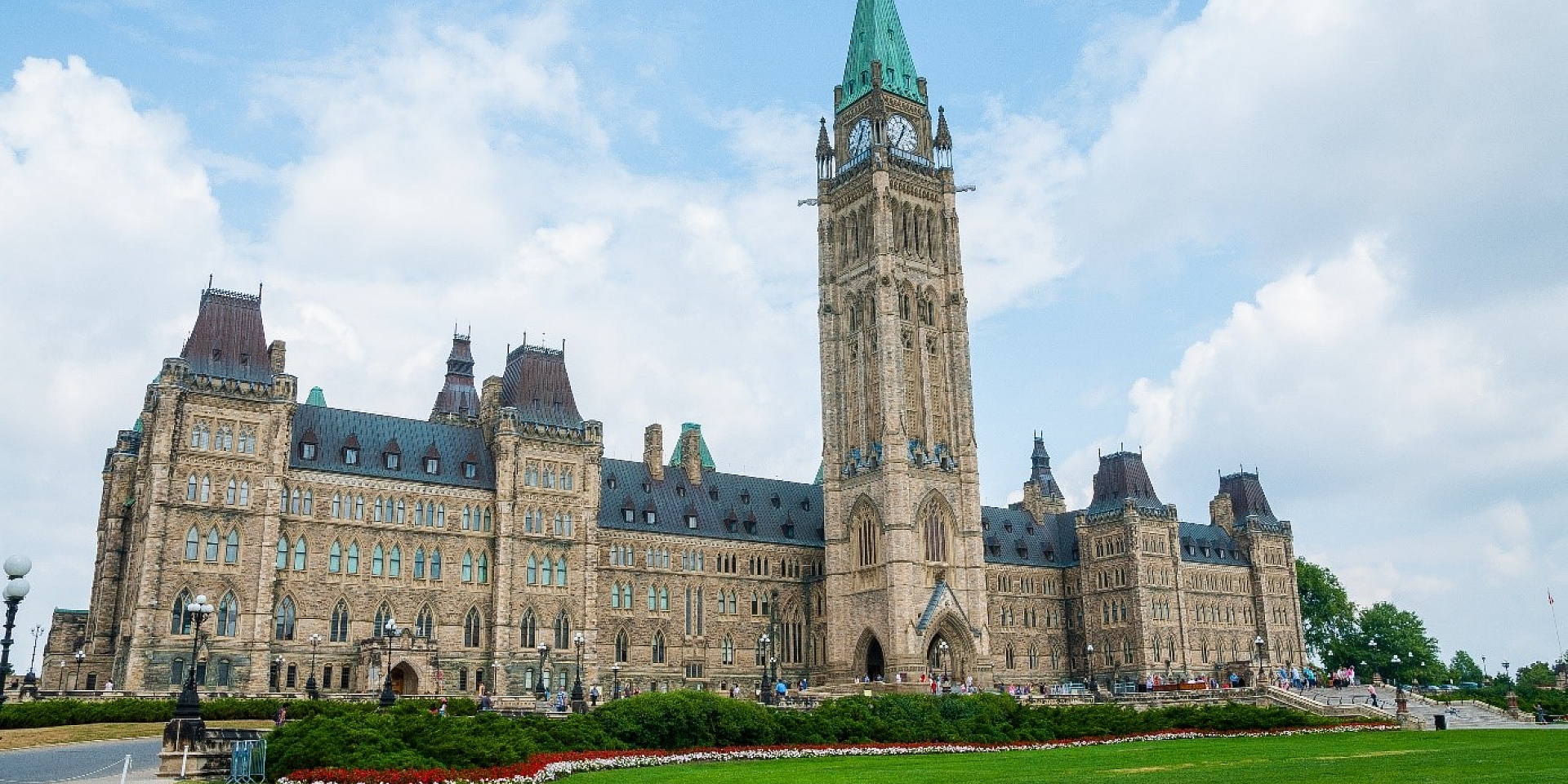 by Camille Charles Website ›
4th year BCom student
Are you an international student still deciding on the university you would like to go to on exchange? Are you interested in the Telfer School of Management and would you like to know about what my experience as a French student was like? Well, you are in the right place!
In this blog post, I will cover all of the questions I was asked by fellow students at KEDGE Business School (my business school in France) who had to choose their partner university from among 15 options.
I've been through this myself, and I know how stressful it can be to choose where you're going to spend the next few years of your degree, especially when it may be across the Atlantic in Canada at a recognized university.
LIFE AT SCHOOL
At Telfer, you have the winter, summer and fall semesters. I attended Telfer during the winter and fall. Each semester is about 3 months of courses which start in early January and end in early April. Your exams will start in mid-April and run until the end of April during this winter semester. You have a week off by mid-February that you can use as a study week for your midterms that start after this week. It is similar for the fall semester: courses start in early September and end in early December to allow time for exams starting in mid-December, until the last Friday before the holiday break. The fall study break happens in mid-October. Note that this means your summer break from school is 4 months long. Take advantage of this time to work at internships, apply for a student job, or just relax for 4 months by the pool!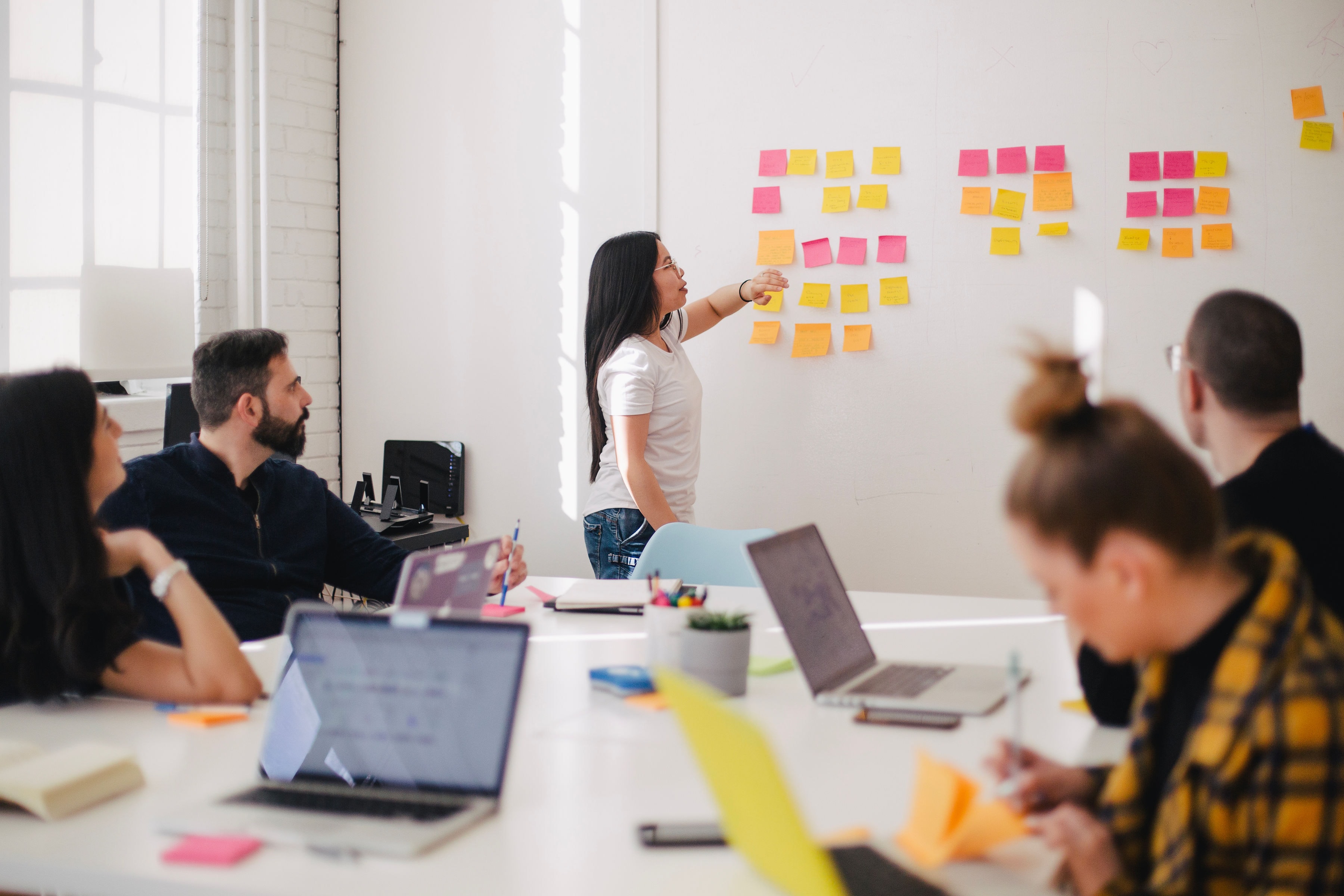 All of the 5 courses are taught within 30 hours of the semester. If you take 5 classes each semester, you will be in classes for 15 hours per week, which gives you relatively short weeks of time spent in class. This allows you to spend the rest of the time on assignments, your studies, or even have a student job on the side. I think the personal work is fairly sizable.
The partnership between my school and Telfer includes having 60% of courses in French and 40% in English because Telfer wishes to keep a bilingual French-English environment, which is unique to Canadian culture. Rest assured that from my perspective, this had very little impact on my level of English, as I have improved it rather through my meetings with international students, and in my everyday life in general.
For courses, in the first two semesters, the 5 courses are mandatory and not selected by the student, and then for the last two semesters, you have 2 mandatory courses and 3 courses that you can choose yourself. Overall, I found the teachers interesting, passionate and responsive.
If you are afraid of not passing a course during midterm or end-of-session exams, don't worry; you will not repeat a year. You will simply resume the course the following semester in order to rework it and obtain a passing grade.
MY HOUSING TIPS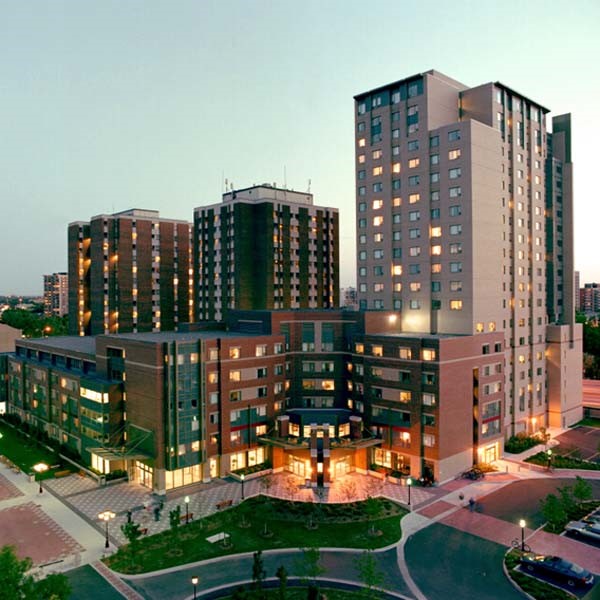 For accommodation, you can stay in student residence on campus for the first term. That's what I did, staying at Marchand residence, and I think that's the best way to be at the centre of student life and to live with other international students. In Marchand, you can be in a single or shared room. The rooms are small and the bathrooms are to be shared, but you will have a real experience as a university exchange student in Canada. My English improved a lot during that term and I met amazing people.
For the following semesters, you'll get to know the city better, so if you didn't like the student residency experience, or want to change, you can rent a house with several other students (it's always better to be with international students to improve your English). I recommend that you look on Kijiji to rent a house, or go to Facebook groups such as "Apartment Rentals Ottawa" or "Ottawa Housing, Rooms, Condos, Apartments, Sublets."
Rent prices vary, but overall, for an apartment downtown, you will need about €600 or US$690. I was in a 5-room apartment in the "Golden Triangle" neighbourhood, which is a 15 to 20-minute walk from the University, and I paid €500. Life is on average similar to the cost of living in France for commuting. I never took public transport (even in winter at -20°C - you have to be brave!). In terms of neighbourhoods, I suggest you look around Golden Triangle, Sandy Hill, or Lower Town.
THE CITY OF OTTAWA AND ITS STUDENT LIFE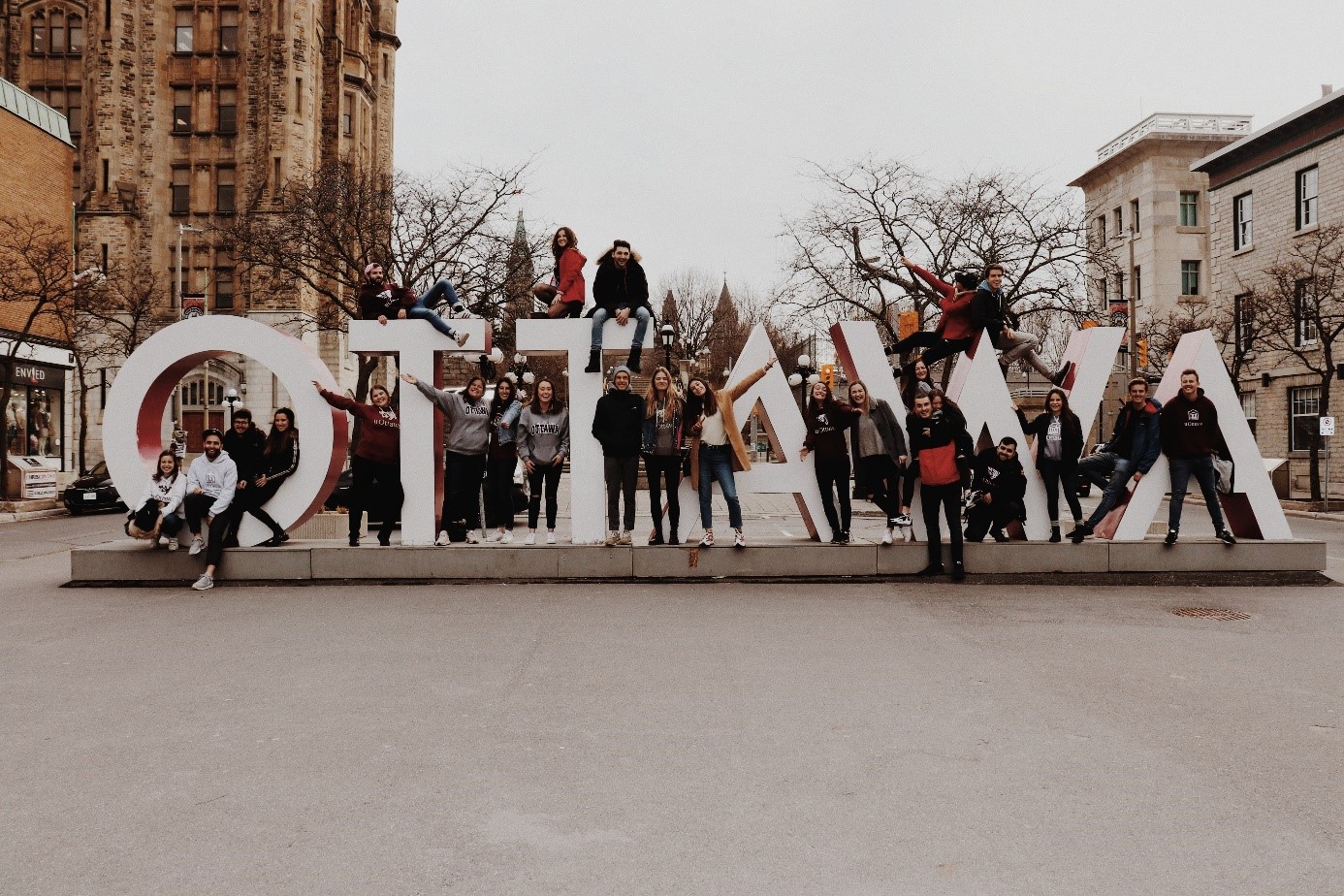 Ottawa may be the capital of Canada, but the city remains very quiet and family-friendly. Everything is concentrated downtown. You'll find different museums, the Byward Market—which is a place with coffee shops, pubs/nightclubs, and small shops (and especially good beaver tails from Beavertails!). Very close to the university, there is a very large shopping centre, the Rideau Centre. Ottawa is above all known for the Rideau Canal, which freezes in winter and becomes the largest outdoor skating rink in the world. There is also Gatineau Park, on the other side of the river in Gatineau just north of the city, which is a beautiful place that I had the opportunity to discover with beautiful fall colours with lakes and walking paths. In addition, Montreal is only two hours away by bus or car. Finally, I urge you to visit Parc Omega in Montebello, Quebec, which is a nature reserve where you can see national animals such as bears, wolves, bison, foxes.
Life in Ottawa as a student will not be as hectic as that in Montreal or Toronto, and will allow you to be in good company (with over 40,000 students on campus, you can easily make new friends) and to take part in the university's events to experience it fully.
The University of Ottawa offers multiple organized student outings (when possible), such as an extended weekend in New York, Chicago, or other locations.
Finally, there is no shortage of sports facilities on campus, and as a sports enthusiast, I was delighted to see two huge sports rooms, an Olympic swimming pool, a hockey field, an American football field (soccer), several gymnasiums, and more.
HOW TO COPE WITH THE CANADIAN COLD? (from a heat addict)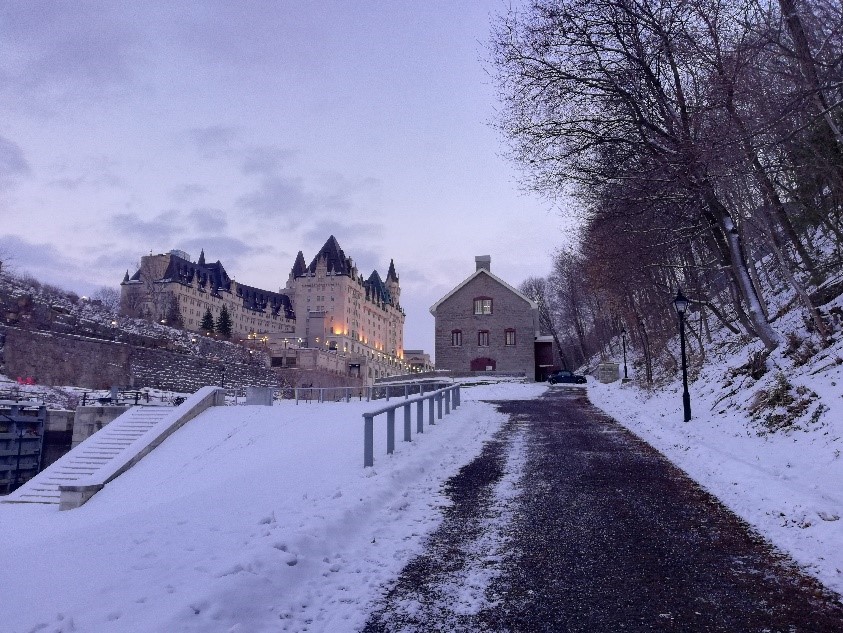 During winter, in Ottawa, it's cold - very cold! Temperatures range from 0°C to -20°C (for the lucky ones, you can even experience winter storms and below 30°C temperatures). My best advice is to buy winter clothes when you arrive in Canada, especially winter coats and sweaters. I bought my winter coat at Aritzia (also look at SportChek or Canada Goose if you have a larger budget, which you can find at the Rideau Centre mall), the prices are lower than if you buy it in France, and more importantly, Canadian stores offer products that are much better suited for winter. For thermal shirts, pants, gloves, caps, etc., I recommend UNIQLO. For shoes, you'll find a lot of shoes on the spot that do the job, but I personally chose the high ankle Timberland boots and I was very pleased with that.
YOU ARE IN NORTH AMERICA, TRAVEL!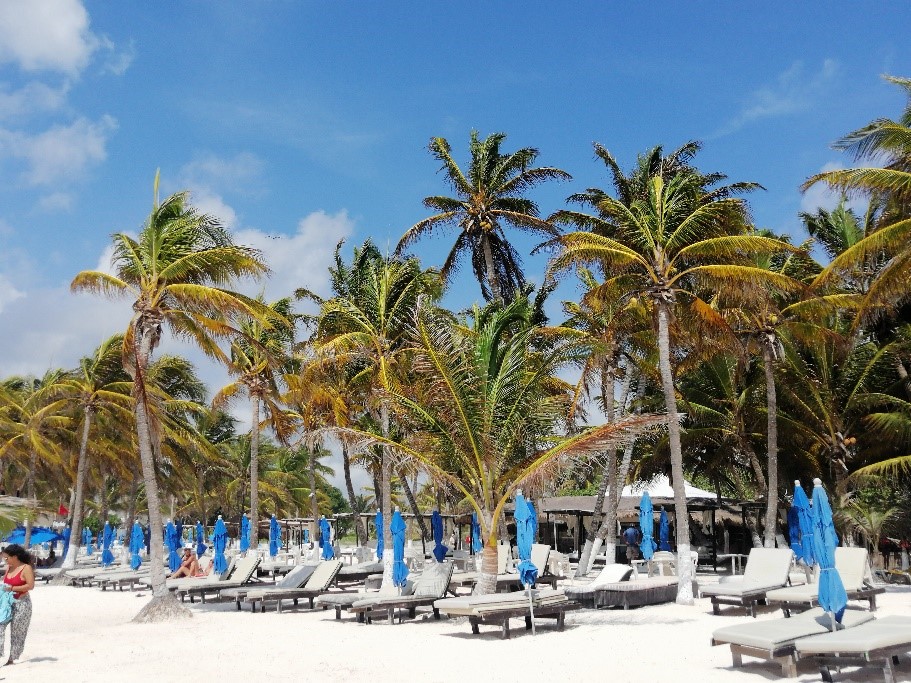 Many ask me if I had the opportunity to travel while I was in Canada. I don't think they checked my travel blog! I love to travel and living in Ottawa allows you to go to lots of cool places for a lot less than if you left from Europe. I won't go into details, but in a year I had the opportunity to go to Montreal, Toronto, Niagara Falls, New York City (7 to 8 hours by bus from Montreal), Mexico (Tulum, Cancún), Miami, and Orlando. My adventure ended there, because of COVID-19 (well, it will be for another time!).
I sincerely hope that all this information will be useful to you if you are a future international exchange student in Canada, and that I have answered most of your questions.
If you would like more information, please contact me! My email is camille.charles@kedgebs.com or cchar197@uottawa.ca.