Telfer's French and bilingual clubs make an impact on our Francophone community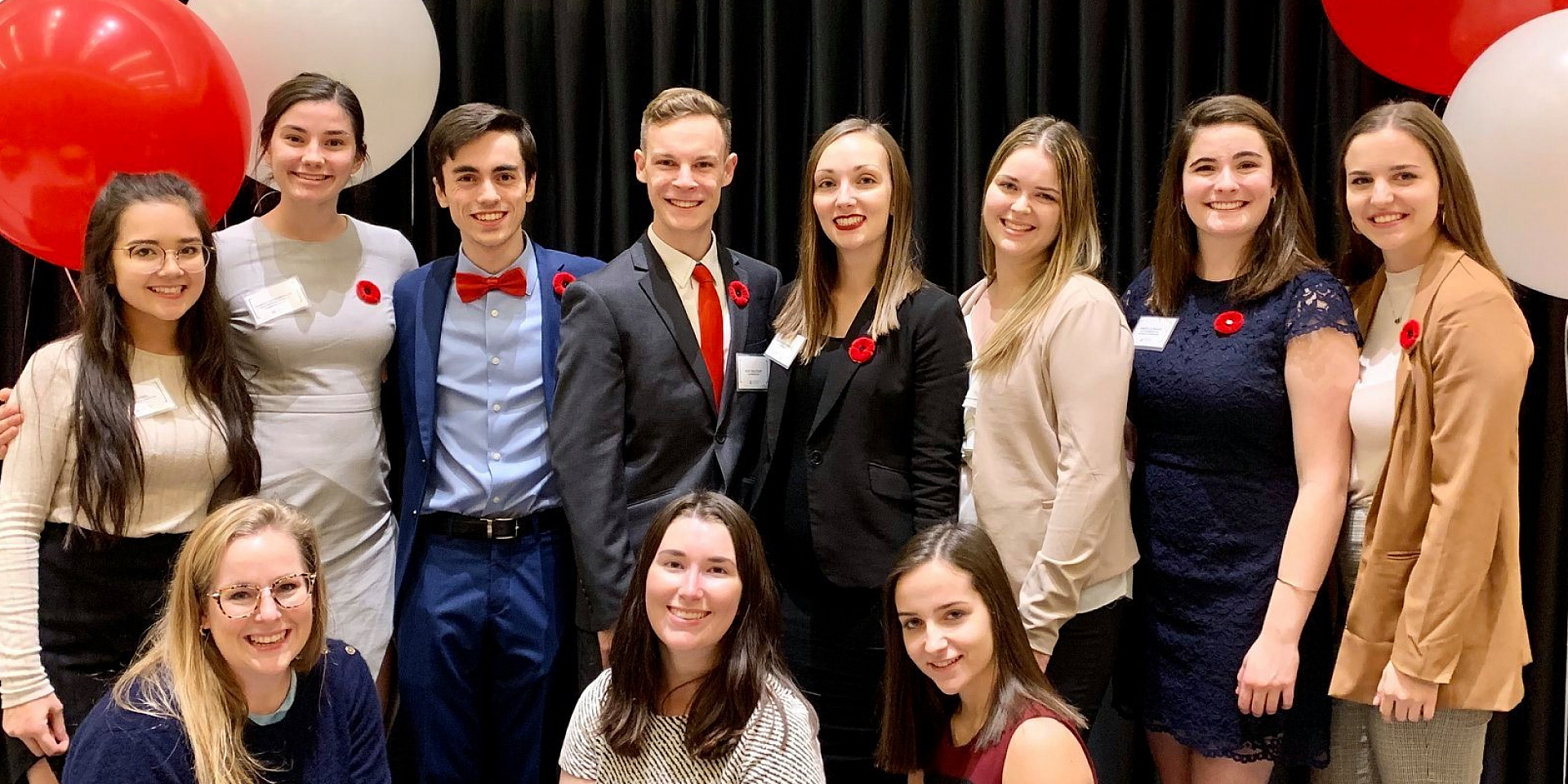 As part of the University of Ottawa, the Telfer School of Management prides itself in offering bilingual opportunities in countless ways within the world's largest English and French university. Nine out of the eleven Bachelor of Commerce programs are offered in the French language, which means a student proficient in English and French can choose to study in English and in French, or in one of these two languages.
Other opportunities and incentives are offered for students to sharpen their skills in a second language. For English speakers who want to work on their French skills but still take most classes in English can take advantage of the French Immersion Stream. This stream allows students to take some of their regular content courses in French, while having the chance to benefit from a $1,000 scholarship for each year they participate in this stream if they fit the eligibility criteria. In their first two years, students have the option to take accompanying language courses to build a strong base in French. In their third and fourth years, students move on to more advanced classes related to oral and written communication.
This Francophonie Month, Telfer is highlighting four clubs and committees who value the inclusion of the French language and Francophone culture in the Telfer community.
Telfer Competitions Committee
Each year, Telfer undergraduate students compete at several case competitions where French speakers can speak in their mother tongue, including Jeux du commerce (JDC), Happening Marketing (HM), HR Symposium, and Omnium Financier (OF). The Telfer Competitions Committee (TCCT) recruits and organizes the teams from Telfer who will represent the School at these competitions. "The Telfer Competitions Committee allows students the possibility to use what they learned in class in a real-life consulting situation," mentions TCCT President, Elias Azzi. TCCT participants can develop their analytical, problem solving, and communication skills in both French and English by solving real-world business problems in a case crack.
JDC is a large student competition offered to Canadians in their undergraduate studies located in Eastern Canada, usually attracting 1,300 participants from 13 different schools each year. The competition is predominantly conducted in French, although academic case cracks can be presented in each of the student groups' language of choice. On the other hand, Happening Marketing is the largest marketing inter-university competition in Eastern Canada with 10 competing ten universities. HM consists of 6 academic cases, 1 quiz and 3 components: social, participation and sports. Lastly, Omnium Financier is the largest academic competition in finance and accounting in Eastern Canada. The event aims to promote careers in both fields, regroup students from different universities, and allow them to network with industry experts.
These competitions, overseen by Regroupement étudiant des facultés d'administration de l'Est du Canada (RÉFAEC), are fully bilingual, but mostly conducted in French due to the demographic of competing universities. "A proper operating proficiency in French allows students to better interact with sponsors and delegates from other universities", states Elias. He also enjoys these competitions because of the opportunity to expand his network: "As a bilingual student, it's nice to participate in an event where French takes precedence. It's also nice to meet new people and to network in the language of your choice."
Francophone club members largely contribute to the advancement of the Telfer Competitions Committee. "French executives bring so much to the table,"believes Elias. Some case competitions are hosted in French in different regions of Canada and Quebec. Therefore, the team must have representatives who can communicate with other committees in French. "We truly need a bilingual executive team to properly judge and serve every student on an even playing field," says Elias. The French language also holds importance in the recruitment process for the competitions.
As a former student of the French Catholic School Board (CECCE), Elias chose to study mostly in French at Telfer. "It was close to home, but more importantly it was completely bilingual," shares Elias. In 2020, he became president of the Telfer Competitions Committee and is proud to be a part of it: "TCCT is what I would think is the most bilingual club/committee Telfer has to offer as most of our competitions are held in Quebec. TCCT is fully inclusive and attracts unilingual and bilingual students to be part of its competitions and executive committee."
Place à la jeunesse
Jeux du commerce also founded the Place à la jeunesse (PALJ) initiative in 2004. The francophone event consists of a university-level case competition only offered to Franco-Ontarian high school students. PALJ not only promotes the French language, but it allows students to get familiar with the business world and get the chance to win scholarships to study at the University of Ottawa. "We also believe that it is important to have the opportunity to study in one's mother tongue in post-secondary education," mentions Émilie Desrosiers, faculty coordinator of Place à la jeunesse. The competition is the perfect opportunity to meet new people: "You can also make good connections and sharpen your networking skills with members of other schools, students from uOttawa, and our guest judges."
The competition starts with a preliminary round in which over 90 Franco-Ontarian high school students resolve cases in 3 academic subjects: marketing, entrepreneurship and accounting. The principal committee then chooses 24 teams, 8 per academic subject, to go on to the final round. Similarly to JDC, the teams in each of the three academic categories receive the same case to crack. Despite the event being held entirely in French, teams can present in the language of their choice. A panel of academics and business experts evaluates each team's work to determine a winner.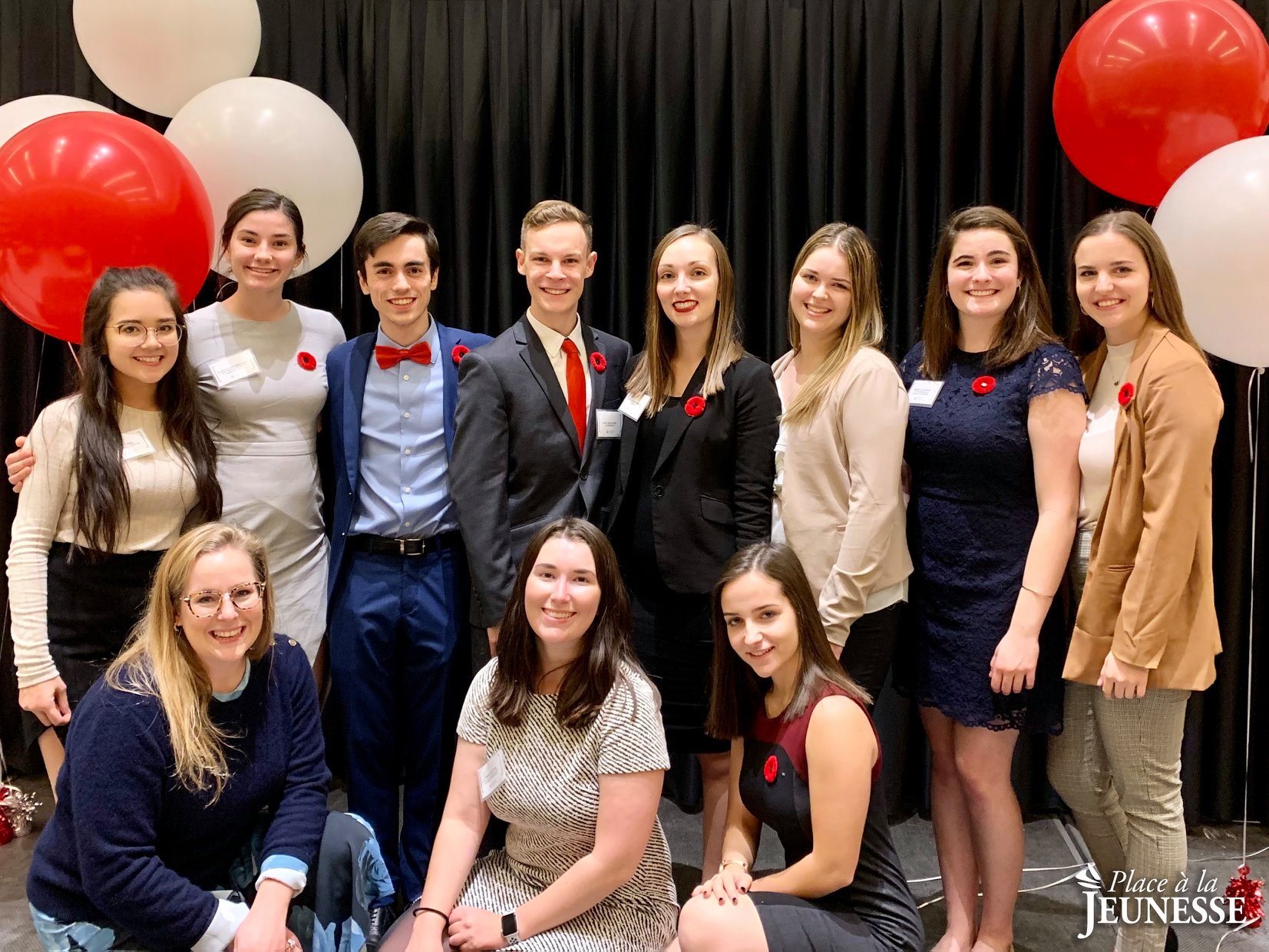 Place à la jeunesse is one of the few clubs on campus where French is predominant on the organizing committee. President of Place à la jeunesse, Catherine Gringas, shared her experience and motivations for being part of the club: "It makes me really proud to say that every year, our chosen organizing committee is comprised of students who study in French, appreciate the language, and believe in the importance of post-secondary education in French." Catherine has been involved with PALJ since 2019 and became president in 2021. "I started to get involved with Place à la jeunesse as a volunteer in 2019 and I loved the concept of the competition, the club's mandate, and the people who were a part of it."
Despite the challenge of an inevitably virtual setting this year, it was important to the group to make sure PALJ still happened so students could have the opportunity to surpass themselves. "We are all very proud to host this competition year after year even if we have to adjust it," mentions Émilie. Place à la Jeunesse will hold two competitions this year, in April and November, and begin recruitment for their committee in the summer. "We are always looking for passionate people who have at heart education, entrepreneurship, and French, to help us organize the event," shared Catherine.
CASCO Charity Organization
Every year, Telfer's student-run charity organization CASCO raises money for the Children's Hospital of Eastern Ontario (CHEO) and highlights students and their talents at the annual Gala show. The event includes different forms of art such as dance, music and fashion. CASCO brings together students, the business community and Ottawa locals for the common cause of raising funds to support CHEO. Just last year, the organization was able to raise over $53,000 for the Recreational Therapy program at CHEO.
The CASCO team recruits members on social media platforms such as Instagram and Facebook. Within their team, the organization encourages members to speak the language of their choice: "This will hopefully make our French members feel more at ease while asking questions and know that they can express themselves in the language that they are most comfortable with," mentions Danika Dumoulin, VP Development at CASCO. The team also reaches their French audience through Q&As on Instagram, in which the questions are answered in English and in French so any student can feel comfortable to participate.
Students involved in the CASCO Charity Organization can expect to "build interpersonal skills by working as a team and collaborating with others." In fact, the club works together for the common objective of helping those in need. "CASCO also teaches students the importance of helping others and demonstrating that anyone can make a difference if they put their mind to it," says Danika. As a Francophone VP and student, Danika joined CASCO and had the objective of making it a bilingual club: "When I joined CASCO and met all of these other people studying in business, I felt as if the French program was in a bubble."
Students who join CASCO have an opportunity to meet people outside of their program and make connections that can last a lifetime. Danika shared her advice for future students interested in joining the club: "I definitely encourage French students to join CASCO, it's a great way to meet new people that study in the same field as you. The French program does not include all the students at Telfer, and I think that's very important to remember! I could not imagine a better way to remember my university experience. Not only was I introduced to some of my best friends, but they gave me a second family that I could rely on."
Telfer Student Council
The Telfer Student Council (CéTSC) represents over 4,000 undergraduate students enrolled in Telfer's Bachelor of Commerce. The team, comprised of around 25 representatives from different backgrounds, organizes annual events dedicated to the Telfer community and helps other Telfer clubs to fund and run their various events. They welcome each new round of first year BCom students to the school, organize a celebration for each graduating class, and hold an event recognizing the countless achievements of the Telfer Clubs community.
The CéTSC team values both the francophone and anglophone communities, but they are working to establish more French-focused initiatives in the club: "We have the responsibility to ensure that our communications material and services are offered in both official languages," shared Nick Gratton, VP Marketing at CéTSC. Nick also added that he hopes to see more francophones get involved with CéTSC in the future: "Students who are seeking to build on francophone culture and francophone pride at Telfer should undoubtedly get involved with CéTSC. If you are passionate about something, whether its general change or a specific topic or cause, join CéTSC and/or get involved with Telfer Clubs. It's truly the best way to shape student culture and the student experience at Telfer."
Each year, students can apply to be a part of the annual election, then Telfer students vote for the individuals they wish to see take on each role in CéTSC after the campaigning has concluded. Some roles on the team do require bilingualism as VP Marketing and VP Academic both require the completion of a language competency evaluation to ensure French and English proficiency, so that they can make sure to communicate to the student body in both official languages.
A number of Telfer clubs make sure to give Francophone students the opportunity to get involved in academic, professional, and social activities. The diversity brought by students fluent in French allows the clubs to compete at competitions on a larger scale, host events in French, network in English and in French, and recruit students who grew up with French as their first language. We look forward to continuing to see French-centric initiatives and opportunities for Francophone students to get involved in the student experience at Telfer.