We Have Always Had a Fair Deal of Conflicts in the Family, Should I Do Anything about It? – Excerpt from Enabling Next Generation Legacies
In coordination with the Family Enterprise Legacy Institute (FELI), the Telfer Knowledge Hub has been featuring select excerpts from the book, Enabling Next Generation Legacies: 35 Questions That Next Generation Members in Enterprising Families Ask.
---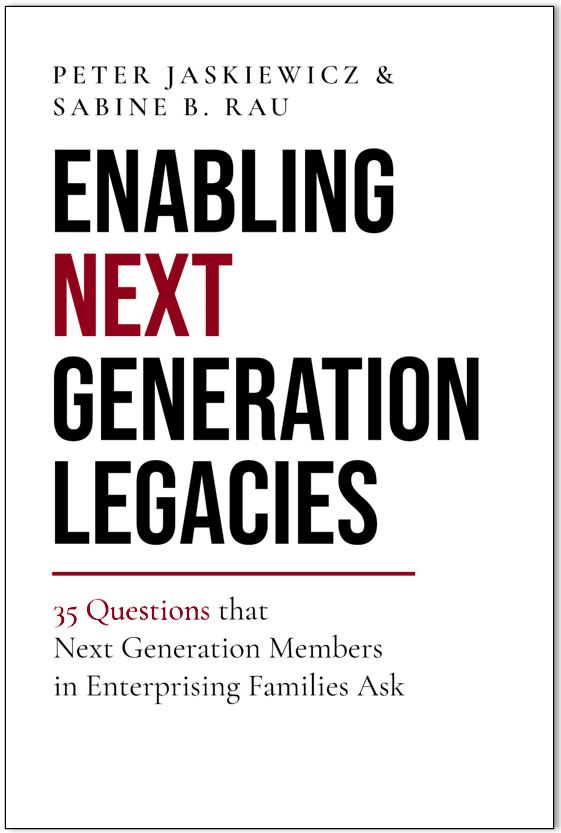 The result of years of international research and practical experience, Enabling Next Generation Legacies delves into the unique challenges that confront family enterprises.
Telfer professors Peter Jaskiewicz and Sabine Rau have brought together the world's leading academics, practitioners, and enterprising families to answer the most pressing questions faced by Next Generation members in a short and concise, yet meaningful way.
The book consists of best practices, real-life examples, and additional critical questions for reflection from nearly 100 contributors from 27 different countries. Expert commentaries come from members of the world's leading family businesses including Auchan (France), Saputo (Canada), and Sabra (Israel), as well as from various academic experts from business schools around the globe like Kellogg, IMD, and INSEAD.
Below, read an expert response to a pressing question raised by Next Generation members.
We have always had a fair deal of conflicts in the family. Now that I am an adult, should I do anything about it?
Commentary by Daniel Aponte Prypchan, Venezuela
I am a third-generation member of two families. The Aponte family, on my father's side, is in the business of farming, banking, commercial, and residential real estate and a large network of pharmacies. The Prypchan family, on my mother's side, is in the business of hospitals; we run Venezuela's largest psychiatric hospital, and development and construction of real estate both in health care and residential property. I am more involved with mother's side (Prypchan) family as I am in an inheritance lawsuit with my father's family. I am currently the manager of our not-for-profit organization in the U.S., Psychiatry, Philosophy and the Arts, and I deal with all the accounting, payroll, and other issues of all our properties in Venezuela, acting as a de facto small family office manager.
I think the question of how to deal with conflicts, especially if they are long-standing conflicts, is an important one and should be answered before a Next Gen decides to enter the family business in a more active way. Regarding the response by Professor Kim Eddleston[1], I think it is useful in guiding a younger Next Gen through the basic precepts of conflict as something all business-owing families go through. It is a great article to start to put some order to the issues you may be experiencing in your family business. However, when the issues of the family are intense and go well into the destructiveness of "relationship conflict" over generations, the level of help of this article decreases significantly.
In my experience most of the issues afflicting families in business are deeply entrenched and sometimes difficult to even verbalize. Sometimes it's not that the family doesn't know what do to, but that the family is caught in a dysfunctional dynamic that does not allow them to take action, leaving them stuck for years in pathological reactions ranging from minor arguments to outright abuse and bereavement. What do you do then?
My father's mother lied to my face about my inheritance for nine years, saying that "all will be divided fairly and by the law" whilst falsifying signatures, selling assets, and taking money to other jurisdictions. I was twenty-four when my grandfather died and I am now forty-one, and I have yet to receive my inheritance. I'm still in various lawsuits against them. My grandmother died six months ago. My father died in a plane crash when I was two and my grandmother was the person who identified his body. Most of my grandmother's actions had nothing to do with me. She barely knew me. Her actions were more about her relationship with men, her anger at my mum not speaking to them, and many more things that I will never know about. I had a feeling that this could happen, but I thought I was doing the correct thing giving them time to sort everything out and to collaborate. Not suing them earlier is the biggest regret and mistake of my life. It is important to always understand the dynamics of your family. Lack of real insight can create naivety about the ways family relationships can go wrong. I have been in therapy, I have studied family dynamics, I have done all sorts of spiritual and psychological courses and training, all to deal with my grief and my own responsibility in not knowing my family enough to preempt this sort of destructive behaviour occurring. It was there, obvious to others, but I never fully took responsibility to know and act accordingly.
Coming from two less-than-functional families owning multiple businesses, I can recommend some basic concepts that would allow a Next Gen to navigate and understand their complex family's dynamic better. Broadly speaking my key recommendations would be:
Understand the core values of the senior generation.
Connect with your family's wounds and traumas.
Be empathic and compassionate towards all family members.
Be mindful of all communications.
Take responsibility for your part in the dynamic.
Own your family's dynamics and be responsible to heal them.
Ethical considerations—if not you, who will do it?
This sounds simple but achieving a high level of understanding of your family dynamic is the work of a lifetime. The good news is that the more you understand the dynamic and its members, the more you will be able to stir your family into a healthier path of love and connection. Simply trying to apply any system of control over a dynamic you neither own nor fully understand will probably not work. The work of knowing one's family is beautiful and necessary.
Questions for Further Reflection
Does your family have family-specific types of conflict? If so, what are they?
Are all conflicts in families considered "bad"?
What is your own conflict management style when you disagree with your parents, siblings, and/or cousins?
What could you do to help reduce the dangers of detrimental conflicts in your family?
What are some ways to address debilitating and entrenched conflicts in families?
[1] Every question proposed in Enabling Next Generation Legacies includes an expert response, followed by a commentary by a next generation member. In the featured chapter, Kimberly A. Eddleston – Schulze Distinguished Professor of Entrepreneurship and Montoni research fellow at the D'Amore-McKim School of Business, Northeastern University – offers a response prior to Daniel Aponte Prypchan's commentary. See the information below for how to get your own copy of Enabling Next Generation Legacies.
---
Enabling Next Generation Legacies: 35 Questions That Next Generation Members in Enterprising Families Ask is now available in eBook and hardcopy. All royalties from Enabling Next Generation Legacies go towards the University of Ottawa's Telfer Fund, helping students in need. Learn more at www.35questions.com.