Future of the Family Enterprise: Preparing the Next Generation of Business Leaders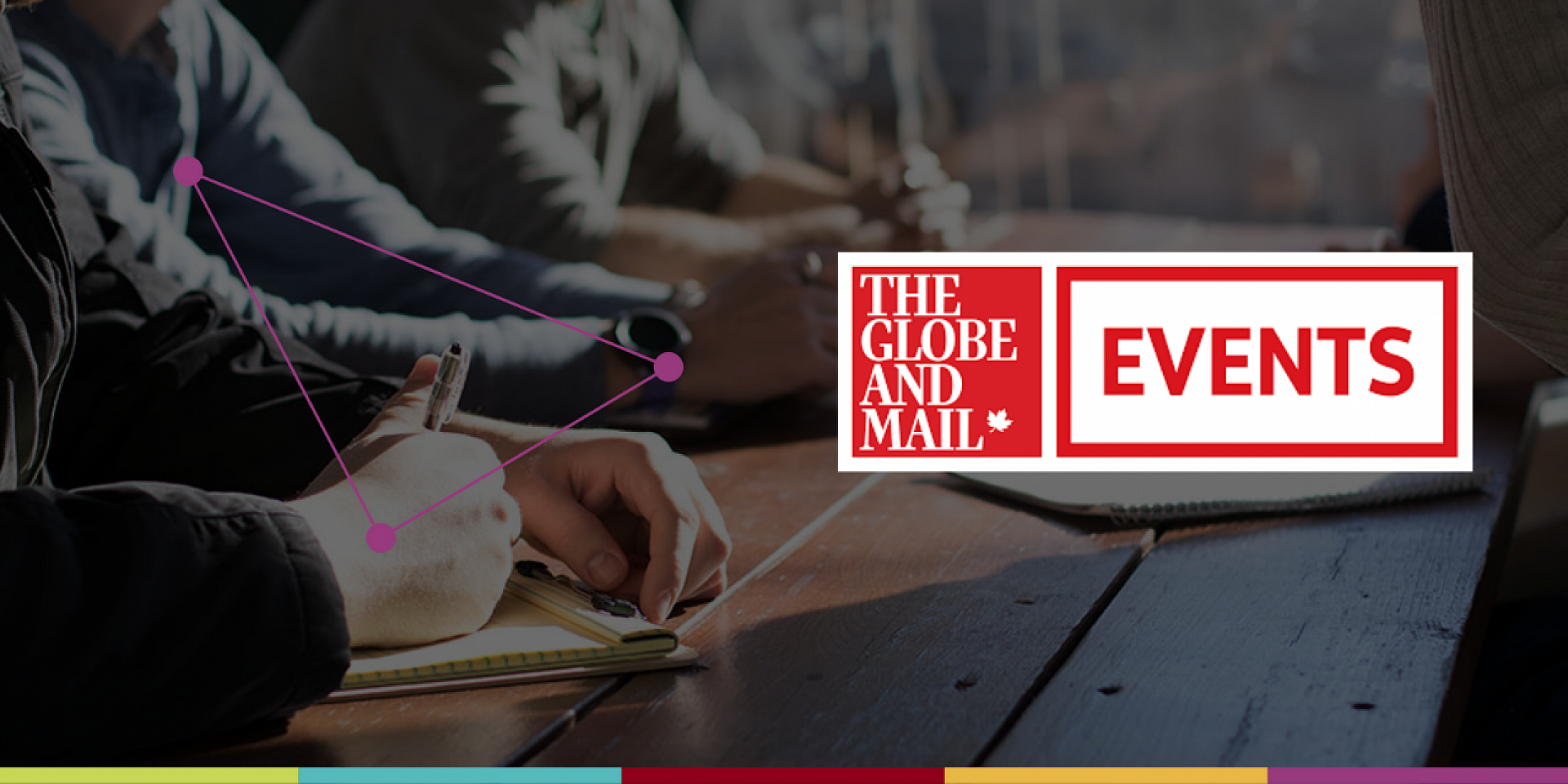 The Telfer School of Management is the proud presenting sponsor of a series of four webcasts powered by the Globe and Mail Events. Each webcast will highlight one of the four pillars in our Vision for a Better Canada — greener, healthier, happier, wealthier and more prosperous — through an interview with a Telfer professor, followed by a discussion with a panel of experts.
Family enterprises represent more than 35% of Canada's real GDP and account for nearly half of all private sector jobs, according to a 2019 report by Family Enterprise Canada and the Conference Board of Canada, yet their future is uncertain. As baby boomers exit the workforce, experts say the next generation is unprepared to take over and protect this vital part of the national economy. What skills and knowledge will future business leaders and entrepreneurs need to carry on the family enterprise legacy?
One expert looking into these questions is Telfer professor Peter Jaskiewicz, University Research Chair in enduring entrepreneurship and the founding director of the school's Family Enterprise Legacy Institute (FELI). In the interview portion of the event, led by Rita Trichur, senior business writer and columnist at The Globe and Mail, Jaskiewicz discussed family enterprises and how, when it comes to business succession, failing to plan is synonymous with planning to fail.
Business: A Family Affair
Jaskiewicz's research has personal meaning. Growing up with a family musical instrument business in Poland, he had an early taste of entrepreneurship. Unfortunately, following the sudden, unexpected passing of his uncle, the lack of a succession plan led to major family conflict. Within six months, what was once a business appreciated by a loyal clientele and well established in the community closed for good.
This experience motivated Jaskiewicz to help other family businesses avoid the same fate. He also realized that his expertise could not only help business families, but strengthen the global economy as well. During the Globe and Mail webcast, Jaskiewicz said that a third of the family businesses in Europe are in danger of disappearing due to failure to support and prepare the next generation. This represents a large segment of the European economy in terms of jobs, growth and contribution to local surroundings.
Jaskiewicz mentioned two common mistakes that lead to poor family business succession plans:
Members of the next generation are not viewed as partners in planning their integration and are just treated as kids within the family business. Thus, they fail to see their own value in the business and, more so, as contributors to their community.
Family communication is often implicit. However, the senior generation's vision does not necessarily apply to the next generation, who are easily taken for granted. Open and honest communication should be welcomed early on and even introduced around the kitchen table from a young age.
See also: Smart succession planning key to future prosperity for family businesses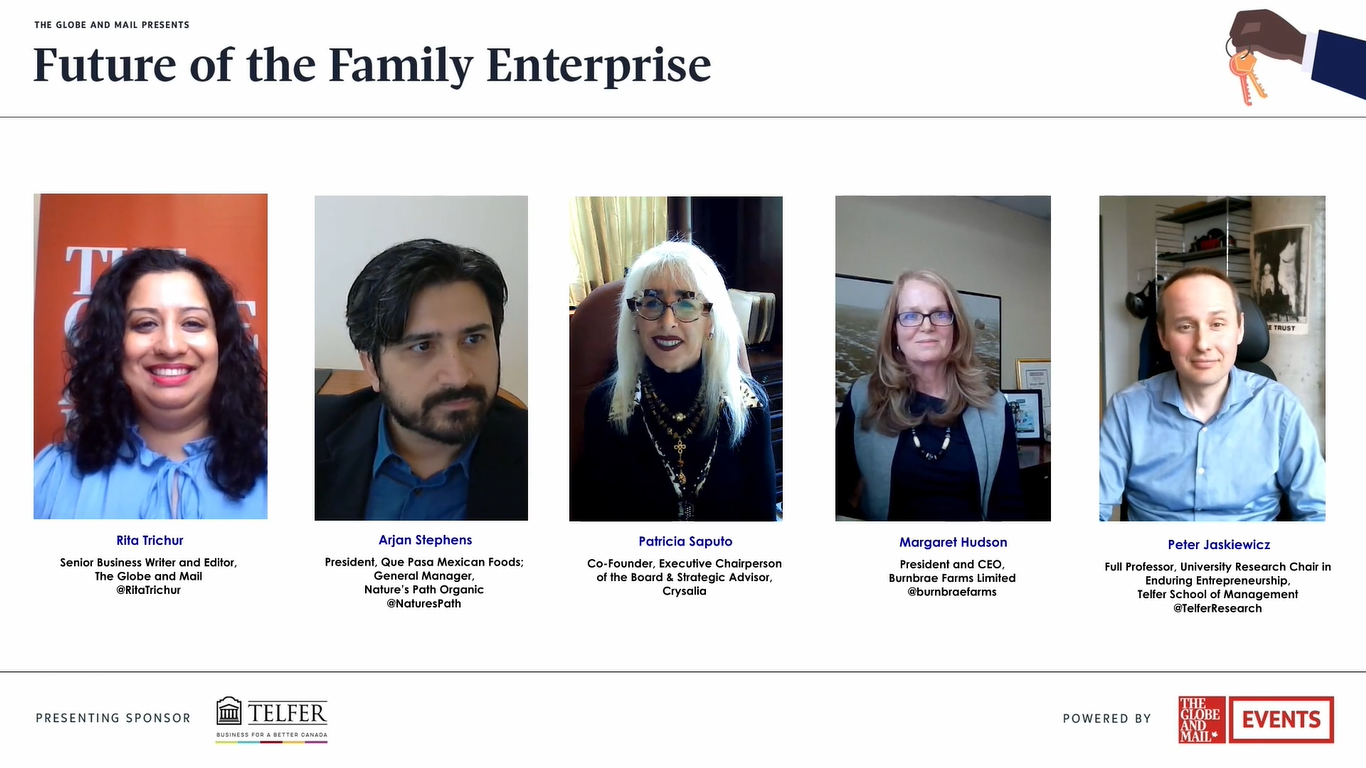 Say Yes to a Helping Hand
Patricia Saputo, co-founder and executive chair of the board and strategic adviser at Crysalia, took part in the panel alongside Arjan Stephens, president at Que Pasa Mexican Foods and executive vice president at Nature's Path Foods, and Margaret Hudson, president and CEO of Burnbrae Farms Limited.
Saputo, a member of the Telfer Strategic Leadership Cabinet, agreed with Jaskiewicz on the need for communication. For her, it can be difficult to speak about family conflicts. Many families would benefit from outside help — members might be good at running a business, but it doesn't mean they're also good at planning the succession. There is a network of professionals who can help, including at Crysalia, which Saputo co-founded to sustain multigenerational enterprising families.
Hudson agreed, adding that her family has worked with outside advisers for the last 20 years. Establishing structures such as family and shareholder councils is beneficial, as is actively educating the next generation about the business.
Watch the full Future of the Family Enterprise event
Start From a Young Age
The panellists agreed that engaging the next generation from a young age is key to them joining the family business. Both Hudson and Stephens shared stories of their involvement in the business as children — Hudson collected eggs on the family farm at age eight and Stephens worked in the family's restaurants as a busboy. They not only gained an understanding of the business, but also saw their parents' and family's sacrifice, passion and energy.
For all panellists, it was important to set protocols on how family members enter the business. And as Stephens noted, the next generation must work hard and prove their worth: "Just because your last name is Stephens doesn't mean people are going to respect you. You have to earn it, and you earn it by being a good team player."
Follow the Family Enterprise Legacy Institute (FELI)
Professor Jaskiewicz and his colleagues at FELI have combined their years of international research and practical experience to establish the institute at the Telfer school.
Jaskiewicz has recently published an already influential book, Enabling Next Generation Legacies: 35 Questions that Next Generation Members in Enterprising Families Ask. He and co-author and FELI collaborator Sabine B. Rau have brought together the world's leading academics, practitioners and enterprising families to answer the most pressing questions faced by next generation members in a concise yet meaningful way. The book consists of best practices, real-life examples and questions for reflection from nearly 100 contributors from 27 different countries.
To find out more about the Family Enterprise Legacy Institute at the Telfer School of Management, visit our website and subscribe to our newsletter.