About the Program
Telfer's program is a unique response to the learning and development needs that we have heard expressed by leaders across the public sector. Our highly experiential, hands-on approach to learning helps leaders effectively plan and implement new and ongoing change initiatives. Our team will work intensively with participants through a series of modules that covers step-by-step strategies, tools and techniques as well as offers real-time advice and coaching on scoping a real workplace change initiative, including engaging stakeholders and integrating change into the ongoing operating context, all while taking into account the unique realities of public sector organizations.
This is not a project management program. This program is a series of workshops which build on one another, designed to introduce concepts while offering real-time clinics where our expert advisors and fellow participants can offer strategic advice on how to move forward with your change initiative. From our experience, there is no standardized recipe or toolkit for managing change, but there are a number of important principles, frameworks, approaches and leadership behaviors that lead to success. With this in mind, we have created a program that it is customized and responsive to the particular issues and questions that leaders bring forward while leading change initiatives.
Who Should Attend?
This program is designed for leaders and teams in the public sector, primarily at the Manager or Director level (i.e., in the Federal Public Service, leaders at the EX minus 1, EX 1 level, or equivalent), who have an official or unofficial role as a change agent within their organizational unit.
Where there is a change team already established, we strongly encourage multiple members of the team to attend. Team members attending simultaneously will be eligible for a discounted tuition price.
Program Requirement
Prior to the first module, you are required to identify a change project within your workplace that you will lead or co-lead. The project should have a duration that will last at least as long as the program. It may be a project you are currently leading or one that you will have to lead. If you don't already have a project in mind, you may want to talk to your supervisor about identifying one. It will be important that you have ownership and accountability for this project.
The change project you select will be a core and consistent feature of the program. Program content will focus on system awareness, change leadership, the human dimensions of change, as well as change management. Additionally, you will spend time in your Change Leadership Case Clinics (CLCC), learning through facilitated discussions with your program peers and CLCC facilitators.
What You Will Learn
By the end of the 6-month process, participants will have achieved the following outcomes:
You will be comfortable with a variety of methods and frameworks that can effectively support change initiatives and equipped to select and/or adapt the right tools for your own change initiative.
You will be comfortable with a variety of strategies and tools for dealing with resistance and assessing risk while managing a change process.
You will be able to communicate your chosen strategies and methods for leading your change initiative to stakeholders, to clients, to change teams and to senior executives that you wish to engage and will be confident in your ability as a change leader.
Program Takeaways
Clarify your personal principles for change
Analyze the scope and impact of your initiative - targeting key players and stakeholder groups that need to be involved
Develop your change strategy so that it clearly aligns with organizational requirements/strategy
Identify approaches to address resistance and support system-wide learning
Apply concepts and frameworks to specifically tailor your change strategy
Strengthen your personal change leadership skills – including communication skills (e.g. communicating a change vision), influencing skills and stakeholder engagement strategies
Develop a deeper understanding of how to work with organizational culture while integrating and normalizing change
Program Facilitators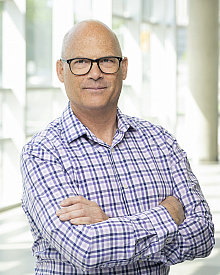 James Clemens
Facilitator
Details
---
Registration Deadline

Friday, December 8, 2023
Dates

The program begins with a half-day Orientation on Monday, January 15, 2024. For full program dates, please consult the program schedule.
Tailored Programs
Our programs and certificates can be delivered to your employees and tailored to fit your organization's specific requirements.
To discuss your needs, please contact us.