About the Program
After extensive consultation with the Ontario East healthcare community, the program has been renewed to address current leadership needs and is now being hosted by Telfer Executive Programs.
The last several years have put a strain on our healthcare system and on our healthcare leaders. The needs of leaders have changed, and they must be agile, create a sense of belonging, and continue to deliver excellent care under a strained and shifting system. This transformation will require a new era of compassionate and inclusive leaders that are self-aware and create a culture of trust. These leaders will require advanced skills to collaborate, create and achieve. ​
This 7-day program will strengthen and refine these skills to help healthcare leaders continue to respond and effectively lead in a volatile, uncertain, complex and ambiguous (VUCA) emerging future. Participants will come together for an orientation session that will transition to three 2-day modules each focused on different leadership themes delivered through small peer group activities, immersive and experiential leadership workshops, and guest speaker panels. This in-person program will also include leadership assessments, site visits and a leadership symposium that brings additional experts from all levels of government and healthcare organizations into the conversation to inspire larger-scale change across the region.
The RHSLP brings medical, clinical and administrative healthcare leaders together to address the challenges of health care leadership across the complex and dynamic Eastern Ontario healthcare system. ​
The program is designed with a focus on:​
increasing healthcare leadership capacity and resources​
enhancing the quality of collaboration within and across institutions in the system​
supporting the achievement of the 'quintuple aim' framework​
Content that is relevant, applied, and practical learning​
providing a cost-effective, scalable, sustainable, and LEADS/CHE-aligned program
multi-disciplinary leadership (physicians, nurses, other allied-health professionals, non-clinical managers, researchers, etc.)​​
Who Should Attend?
Senior leaders (e.g. senior managers, directors, heads of divisions or departments, site leaders, senior administrators)​​
Regional healthcare providers (Hospitals, OHT partners, primary care, community care, long-term care, etc.)
Leaders from private organizations within the health sector
What You Will Learn
How your leadership style and preferences can work to support as well as hinder your ability to address the challenges facing the healthcare system
​Greater skill and confidence as an authentic and collaborative leader, especially in the context of rapidly changing internal workplace dynamics and resource pressures
Strategies for building trust and greater team alignment
How to design and lead focused change initiatives for quality and patient experience
​​How to clearly communicate strategic directions, align them with corporate goals, and foster staff and stakeholder buy-in
Program Takeaways
A more strategic understanding of the key dynamics affecting health care in Ontario and especially in the context of our region​
How to leverage team diversity particularly in terms of different leadership styles, preferences and approaches​
Greater self-awareness and clarity about areas for ongoing leadership development
Frameworks for planning, and leading change​ initiatives for greater buy-in and commitment
A new network of supportive and collaborative colleagues across the regional healthcare landscape​
Program Facilitators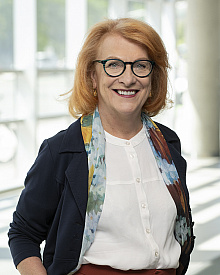 Ingrid Richter, Ph.D.
Executive in Residence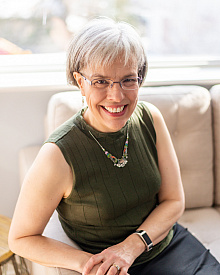 Theresa Humphrys
Facilitator
Details
---
Registration Deadline

Friday, December 15, 2023
Date

The program begins with a half-day Orientation on Friday, February 2, 2024. For full program dates, please consult the Program Schedule.
Location

Telfer School of Management
Centre for Executive Leadership
99 Bank Street, Suite 200
Ottawa ON K1P 6B9
Tailored Programs
Our programs and certificates can be delivered to your employees and tailored to fit your organization's specific requirements.
To discuss your needs, please contact us.