How Joining a Women in Business Network Changed My Student Experience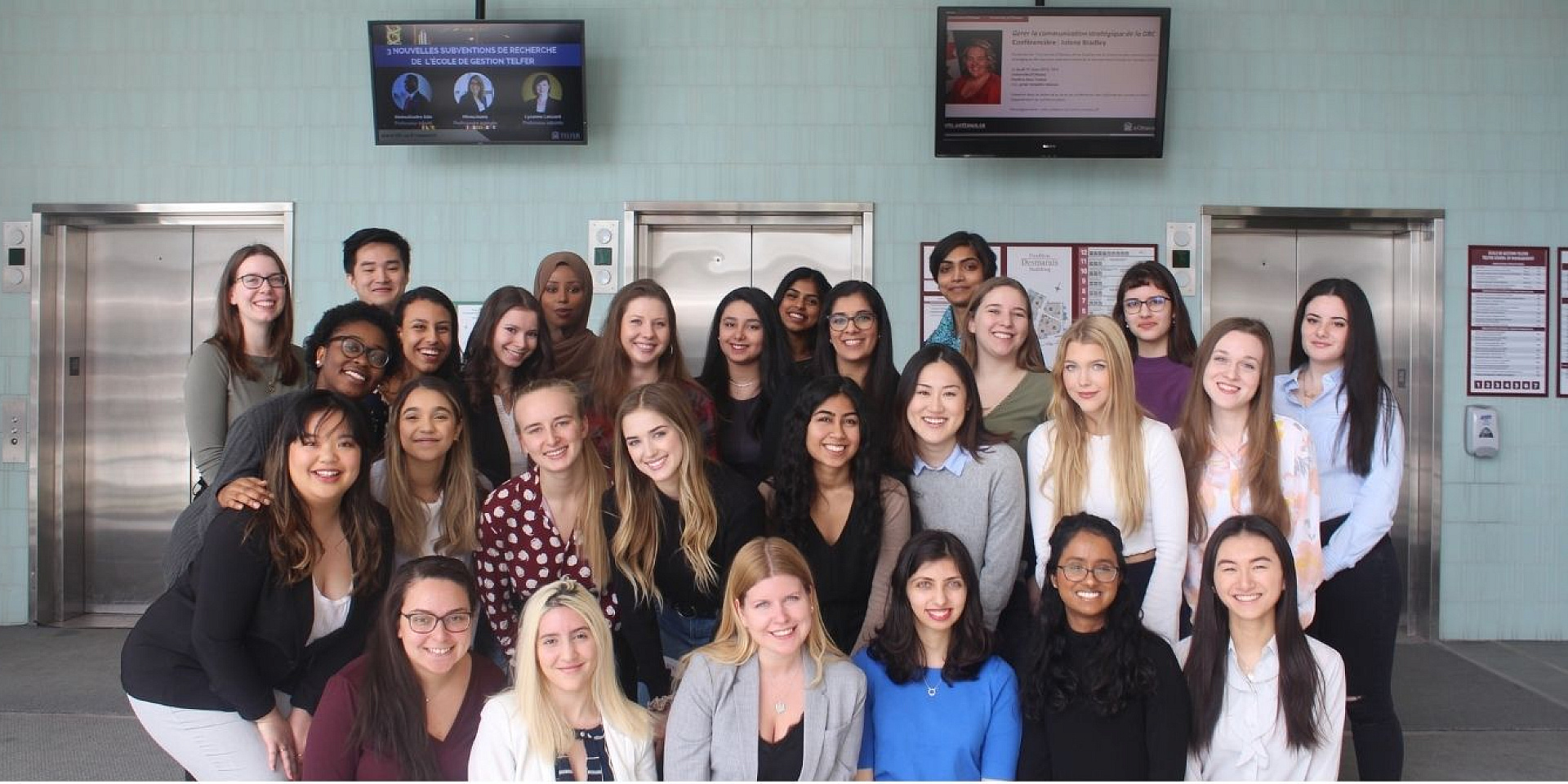 My Experience with the Women in Management Network
In my first two years at Telfer, I felt lost, until I stumbled upon a newly launched club focused on helping women in business. The Women in Management Network (WMN) was launched in the winter term of 2018 by then fourth-year student, Polly Leung and it caught my eye.
The club defined themselves as "passionate about gender equity and determined to achieve it through the collaboration of community leaders and students of all genders," which really appealed to me.
In my second year, I applied to join the club and was brought on as part of the Skill Team. The Skill Team worked together to plan workshops for students at Telfer that would help them learn both hard and soft skills to benefit them in their job search and future careers. I found myself surrounded by a group of inspiring, welcoming and supportive women who were just like me.
Slowly, I began to open up more and I eventually discovered different passions I did not know I had. I eventually switched from the Skill Team to the Brand Team and also switched my degree specialization from Finance to Marketing.
By my fourth year, I became the VP Brand of WMN. I lead a group of five incredible women who helped build the brand of WMN into something bigger. This year, we were nominated as the best-marketed club.
What WMN Strives For
The club is now run by two inspiring and hardworking women, Dawn Lising and Hannah Temple. WMN has transformed under their leadership; so I spoke with them about the leadership styles and values they hope to spread amongst the team:
"At WMN, we aim to lead with passion, empathy, and authenticity. Two leadership styles that we like to instil at WMN are transformational and visionary. We work to foster an inclusive and welcoming environment in which everyone feels comfortable sharing their own unique perspectives. As we develop the next generation of female leaders, we try to exemplify strong feminine leadership. Feminine leadership styles focus on nurturing and elevating others, which allows team members to develop their own skills and strengths. This style is more horizontal than traditional leadership styles and has proven to enhance team commitment and organizational performance", shared Hannah
As I leave the club behind, I can't wait to see what it continues to bring in the future. Hannah and Dawn shared their hopes for the future of women in business:
"We hope to see more women being empowered into positions of leadership. More women-focused mentorship and leadership development opportunities will be important in shaping the next generation of female leaders. We would also like to see more support and resources for female entrepreneurs. According to the Harvard Business Review, women-led startups received just 2.3% of venture capital funding in 2020. Institutionalized patterns of thinking have negatively impacted women entrepreneurs, and there is much work to be done in order to make venture capital funding more equitable. There are already some great female focused initiatives based in Ottawa, such as SheBoot, a 6-week bootcamp that prepares female founders to pitch their business and secure investment. We hope to see more initiatives in the future that advocate for gender equality."
How to Get Involved
If you feel lost when you first start out at university like I did, it's a great idea to get involved with clubs. By joining a club with a mission you feel connected to, you can become surrounded by like-minded people who can help guide you to become a better student and a more inspired professional.
If you are passionate about overcoming gender inequality in the workplace (no matter your gender), I recommend joining the Women in Management Network.
Follow them on social media to keep up with their latest events and when they start hiring, and sign up for their monthly newsletters.
I hope you find your place like I found mine, don't give up!