Three Semi-Finalists and One Finalist from Telfer place in the Odgers Berndtson CEOx1Day Program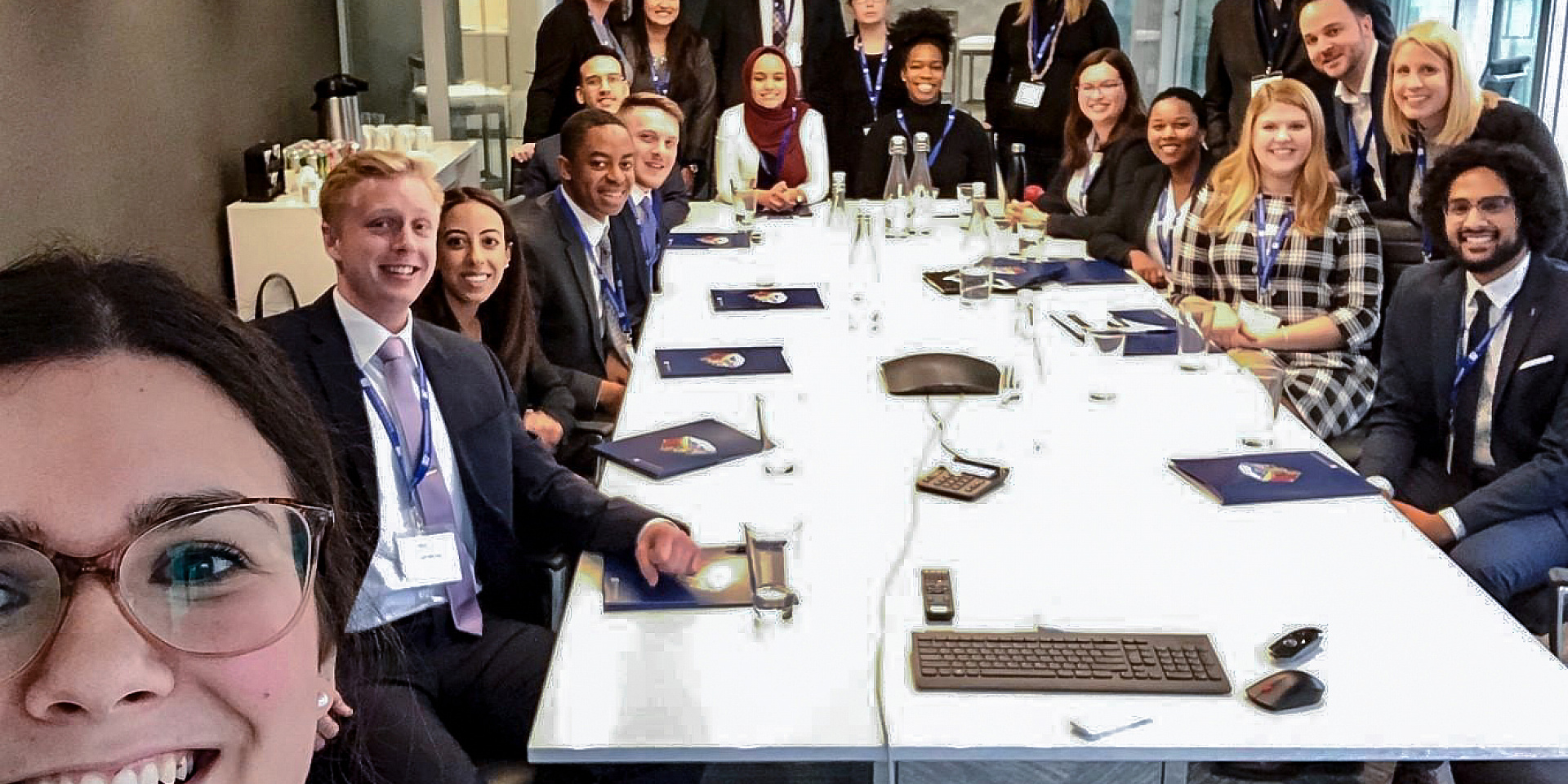 The 2020 CEOx1Day program, organized by Odgers Berndtson, has finalized its placements with four of Telfer's Bachelor of Commerce students in the semi-finals. This challenge includes a selection process, and the top winners will win a day to spend with any CEO participating in the program. After several rounds of a competition selection process, one Telfer student made it to the top two Ottawa finalist spots.
We would like to congratulate the following BCom students for their progression to the semi-finals round:
Ciara Carey: 4th-year, International Management
Farah Osman: 3rd-year, Marketing
Joy Xu: 4th-year, Accounting
Rylan Williams: 4th-year, International Management
Fourth-year BCom student, Ciara Carey, made it to the finals, and will be spending a day with Sasha Suda, Director & CEO of the National Gallery of Canada, on February 26th.
The CEOx1Day Challenge
Odgers Berndtson, a global executive search firm, started this program as a world-wide initiative that connects third and fourth-year students with top CEOs. To find the next generation of Canadian business leaders, Odgers Berndtson has selected 20 students to shadow some of Canada's top CEOs.
Students discover the inner workings that build company success, such as fostering a culture of collaboration and innovation.
CEOx1Day has brought in new companies to match with students for the program's 7th edition, including:
Odgers Berndtson works with a broad range of clients and integrated talent solutions. The CEOx1Day program was the organization's way of investing in the development of Canada's future leaders.
This Year's University of Ottawa Finalist
Ciara Carey, this year 's finalist, shared the details on her journey from application to final placement. She listed some of the opportunities that led her to feel more prepared going into the various competing rounds:
"I feel extremely fortunate for the different opportunities and teams I've gotten to be a part of throughout my Telfer undergraduate experience (BSA, JDCC, etc). I've learned many hard skills as a result of my involvement; however, what I'm most thankful for are the soft skills I have developed.
Coming into university after having played competitive basketball rigorously, I thought I understood work ethic and teamwork, but these extracurriculars ended up being a whole other test of what it means to be part of something bigger than yourself. They taught me to self-reflect, work on seeing the bigger picture, and how to act with humility. Most importantly, I've learned how to be a better teammate.
Due to my extra-curricular involvement, I had many experiences that I could pull from to demonstrate my leadership abilities, that I wouldn't have had otherwise."
Application Process
The application process for this year started in early October 2019, which the Canadian Association of Business Schools (CABS) added as a requirement for all Jeux Du Commerce Central (JDCC) delegates. After the application, an online leadership assessment was conducted by Hogen Assessments. Next, the applicant is drawn for a telephone interview with an Odgers Berndtson executive search professional. The last step was a half-day semi-finalist evaluation at the Odgers Berndtson's office. Challenges, workshops, and exercises were used to assess the interpersonal and communication skills of the candidates, as well as their teamwork skills, problem solving abilities, and leadership potential.
The Motivation to Apply
As a JDCC delegate and this year's JDCC Coordinator, Ciara submitted an application to the program, as she "thought shadowing a CEO for a day would be an amazing experience. After reading the descriptions of the CEOs offered in the region, I was excited by the idea of spending a day with Sasha Suda and learning about her journey." Ciara shared, "I am especially interested in learning more about how the National Art Gallery operates in general, and the leadership abilities that are needed as a CEO. Furthermore, I'm curious about the organization's strategic goals and the role Mrs. Suda plays in achieving them. I would also love to hear about her personal journey, and her opinion about the impact that art has on the community."
Tips for Future Applicants
Applying to a program of this magnitude can be intimidating at first, but certainly worth while. With the right tips, you can work towards hopefully obtaining a finalist position. Ciara shared her advice for students applying for next year's CEOX1Day program:
"An obstacle you might face is an internal struggle deciding to actually apply. Similarly to when underclassmen ask me for advice about getting involved in Telfer, my biggest advice for folks interested in CEOx1Day is to 'just go for it!' Don't be afraid to put yourself out there and don't be afraid to 'fail' (everything is a learning opportunity). For CEOx1Day, I think it definitely helps to be honest and authentic, especially when it comes to the Hogan Assessment portion of the selection process."
Ciara also shared that she is happy to get in contact with any students that may be looking for advice for their future application!
---
We hope Ciara has an insightful day at the National Art Gallery, and look forward to learning more about her experience.