Telfer Gee-Gees Bring Home Five Awards at National Championships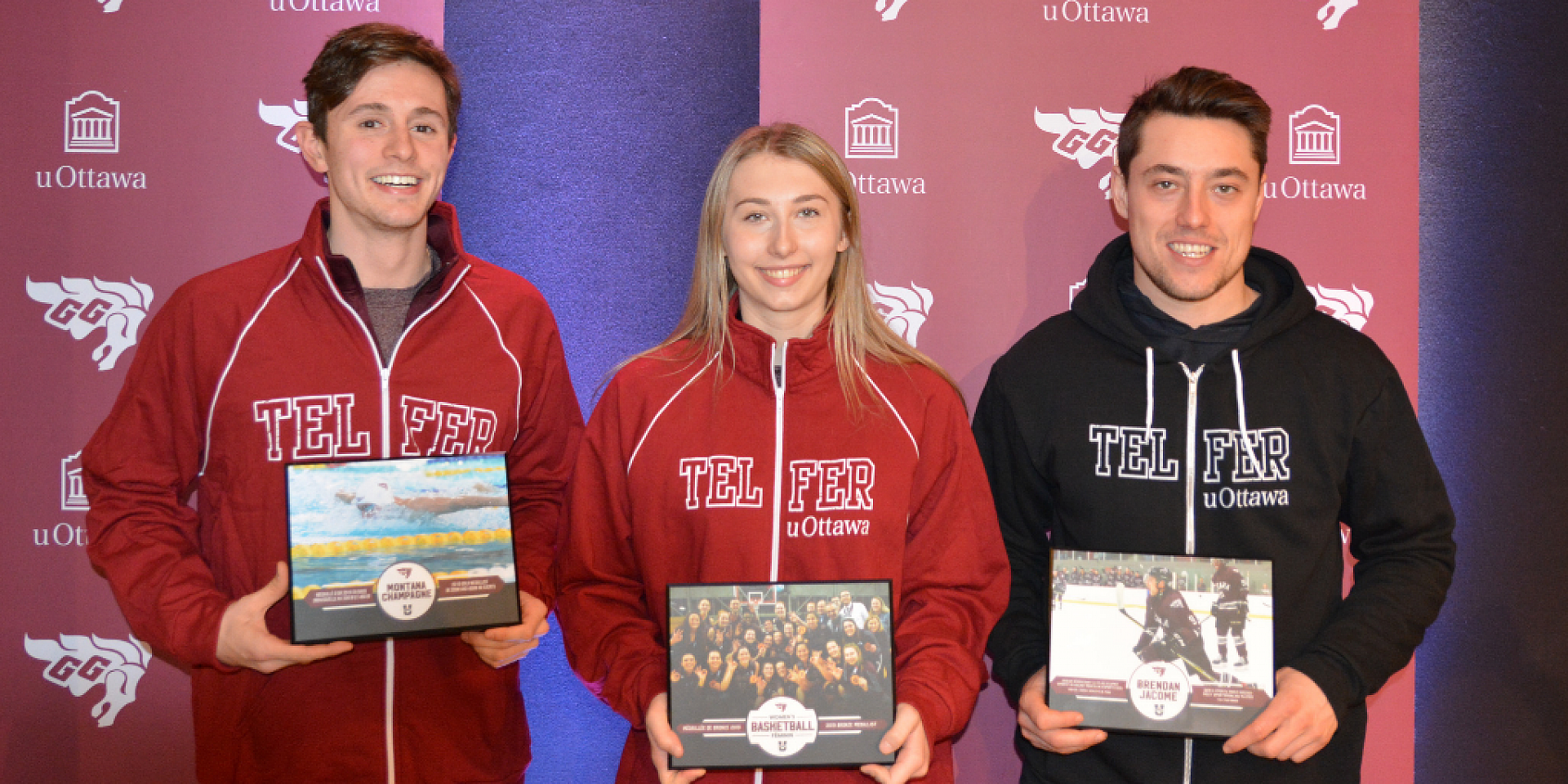 We are proud of our #TelferNation student-athletes for their personal accomplishments and at the USPORTS National Championships. We are excited to celebrate four undergraduate Telfer students, for their remarkable accomplishments at the National level:
On March 26th, these four Telfer students were honoured at the University Centre (UCU) building on campus for their impressive sports accomplishments this year for a celebration gathering teams and athletes. Awards were handed out to the athletes to recognize their sportsmanship on both provincial and national levels. Roger Archambault, Assistant Director of High-Performance Athletics for the Gee-Gees, was thrilled with the performance from all teams for their outstanding success.
Montana Champagne has now been awarded 8 medals during his Gee-Gees Swimming career, including 4 gold medals. Champagne collected 2 gold medals at the 2019 U SPORTS National Championship held at the University of British Columbia this year. During the championship, Montana Champagne finished first in the 200m individual medley (IM) setting a new U SPORTS record by more than a second and a new team record, while also finishing first in the 400m IM for another team record. He completed the weekend with a fourth-place finish in the 200m butterfly final. Montana's journey as a Telfer student and Gee-Gee athlete is coming to an end as he will be graduating, but we wish him best of luck in training for the Olympics, we will definitely be cheering him on!
Brendan Jacome was named the 2018-2019 winner of the R.W. Pugh Award (U SPORTS Most Sportsmanlike Player). He exceeded his career-high, recording a total of 13 goals and 16 assists in 27 games without taking a penalty throughout the season. During the playoffs, Jacome added 8 points in 5 games. The Gee-Gees Men's Hockey team finished first in the OUA East competition, with an impressive 22-2-4 record. Unfortunately, the Gee-Gees were eliminated by the Queen's U Gaels in the third game of a best-of-three series in the second round.
The Gee-Gees Women's Basketball won the Bronze Medal at the 2019 U SPORTS National Championship hosted by Ryerson University. The team finished the regular season with the best record in the OUA, with 21 wins and 2 loses, setting a program record. During the playoffs, the Gee-Gees made it to the finals and won the OUA Silver Medal. Their season also included the team's first Capital Hoops win since 2015 versus Carleton University.
We are proud of our Telfer student-athletes and wish them luck in the coming year in both their academic and athletic accomplishments.
---