Key Course and Program Information for New Telfer Students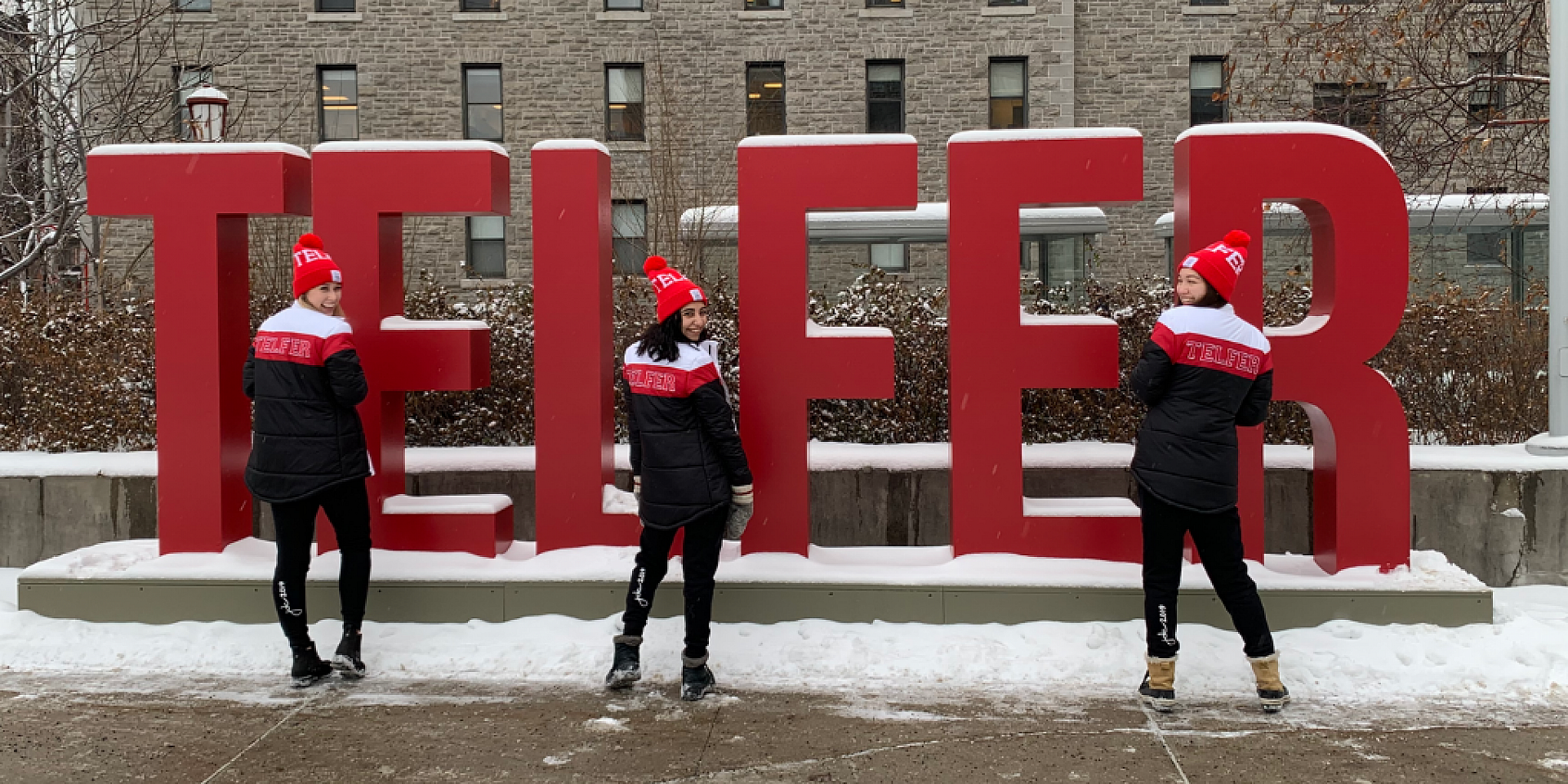 There is a lot to learn as a new Telfer student when it comes to program features and courses. If you are interested in learning more about setting up your course schedules, choosing your program option(s), studying in French and English, and international exchange, check out this discussion from fellow University of Ottawa students from an Instagram Live session.
Instagram Live Discussion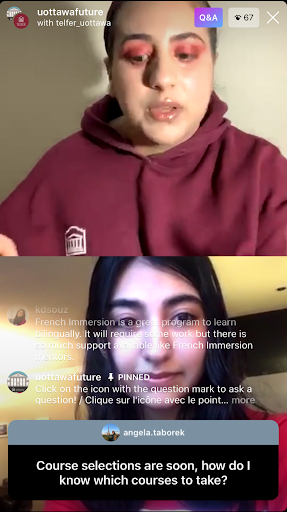 This spring, uOttawa Future hosted live Q&A sessions on Instagram Live with current students from each of the University of Ottawa's undergraduate faculties.
Fourth-year Marketing student, Fiona Doomasia, chatted with uOttawa Future ambassador and third-year Social Sciences student, Narimane Ait Hamou, about student experience both inside and outside of the classroom. This included anything from how to set up your course schedule and making changes to your program, to student clubs and jobs on campus.
Here are some of the key topics they discussed:
Courses
1. Course Selection
Some questions were sent in asking about what courses to register for in first year, and how best to choose courses. Nari and Fiona shared their advice for finding the best schedule of courses to set up: essentially, whatever works best for you!
Fiona suggested writing down the courses and time slots available on the uoCampus class search tool in order to see what choices you have, and to then select the courses that best fit your schedule. Classes take place anytime from 8:30 a.m. to 10:00 p.m., and are usually 1.5 hours or 3 hours in duration. She added that if you are fine with a full-day of around six hours of classes and you are commuting to downtown Ottawa, you can schedule a number of classes in one day. This can help in arranging your schedule to have one day off or to create one shorter day with plenty of available time for homework, group projects, student club work, or other commitments.
Nari also recommended meeting with an academic advisor who can help you set up your course schedule, ensure you are following the course sequence you need to graduate, choose electives, and more. Our academic advisors are available at any point during your undergraduate degree, so if you need help beyond first year, you are still welcome to get in touch with them.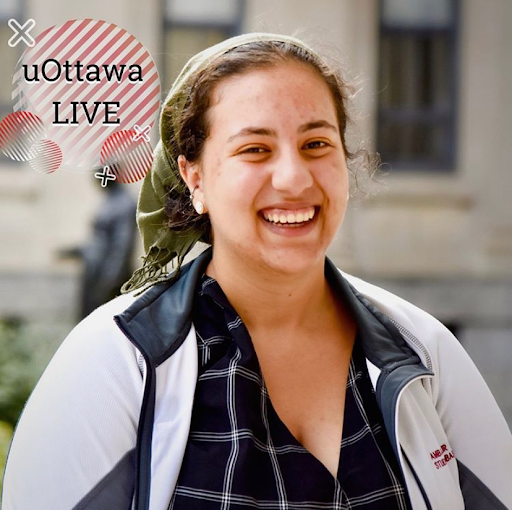 View your program course sequence for your entire undergraduate degree by clicking on your program option, then click "Course Sequence" under "Useful Information".
2. Class Sizes
Fiona and Nari also discussed typical class sizes to expect in first-year courses and beyond. In first year, many of your classes can range from 150 to 400 students depending on the course. A course like Introduction to Microeconomics (ECO 1104) is required in several programs, and therefore, will be filled with students from a variety of different faculties, leading to a larger class size of up to around 400 students. You may also choose to take an elective course in the Faculty of Social Sciences for example, which would be closer to 250 students if it is at a first- or second-year level course (beginning with 1000 or 2000 in the course code).
A course like Introduction to Business Management (ADM 1300) would be closer to 150-200 students in a classroom as all first-year Telfer students are required to complete this course. As you proceed through the years, you will notice that class sizes will decrease to as small as 60-80 students, common in fourth-year. This is because those classes are more specific to your program specialization, such as Digital Marketing Technologies (ADM 4326).
Program Changes and Languages
1. Switching Program Options/Specializations
At the Telfer School, you choose which program option you would like from the options offered, but all Bachelor of Commerce students take the same courses in first and second year. This gives you time in your first couple of years to determine which area of business you are most interested in, and you can switch into a different Telfer program if need be.
Perhaps if you started out in Marketing, but realized your interest in Accounting, you can switch into Accounting before you start third-year, where courses become more specific. You can switch in third- or fourth-year, but you will likely require further schooling as not all classes will transfer over. You will need to complete all required courses identified in the new course sequence in order to obtain your desired degree. For questions about this, you can contact your academic advisor at Telfer's Student Services Centre.
2. Studying in your language of choice
You can choose to study in your language(s) of choice: entirely in French, entirely in English, or a mix of French and English. You can enrol in the French Immersion program, which requires a certain number of courses to be taken in French.
International Exchange Program
Any Telfer student is eligible to go on an international exchange during their degree. If you are either in International Management with a mandatory exchange, or you are in another Telfer program, you can set a meeting with one of our academic advisors to discuss your options.
If you are planning on going on an exchange, they can help you determine which semester is best for you to go on exchange based on which classes you need to take while at the University of Ottawa, and which classes you can take abroad. If you are in co-op, they can also help you figure out how to ensure you meet all requirements for co-op and your courses.