Experiential Learning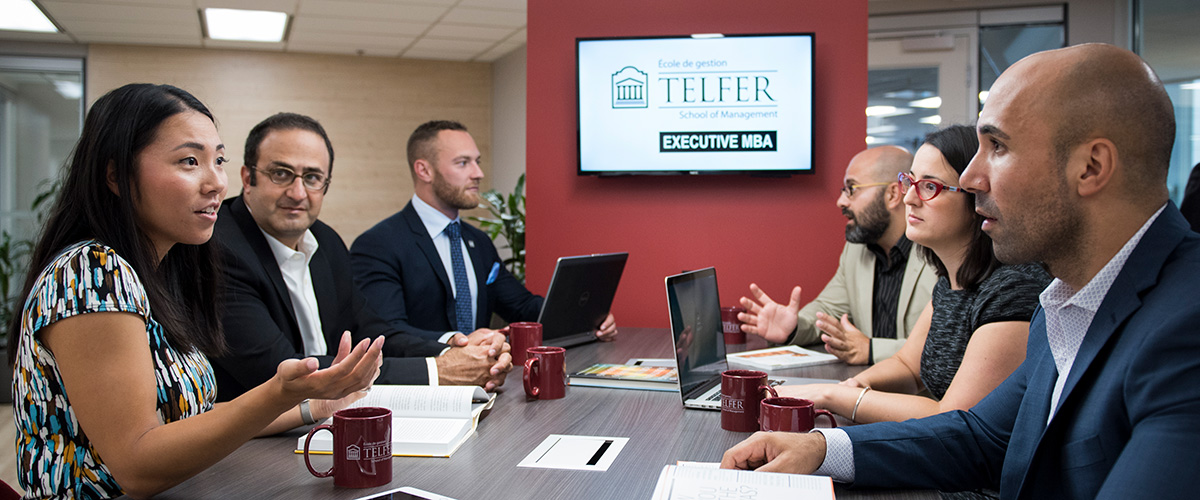 Our program is unique for its number of hands-on, experiential learning opportunities. We are the only accredited Executive MBA program to integrate six diverse consulting projects into our curriculum. Through these projects, you will gain valuable practical experience applying your knowledge and demonstrating your skills in active business settings. Each project requires you to work as a consultant with a client organization, addressing an identified business challenge or opportunity.
Digital marketing consulting project
Your team will work with a not-for-profit organization to develop a digital marketing plan. You will help promote the organization, broaden its network and improve engagement with potential donors, volunteers and partners, while understanding the resource limitations of the not-for-profit sector.
Innovation and entrepreneurship business consulting project in Silicon Valley
You will analyze the current situation for a client startup or scaleup company in Silicon Valley in California and provide recommendations for growth to senior management. You will travel to California in May of your first year to validate your findings and present recommendations to your client.
Business development consulting project
The business development consulting project is an experiential learning capstone project following your first year of studies. You will identify a client organization that has a management issue or opportunity of interest to you and supports your career goals. Engaging with your client, you will research and analyze key information that relates to the scope of your project. Finally, you will summarize your findings and recommendations in a business presentation and report. An advisor is assigned to coach and mentor you with this project.
Entrepreneurship consulting project
With a strong understanding and validation of product-market fit, go-to market strategy and unit economics, your team will develop a funding presentation and business package for a local entrepreneur. A panel of experienced investors ranging from early stage through angel and venture capitalists will provide feedback on the funding potential based on your pitch. Your team will be coached by an experienced entrepreneur who has launched, scaled and exited a business venture. 
Business strategy consulting project
Setting the stage for your international expansion project, your team will work with a client organization that is seeking the opportunity for partnership, direct entry or establishment of a satellite office in the selected market. Your team will conduct a strategic analysis of your client's company to determine its readiness and alignment for international expansion into the intended international market.
Note: Your cohort will have strategically assessed and selected a market for this project through the International Market Evaluation and Strategy course.
International expansion project
The international expansion project enables you to apply a global perspective to all of your learning in the program.
Drawing on the work of the business strategy project, your team will conduct business intelligence, develop and analyze the key stakeholder map for reaching your market objective and draft preliminary recommendations prior to spending one week abroad for in-market validation.
Once in the market, your team will gather further intelligence, explore the business ecosystem, conduct stakeholder interviews, establish key contacts and experience the local, social and business culture firsthand. On your return, you will present a report of your findings to your client.