Admission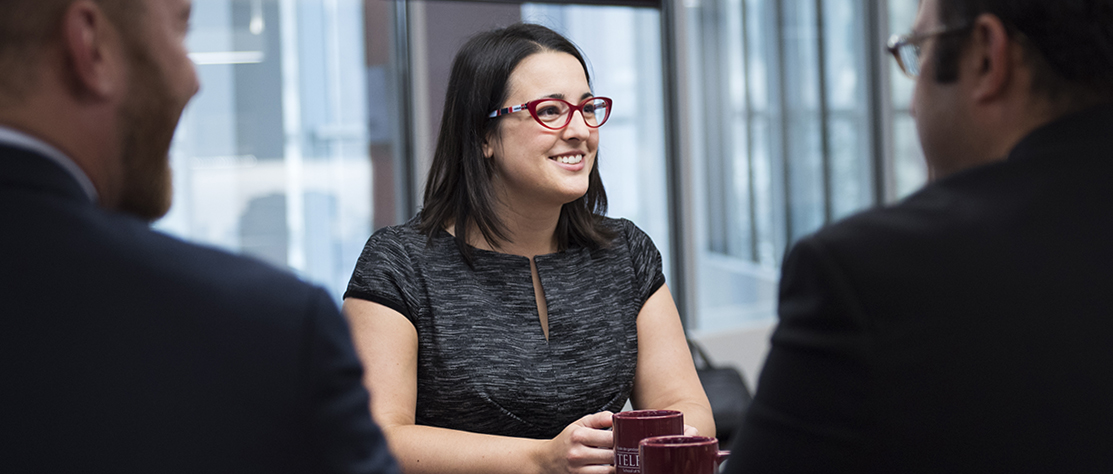 Congratulations on starting your Executive MBA journey
Here's everything you need to know to get started for Executive MBA admission.
We encourage you to submit your resumé to our admissions team for a preliminary assessment prior to starting the application process. You can also book an appointment with a member of our admissions team to walk you through the process.
We take a holistic approach to assessing your candidacy based on the admission criteria below. Applications are evaluated on a rolling basis. Once your application is complete, our selection committee will review it for the next intake.
Admission Criteria
You require five years of full-time managerial or professional work experience to be admitted to the Executive MBA. Preference is given to those with more work experience, particularly when you have evidence of management responsibilities and a net career progression. A typical Executive MBA cohort averages 15 years of full-time work experience.
A Canadian bachelor's degree, or an equivalent degree from your country, with a minimum admission average of B (70%) is required. The admission average is calculated in accordance with the graduate studies guidelines (the last 60 units for Canadian and American transcripts, or the last 20 courses for foreign transcripts). We consider all postsecondary studies at the time of admission, with your most recent studies considered first.
A limited number of applicants may be considered for Executive MBA admission based on substantial managerial or professional training, and at least 10 years work experience. This experience must show strong evidence of management responsibilities and career progression, even if you do not hold a Canadian bachelor's degree or its equivalent, or do not meet the minimum academic requirements.
Applicants without an undergraduate degree or those who are near the minimum years of work experience required may be advised to improve their competitive position by writing the GMAT. Speak to a recruiter to determine if you will be asked to write the GMAT. As a part of the application process, you will have to complete our entrance case study as part of the admissions process.
The Executive MBA is offered in English. You must fluently speak and understand English. On request, you must provide your results in a University of Ottawa-approved language proficiency test. You can submit ONE of the following to confirm your English proficiency (language test scores cannot be more than two years old as the date of application of potential entry into the program):
Proof of completion within the last five years of a degree program in an English language university
Proof of recent prolonged residence and exercise of a profession in an English speaking country (normally at least four of the last six years)
A score of 100 (internet-based) or 250 (computer-based) on the Test of English as a Foreign Language (TOEFL)
A score of 7 in at least three of the four Academic International English Language Testing System (IELTS) tests (Reading, Listening, Writing, Speaking) and 6 in the fourth test. The General Training IELTS test is not accepted.
Application Process
You can email your resumé or LinkedIn profile to This email address is being protected from spambots. You need JavaScript enabled to view it. for assessment.
Applicants will be contacted for an interview with the program director. This 30- to 45-minute interview explores your background in a team-based working environment, your objectives for completing the Executive MBA program and your ability to communicate effectively. No preparation is required. The interview can be in person or over video conference.
When you have filled in all the sections of the online application, you can submit your application. If you forget to fill in mandatory sections, you will be re-directed to the error/warning section. Review these notifications. Then, submit your application.
To submit your application, you must pay a non-refundable fee of $190 CAD. Application fees cannot be waived.
You will receive an email from the University of Ottawa within 10 days of applying. This email will contain your student number, uoAccess ID and password to access the uoZone student portal. If you do not receive this email, check your OUAC account to ensure that your application was successfully submitted.
A member of the recruitment team will help you schedule your case study. This three-page case will be provided remotely. You will have two hours to assess and provide recommendations on the business opportunity or challenge presented.
Curriculum vitae (resumé): Outline your managerial and professional experience, as well as any relevant volunteer work.
Letter of intent: State your reasons for pursuing a graduate program, as well as your potential contribution to the program given your background and experience. The letter should be at least 500 words. For our letter of intent guidelines, talk with our admissions team.
Transcripts: Upload one transcript from each postsecondary institution you have attended.

You do not need to submit transcripts for previous studies at the University of Ottawa.
Transcripts from non-Canadian and non-American institutions need to include the grading scale (often found at the bottom or the back of the transcript. If not, you must get it from your school).
If the transcript is not in English or French, you must submit a certified translation.
Note: Official transcripts will need to be sent directly from your previous academic institution(s) in the event of an official offer of admission.
Mail transcripts to the following address:

Telfer Executive MBA
99 Bank Street, Suite 200
Ottawa ON
K1P 6B9
Canada

Or by email to This email address is being protected from spambots. You need JavaScript enabled to view it.
If you have completed studies in China and receive an admission offer, you must submit official translations of transcripts and diplomas certified by the China Higher Education Student Information and Career Center (CHESICC). They must be sent directly to us.

Official language proficiency test scores: You must submit test scores from one of the following tests for Executive MBA admission if applicable: TOEFL, IELTS, other. Your test score must be less than two years old at the time of application. To speed up the evaluation process, upload a copy of your language test report. Ask an officer from ETS (TOEFL) or IELTS to make the results available electronically to the Telfer Graduate Office.

Our TOEFL institutional code is 0993.

If requested, GMAT test scores. To speed up the evaluation process, upload a copy of your GMAT report. At your testing centre, request that official GMAT test results be available electronically to the Telfer Graduate Office. Our GMAT department code is 4BZ-76-75
Once you receive your uOttawa login credentials, you can sign into the uoZone student portal to submit the required documents and complete your application.
To access uoDoc, go the "Applications" section and select Upload Admissions Documents.
When you complete these steps, you will have officially applied to the Telfer Executive MBA. Congratulations! We will share our admissions decision with you via uoZone.
Add the contact information of two professional references in the Admission Portal checklist via uoZone. Your references will then receive an email from the University of Ottawa with a link to a recommendation form to be submitted online. These letters can also be emailed directly to us at This email address is being protected from spambots. You need JavaScript enabled to view it..
This letter, signed by your employer, acknowledges your intention to enrol in the Executive MBA program and the employer's support for this, including an understanding that you will be away from work on class days as well as for the two international trips. This letter can be combined with a recommendation letter from your employer. If you've left or are leaving your current job, we do not require a letter from your current employer.
Recommended Application Deadlines
We strongly advise you to apply as early as possible.
MAY
31
Recommended deadline for international applicants.
JUNE
30
Recommended deadline for Canadians, permanent residents and American applicants.