Mass Vaccination: The Battle Will Not Be Easily Won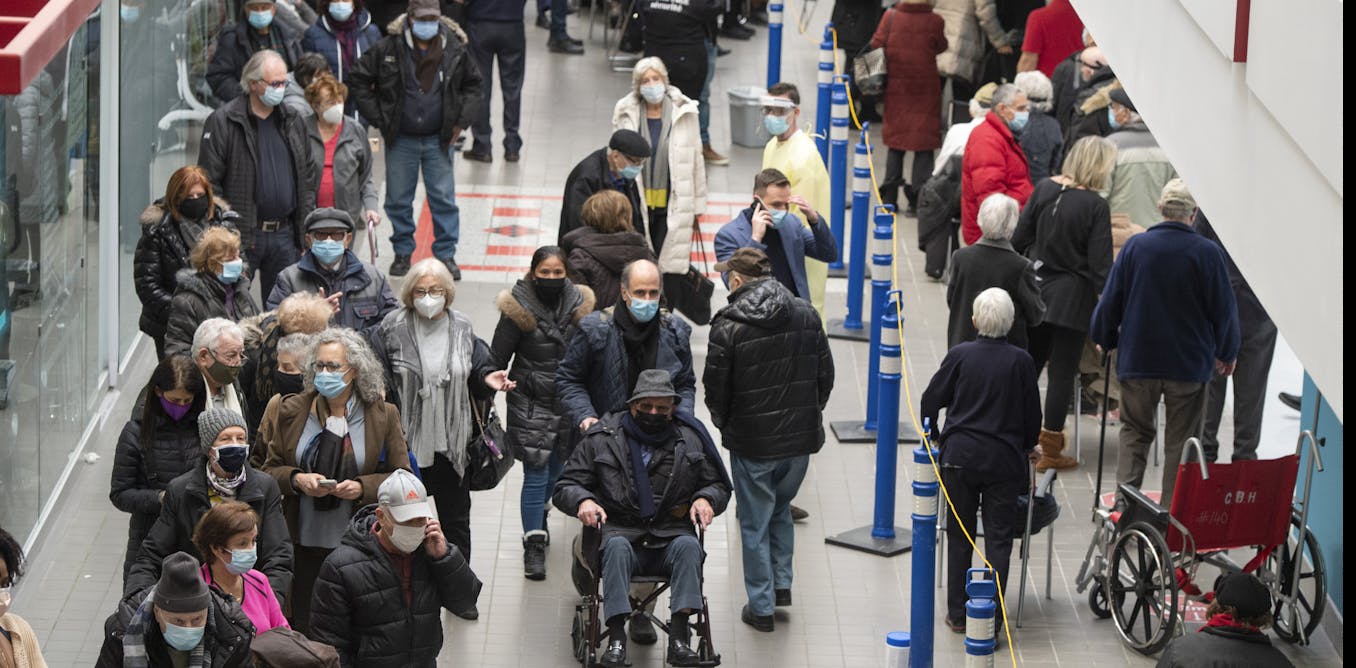 Des Seniors wait for their Covid-19 vaccines on March 1 in Montreal. The start of the vaccination campaign has been slow, but the government's goals remain ambitious. Are they realistic? The Canadian Press/Ryan Remiorz
Written by Lavagnon Ika, Chair professor Project Management, University of Ottawa and Gilles Paché, Professeur des Universités en Sciences de gestion, Aix-Marseille Université (AMU). This article was first published in The Conversation, an independent source of news and views, from the academic and research community, delivered direct to the public, on March 26, 2021.
Mass vaccination against the novel coronavirus presents significant, if not unprecedented, logistical challenges. The scientific battle to find the vaccine was won in just a few months; the question is whether the same will be true of the battle to vaccinate.
Although the federal government has invested more than $1 billion to buy vaccines, Canada began receiving them in significant volumes only a few weeks ago and the result has been a slow start to the campaign. At present, fewer than 10% of Canadians and fewer than 12% of Quebeckers have received at least one dose, and this leaves Canada out of the top 40 worldwide.
The goals are very ambitious, however; the plan is to deliver one dose of the vaccine to all Canadians this summer, or by the end of September at the latest (June 24 in Quebec and Ontario), over an area as enormous as Canada. That short deadline has been set by Prime Minister Trudeau himself.
Are these targets realistic?
As a professor of project management and founding director of the University of Ottawa's Major Projects Observatory, I study the inherent complexity of major projects, whose trajectory often deviates from the plan with the result that they underperform. My co-author is a professor of management sciences and the director of Aix-Marseille Université Éditions and has extensive experience in corporate logistics. We are closely monitoring the news relating to mass vaccination, an enormously complicated project that is without precedent in history.
Race against the clock
Mass vaccination has become a true race against the clock to counter the outbreak of multiple variants (British, South African and Brazilian, among others). They are more contagious and some are more lethal, but fortunately, they respond well to vaccines such as Pfizer/BioNtech and Moderna, which are more adaptable because of their particular technology (referred to as Messenger RNA).
In a race like this, vaccination is faced with considerable complexity and uncertainty. It would seem that 80% of the complexity of a major project is due to its dual complexity, in that it is both intrinsic and sociopolitical. The intrinsic complexity of vaccination stems from both the vaccines themselves and the difficulties in getting them to mass vaccination sites, pharmacies or patients' homes with no loss of doses.
The complexity is compounded by the variety of situations encountered: one dose (Johnson & Johnson) versus two (Pfizer/BioNtech and Moderna); varying recommended times between doses (21 days for Pfizer/BioNtech and 28 days for Moderna, even though, in practice, people are waiting four months); technologically different cold chains (-70°C for Pfizer/BioNtech, -20°C for Moderna, and positive cold for AstraZeneca and Johnson & Johnson).
Added to this logistical complexity, in Canada, is the sociopolitical complexity arising from the large number of actors involved, with the Canadian federal government handling procurement on the international markets while vaccination is under provincial jurisdiction. Each province has a different way of doing things: for example, Quebec has involved pharmacies in the process along with large and medium-sized businesses.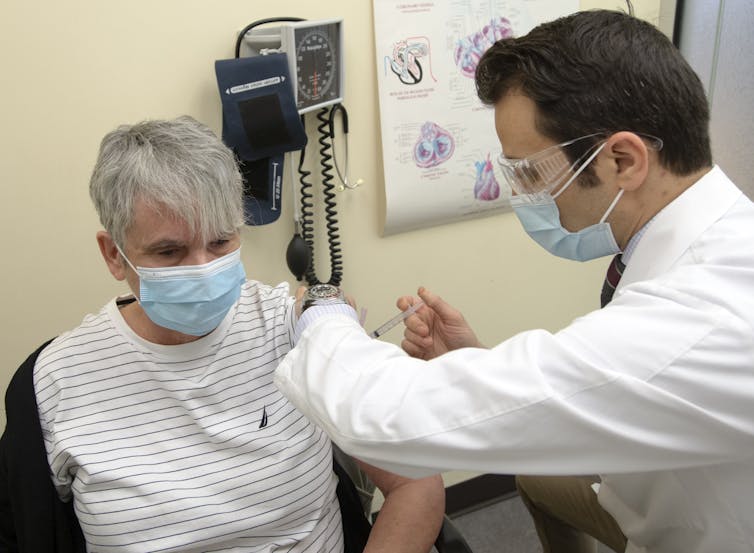 The Canadian Press/Ryan Remiorz

Ontario is putting most of its efforts into mass immunization clinics, but is also using pharmacies and mobile sites in neighbourhoods in crisis. We therefore cannot be sure that Canada has been able to avoid "the confusion of having 13 different strategies across the country", as Prime Minister Trudeau feared as early as November 2020. In Ontario, the head of the vaccine distribution task force will be leaving his position on March 31, after drawing criticism for the slow pace and failings of the vaccination campaign.
The subtle art of strategy
In our opinion, a coherent action plan at the national level is missing. The result of a national plan, which would, of course, be based on seamless cooperation among the various levels of government, would have been realistic, agreed timelines for supplying and distributing vaccines across the country. The two major characteristics needed, federal procurement and provincial distribution capacity, would have been better anticipated.
The American example
The development of the "vaccine of hope" represents a major scientific breakthrough, a management success in the case of an innovation project delivered in less than a year. But technological breakthroughs are not always accompanied by commercial or social success; far from it, in fact. Project sponsors routinely find themselves in a situation that is well known in the field of medicine, which can be summed up by the saying "The operation was a success but the patient died."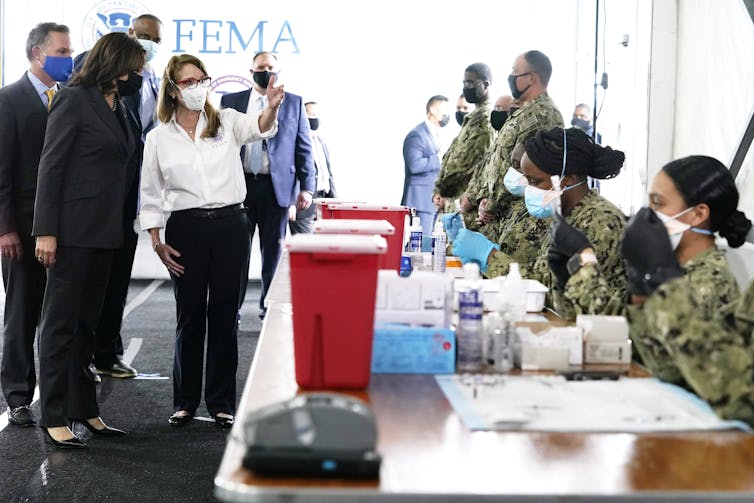 AP Photo/Jacquelyn Martin

Leadership that is both vertical (for example, at the Biden administration and state government levels) and horizontal (within vaccination teams on the ground) can also make a difference. In other words, the availability of vaccines within a country, the high volume of resources devoted to rapidly distributing the vaccines, and strategy, leadership, and coordination between the various levels of government and the immunization actors on the ground appear to explain the American success. This is what it takes to succeed in a project that is without precedent in the history of humanity.
An experience from which lessons must be learned
To enable a relatively quick return to "normal", it is essential to take a comprehensive and systemic view of the associated logistics. When a project is designed, the logistical constraints must be identified for each link in the chain. The COVID-19 vaccination strategy has made it plain that if the "routes" that the vaccines will take (in project management, we talk about implementation options), each with its specific constraints, are not planned up front, there will be a risk of failure.
"Vaccinodromes," or mass vaccination sites, such as the Olympic Stadium or the Palais des congrès de Montréal, allow for vaccine deliveries to be grouped at a smaller number of receiving locations to handle large volumes, something that many carriers are able to achieve without difficulty.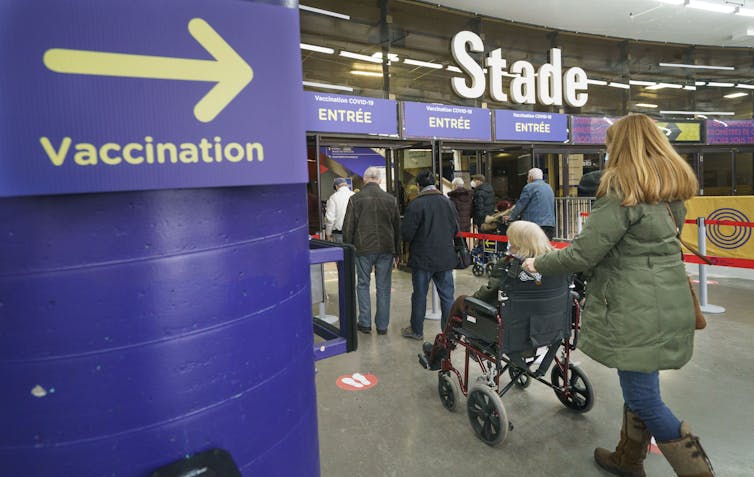 The Canadian Press/Paul Chiasson

In contrast, using pharmacies and mobile sites calls for delivery routes carrying small volumes to multiple points in the network and very specific know-how on the part of a smaller number of logistics operators. That means dealing with multiple logistics networks organized around different skills. Given this complexity, each network must be managed as a coherent system, focusing on the interaction between its various components.
Will the mass vaccination operation be a success? Time will tell—and we will know in a very short time. This is a far-reaching practice for the next pandemics, but also for climate change, whose equally far-reaching effects will certainly be felt in the not too distant future.