The Telfer School of Management is proud to announce that it has ranked in 5th position for its Undergraduate Business Programs and in 8th position for its MBA Business Program in the 8th Annual Corporate Knight School survey.
The first Corporate Knight Schools report was published in 2003, with the objective "… to shine a light on individuals in business schools across Canada who are working to push the social responsibility, environmentally sustainable and community engagement agendas forward".
Seven reports have been completed to date, all of which produce a ranking of university programs according to how well they integrate sustainability into their curriculum and educational atmosphere. A total of 53 Business schools were involved in the survey, with 50 undergraduate degree programs evaluated and 38 MBA programs evaluated. Read the report » [This link is no longer available]
Social Responsibility at the Telfer School
Students at the Telfer School of Management continue to develop novel ways to support community engagement and social development in our city, in our country and throughout the world. Here are a few examples of activities from the past year.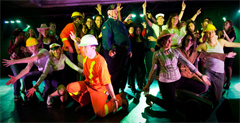 12th Annual CASCO Charity Event