The 2018 MBA Games have officially come to a close but the legacy of this 3-day event will live on with the 600 MBA candidates who travelled to Ottawa from coast-to-coast to participate from January 5th to 7th.
This year marked the 30th anniversary of the student-run MBA Games. For the first time ever, they were held in Ottawa, hosted by the Telfer School of Management.
"Meeting all of the passionate and talented competitors was so rewarding," says Emma Azzi, Telfer MBA student and chair of the 2018 MBA Games. "It was amazing to see the months of planning come together."
Despite the cold weather, all 17 participating schools brought a warm display of energy and skills to the academic, athletic and spirit events. Participants even braved an outdoor scavenger hunt in -20°C weather.
In total, $45,311 was raised in support of the Moose Hide Campaign, a grassroots Indigenous-led movement of men standing up against violence towards women and children.
Paul and Raven Lacerte, co-founders of the Moose Hide Campaign, said they were so grateful for all the efforts of the MBA delegations in raising funds for their organization and in spreading the message across university campuses.
Competition results: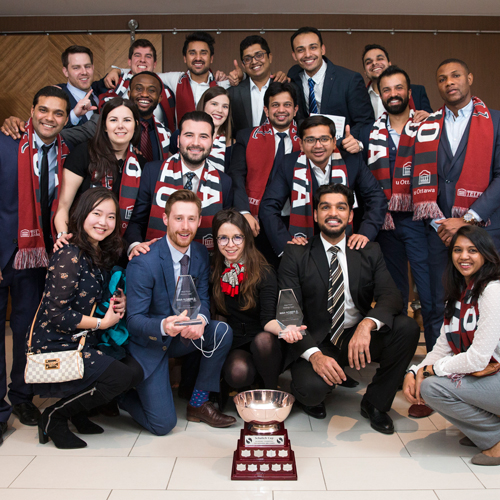 Schulich School of Business (York University) was awarded the Queen's Cup as the overall MBA Games winner.
Our own Telfer School of Management (University of Ottawa) took home the Schulich Cup for their top scores in Academics which included Finance, Marketing, Strategy, and Diversity & Inclusion case competitions.
Beedie School of Business (Simon Fraser University) was the Titi Watul Spirit Overall Winner for their strong showing in the spirit components which included fundraising, social media, a video competition, a scavenger hunt and a case developed with the Moose Hide Campaign.
DeGroote School of Business (McMaster University) took home the newly minted Telfer Cup for their top overall scores in Athletics which included volleyball, basketball, dodgeball and curling tournaments.
In addition, four teams took home $10,000 grants from the Moose Hide Campaign to fund the on-campus initiatives they presented to address violence towards women.
Here are Telfer's academic rankings:
1st place Strategy case: Shariq Akhlaq, Akil Manasia, Kyle Ferguson and Laurine Avallone.
1st place Finance case: Rohan Vaidya, Kuntal Shah, Peter Narbaitz and Eric Goneau.
2nd place Diversity and Inclusion case: Tanya Roy, Jujhar Singh, John Wins-Purdy and Chinmaya Mohapatro.
In addition, a special mention to our coaches Germain Aoun and Hantz Prosper who helped to drive these students to success.
The event was hosted in partnership with number of sponsors including Deloitte Canada, Export Development Canada, Canada Post Corporation and Esprit Whitewater.
The Right Honourable David Johnson, former Governor General and Executive Advisor to Deloitte Canada helped launch the event as the keynote speaker at the Opening Ceremonies Gala.
Congratulations to all participants! The 2018 MBA Games proved yet again that we really are #MoreTogether!