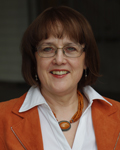 The Telfer School of Management at the University of Ottawa is pleased to announce the appointment of a new Executive-in-residence to the MBA Program, Suzanne Drouin. An executive within the federal public service (Fisheries and Oceans Canada), Suzanne comes to us from her position as Visiting Executive at the Association of Professional Executives of the Public Service of Canada (APEX).
She will be on assignment with our School until July 2013 and during her stay with us, Suzanne will be a member of the team led by Dr. Jacques Barrette, Vice Dean and Associate Dean (Programs). Having worked for over three decades in the Canadian community college system within three different provincial jurisdictions as well as post-secondary educational organizations in the federal government and abroad, Suzannebrings to the MBA Program a professional experience in the fields of health, education as well as para public and public administration.
Suzanne lived in Cape Breton when she was appointed, in 1999, to the position of Executive Vice-President and Chief Operating Officer of the University College of Cape Breton (UCCB), currently known as Cape Breton University (CBU) in Sydney, Nova Scotia. Later, in 2007, she held the position of Executive Director of the Canadian Coast Guard College located in Sydney. She also had the pleasure to experience life in Western Canada from 1997 to 1999 in her role as Senior Instructional Officer and Dean of Instruction at the College of the Rockies in Cranbrook, British Columbia. One of her most memorable professional opportunities took place when she lived overseas from 1993 to 1996. As Head of Health Sciences with the Higher Colleges of Technology in the United Arab Emirates, she carried out an in-depth needs assessment of health training needs in the country and worked closely with the Emirate officials from the Ministry of Health to develop and implement national diploma programs in health sciences. Prior to working overseas, she was a member of the senior management team responsible for overseeing the establishment, in 1990, of the first French Language College in Ontario, La Cité collégiale located in Ottawa. Suzanne, who began her career a critical care nurse and clinical coordinator at the Ottawa General Hospital, embarked on her professional journey in education at Algonquin College where she held the positions of teacher, program coordinator and academic chairperson (Health Sciences) from 1976 to 1990.
Suzanne is currently a student in the integral coach development program with Integral Coaching Canada Inc. in Ottawa, with the aim of becoming a certified integral coach. Born in Gatineau (Hull), Quebec, she is an alumnus of the University of Ottawa (Bachelor of Arts, Psychology), and holds a Master's Degree in Public Administration (l'École nationale d'administration publique, Gatineau, Québec) and a Nursing Diploma (OttawaGeneral Schoolof Nursing).