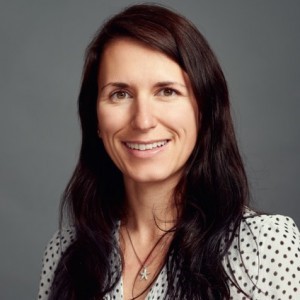 When the purpose of the Laurie Strano Memorial MHA Scholarship was decided, it certainly had someone like Carolyne Mondoux in mind. As the second recipient of the scholarship, Carolyne embodies leadership, community involvement and excellence in athletics.
Her career path – which began with an undergraduate degree in biology and continued with jobs in retail, public service and finance – led her to discover a passion for nutrition and administration. To further mesh her skills in management and health care, after finishing a degree in Nutrition from uOttawa, Carolyne decided to pursue a Master of Health Administration (MHA).
Carolyne's commitment to health extends beyond her day job. A mother of two young girls, she enjoys going on outdoor activities such as mountain and road cycling, running and cross-country skiing. Her private practice, Fine Balance Nutrition, focuses on gastro-intestinal health, lipid management and sports nutrition for new athletes. But beyond that, Carolyne is the co-leader of a not-for-profit group which aims to bring together local RDs and welcomes new graduates through networking events and professional development opportunities. What's more, she also volunteers for the fundraising committee at her daughter's school. As a registered member of the College of Dietitians of Ontario, Carolyne also volunteers as a local "Nutrition Month" media representatives for Dietitians of Canada.
"Receiving a scholarship in memory of Laurie Strano is a great honour. In my eyes, this scholarship acts as a thank you for my contributions and the ones of past and future MHA students. It also serves as a reminder that these commitments are recognized, and highlights the importance of community involvement."
What matters to Carolyn is nutrition, health promotion, disease prevention and working with children. As an enthusiastic and motivated individual, she hopes to work as a leader for a dynamic, health-focused organization which embraces creativity, strives for innovation and cares about its community.
For more information about the Laurie Strano Memorial MHA Scholarship, please contact Roxanne Chénier, Development Officer, at (613) 562-5800, ext. 4760 or This email address is being protected from spambots. You need JavaScript enabled to view it.