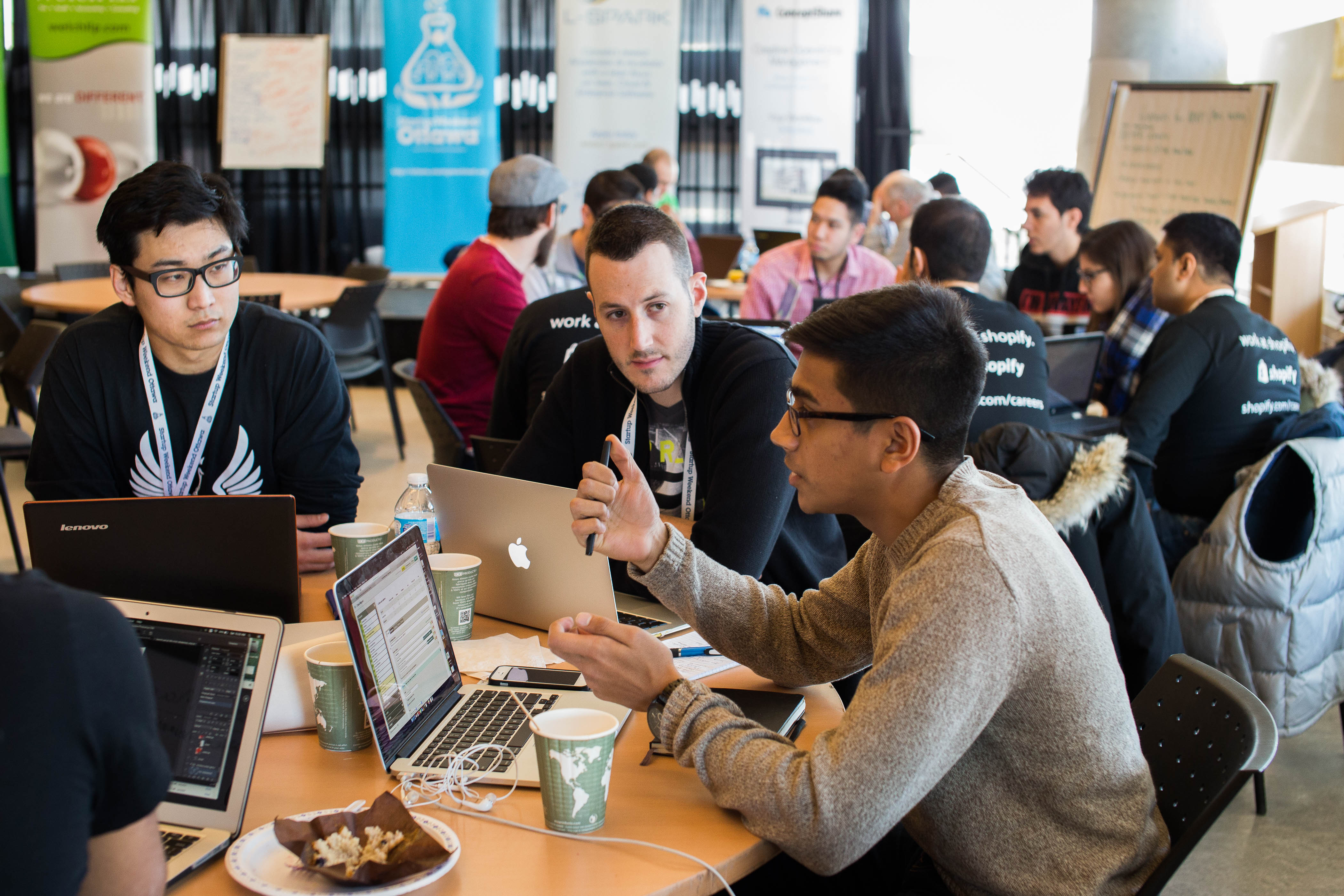 Startup Weekend is a non-profit organization headquartered in Seattle, Washington that brings people together for weekend-long workshops to pitch ideas, form teams, and start companies.
An exclusive edition of Startup Weekend was held at uOttawa from held February 27 to March 1, 2015. The event was geared for current uOttawa students and recent graduates. The objective was to connect students across all faculties to encourage and promote entrepreneurship regardless of discipline of study.
Telfer BCom student Liora Raitblat blogged about her experience at Startup Weekend for the uOttawa Gazette, read her blog post: A 54-hour marathon for aspiring entrepreneurs [This link is no longer available].

The Telfer School's commitment to Entrepreneurship
We are committed to helping students succeed. For many, success will be starting a new venture or contributing to one as co-founder or team member. We provide the tools and resources you'll need to learn, network and build your innovation and entrepreneurship skills. In addition to hosting Startup Weekend uOttawa, here are some of the other initiatives that are available:
Entrepreneurship Bridges Speaker Series – Co-hosted with the Faculty of Engineering, this 5-part annual speaker series is targeted at students looking to or considering entrepreneurship. The speaker series features local young entrepreneurs who tell their start-up stories and act as a source of inspiration, education and mentoring. The series is also the home for other entrepreneurship-related announcements and competitions such as the final pitches in the Entrepreneurs' Club Elevator Pitch Contest. The series averages 150 students per session and includes the formal talk or panel, as well as networking and refreshments.
Entrepreneurship Foundry Course - The Entrepreneurship Foundry is a new Telfer-led initiative that brings together collaborators from across campus to build, manage and deliver a semester-long, for-credit course that sees participants apply for entry in order to start a venture over 13 weeks. Working in multi-disciplinary teams, students will learn from experts in lecture and workshop environments and complete evaluated work leading to the start of their new venture. It is anticipated that the course will see 25 students in the first session scheduled for Fall 2015.
Start-up Tools Workshops - The 4-part workshop series is designed to teach students the tools and resources available for start-ups. Each session focuses on a specific theme and students and external resources are relied upon for content within the curated environment. Themes include: Tools of Validation; Web Design; Marketing and Analytics; and Software and Productivity. Each session is attended by approximately 25 students.
Telfer Business Traction Competition - This new business competition is a new take on traditional business plan competitions. It's open to full-time undergraduate students at the Telfer School of Management and/or teams comprised of at least 50% Telfer students. It is not about ideas and proposed business plans, it's about traction. Contestants will demonstrate the achievement of real milestones towards starting, or validating their business ideas as well as realistic goals moving forward. Applicants can be at any stage of their business idea but must be able to demonstrate real milestones completed and future goals. External judges will determine the winner based on actual work to date and planned milestones. $10,000 in prize money is available to be won.