We are pleased to inform you of the recipients of the MHA Alumni Association (MHAAA) Health Leadership Award, the Michel Lalonde Award, and the Michael Garron Award.
MHA Alumni Association (MHAAA) Health Leadership Award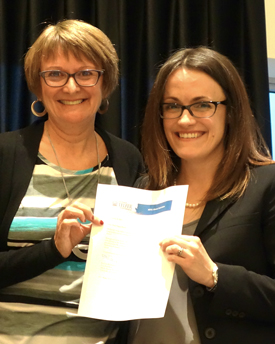 On Friday, December 8th, the Fall 2017 MHA residents completed their Field Project final presentations.
As part of this activity, a selection committee composed of Craig Kuziemsky, George Langill, Pat McCaron, Greg Fougère, and Sarah Downey evaluated the presentations to determine the recipient of the MHA Alumni Association Health Leadership Awards.
The MHAAA Health Leadership Award is given to an outstanding MHA student upon the presentation of the Health Care Management Field Project.
The qualities of the presentations were very high throughout. Each presenter was very articulate, clearly owned his/her project and demonstrated significant initiatives that will impact organizations and the health care system.
That being said, we are pleased to inform you that Anne-Marie Parent is this year's recipient of the MHAAA Health Leadership Award. Anne-Marie completed her field project, "Coordinated Access to Home and Community Services" at the Champlain LHIN. Her presentation clearly demonstrated her leadership abilities and how her project was an innovative contribution to the health care system. The presentation also demonstrated her ability to plan and implement a complex concept. For these reasons, the committee is pleased to give Anne-Marie this award.
Michael Garron Award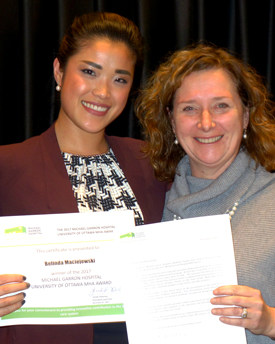 The Michael Garron Hospital, formerly known as Toronto East General Hospital, and the University of Ottawa Master of Health Administration program have a deep and longstanding relationship that has extended over a decade.
The Michael Garron Award recognizes a University of Ottawa MHA student who has demonstrated innovative health solutions to practical problems encountered during their residency placement. This year's recipient of the award is Belinda Maciejewski. Belinda completed her residency at The Ottawa Hospital, and presented her project entitled "Mapping the Operational Process for the New TOH Home Dialysis Program".
Michel Lalonde Award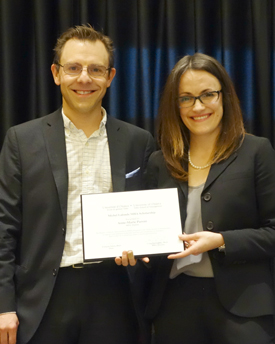 The goal of the Michel Lalonde scholarship is to recognize a student in the MHA program who exhibits exceptional leadership qualities manifested through academic excellence and engagement in extracurricular activities.
We are proud to report that several candidates displayed great leadership qualities. This is not only an attestation of the excellent students that enroll in the MHA program but also evidence of the leadership skills that are developed within the program.
We are pleased to inform you that Anne-Marie Parent is this year's recipient of the Michel Lalonde MHA Scholarship for the 2016-2017 academic year.
Congratulations to Anne-Marie and Belinda - we wish you much success in your future careers.