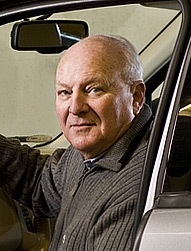 The University of Ottawa is saddened by the passing of Christian Navarre, associate professor and director of the Car Internet Research Program at the University's Telfer School of Management.
Christian Navarre joined the Telfer School of Management in 1984. He helped develop a number of international comparative studies in project management methods and participated in the design and development of organizational projects for many companies.
He also played a role in the creation of the Montréal Club, which brings together project management practitioners for "action-reflection" on organizational project design and execution. For the last 15 years, the Club has been a meeting point for project directors of large organizations, including Renault SA, Cap Gemini, Eiffage, Laboratoires LIPHA-MERK, 3M, Siemens Automotive, Plastic Omnium and Airbus.
Christian Navarre taught at Lille's Université des sciences et techniques (I.A.E.) before coming to the University of Ottawa. He also participated in leadership programs for textile SMIs in northern France, helped set up a program to ease the establishment of industrial companies, provided consultancy services and led recovery-plan development activities for failing businesses. In addition, he worked on the creation of a D.E.S.S. (specialized graduate studies diploma) in project management, on a variety of World Bank missions in Africa and on action-research projects for multinational corporations.
His vast expertise on the auto sector made him a media favourite when it came to talking about the evolution of the industry.
The entire University community is united in offering its sincerest condolences to the family and friends of Christian Navarre, in particular his wife Armelle and his four children.
The funeral service for Professor Christian Navarre was held on Saturday, August 28, 2010 at the Racine Robert & Gauthier Funeral Home.